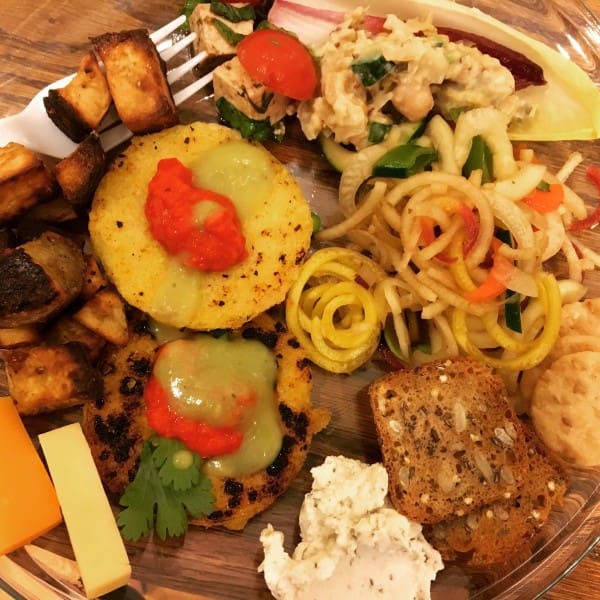 Happy new year! Who said the partying can't continue with your resolutions? Check out how I entertained with tofu caprese, chickpea salad in endive boats, spiralized sesame slaw salad, cheese and crackers, polenta cakes, and roasted truffle white sweet potatoes. I'm starting my 2016 off with reseting back to more planned and cleaner eating again. There is nothing quite as motivating as acting on your intentions and resolutions freshly at the start of another year.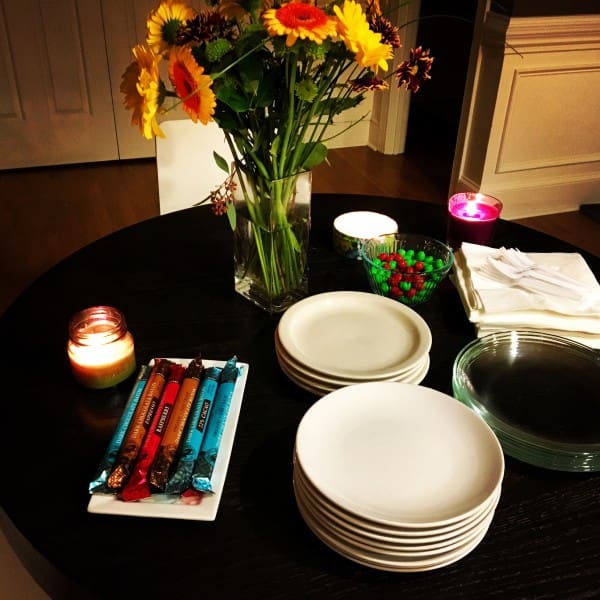 This year was unusual for me as was my New Year's Eve. 2015 was hands down the busiest and most challenging year I have had to date between my children being more active in extracurriculars, family moving into town, participating in a wedding as a bridesmaid, my job, visitors, trips, school applications and testing for the kids, the December Nutcracker takeover, and of course, the development of this blog. So it was quite ironic that I closed the last couple of days of 2015 with my family out of town. I WAS ALONE FOR 3 AMAZING DAYS. I had time to reflect, catch up and reconnect with friends, set intentions, journal, cook, dine out, and practice yoga. Although I missed my children, it was exactly what I needed to have that space to regain my breath.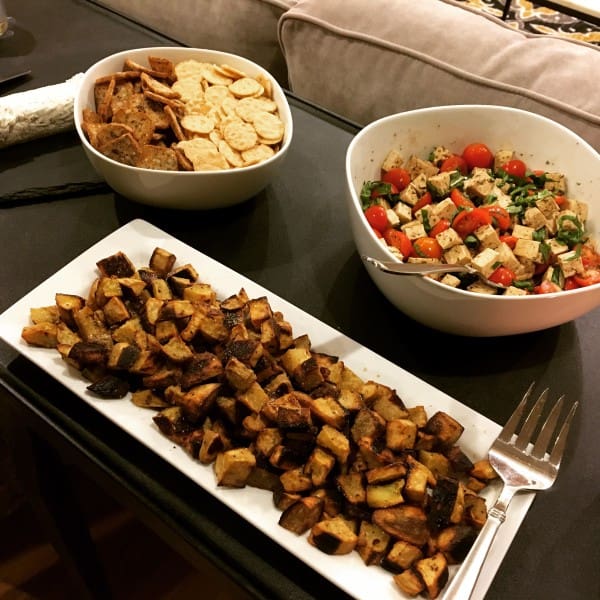 I decided to spend January 1 amongst a group that consisted of inspirational and supportive friends, teachers, and business women all of whom I am lucky to call friends. I couldn't think of a better way to spend the day than to be surrounded with good vibes and positive energy. Some are starting special diets so my mission was to include meatless, gluten/grain/dairy/nut/and soy free options. White sweet potatoes tossed in truffle flavored olive oil, truffle salt, and black pepper were mouth popping good.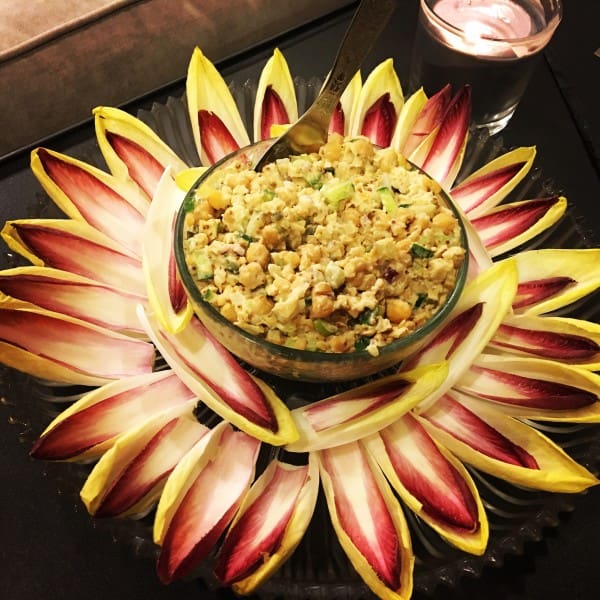 My friend Judith was a lifesaver coming by to help me with food prep, arrangement, and overall infused some creativity into this very tired gal. This chickpea salad in the pretty endive leaves was the biggest hit at the party.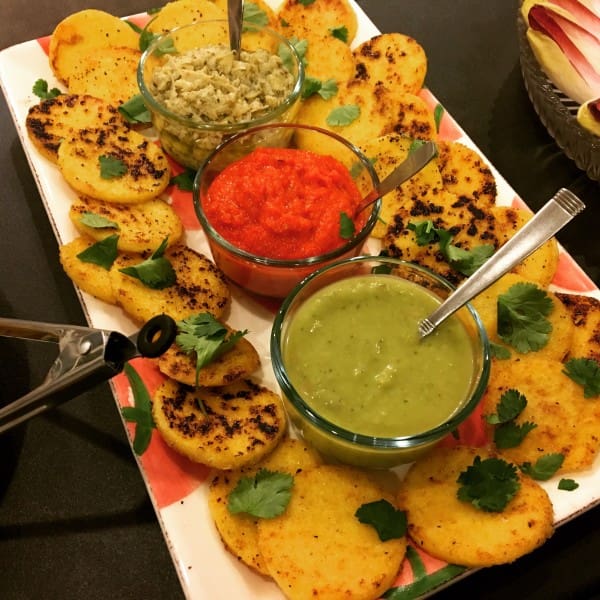 Grilled polenta cakes with a choice of 3 store bought dips: artichoke, roasted red pepper, and avocado salsa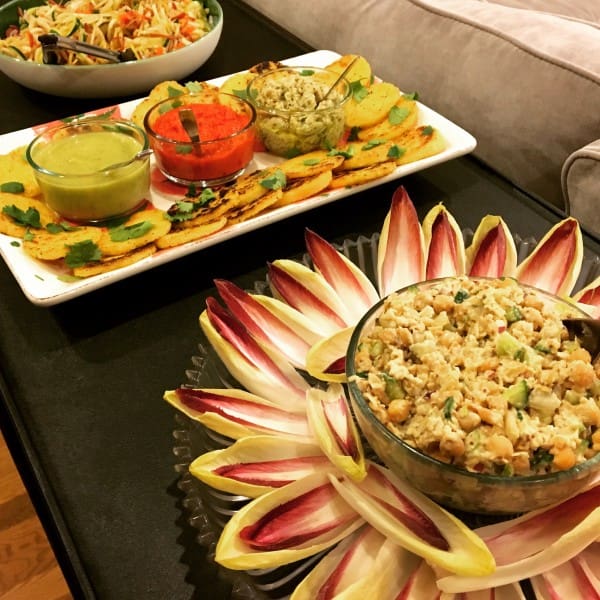 Spiralized Sesame Slaw Salad was fun and vibrant in presentation, taste, and texture. I tossed together rainbow carrots, zucchini, and an apple which made a sweet and sour combo tossed in sesame oil and rice vinegar.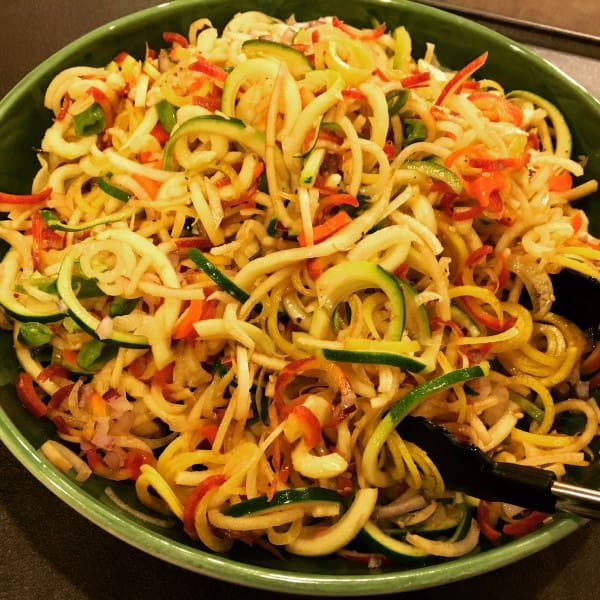 Spiralized Sesame Slaw Salad

GF, GRF (if you use apple cider vinegar instead of rice vinegar), DF, NF

Serves 8-10 as a side or appetizer

Ingredients:

2 pounds carrots or rainbow carrots

1 zucchini

1 large or 2 small apples

2 tsp sesame oil

2 tbsp rice or apple vinegar

1/2 tsp ground ginger

1/2 tsp salt

1/4 tsp black pepper

Optional: soy sauce, cilantro, crushed peanuts

Directions:

Spiralize or dice carrots, zucchini, and apple.

Mix together sesame oil, vinegar, ginger, salt, and pepper.

Pour over veggies and fruits and toss to coat and combine.

Truffled Sweet Potatoes

GF, GRF, DF, NF

Serves 8-10 as a side or appetizer

Ingredients:

3 pounds sweet potatoes, peeled and chopped

2-3 tbsp truffle flavored olive oil

1/2 tsp truffle salt

1/4 tsp black pepper

Directions:

Preheat your oven to 400 degrees.

Toss all of the ingredients together in a large mixing bowl and spread in a single layer on a parchment lined cookie sheet.

Bake for 30 minutes.
Leftovers for lunch on January 2nd 🙂