Zoodles (zucchini "noodles") have made me a believer. More than whole wheat penne. More than brown rice rotini. More than black bean spaghetti. More than quinoa corn macaroni. More than spaghetti squash for sure. About as much as red lentil fusilli but that's a different post. And they are quicker than quick.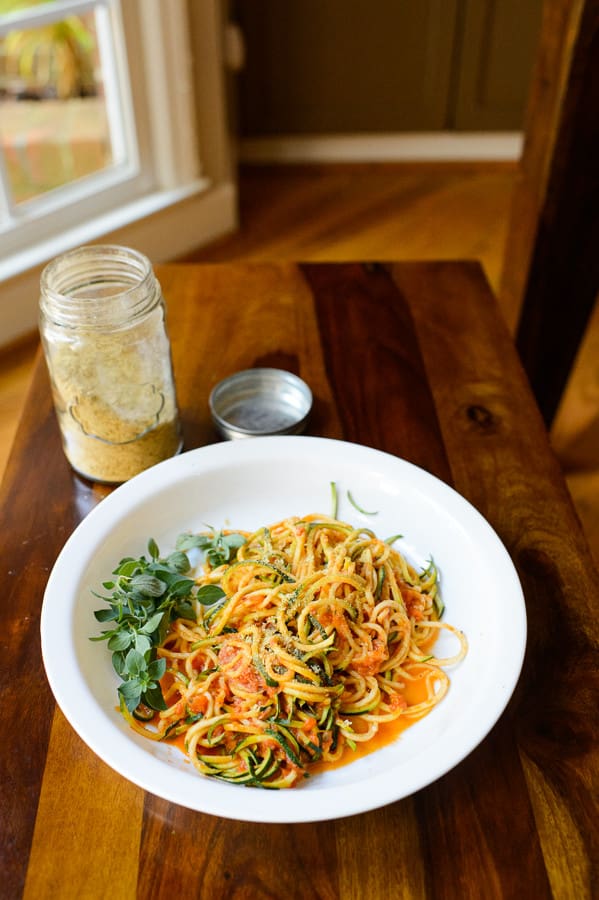 Now I don't want to mislead you that you will find this nearly raw green squash pasta to be an exact substitute for an al dente semolina, but it does wear its marinara very well.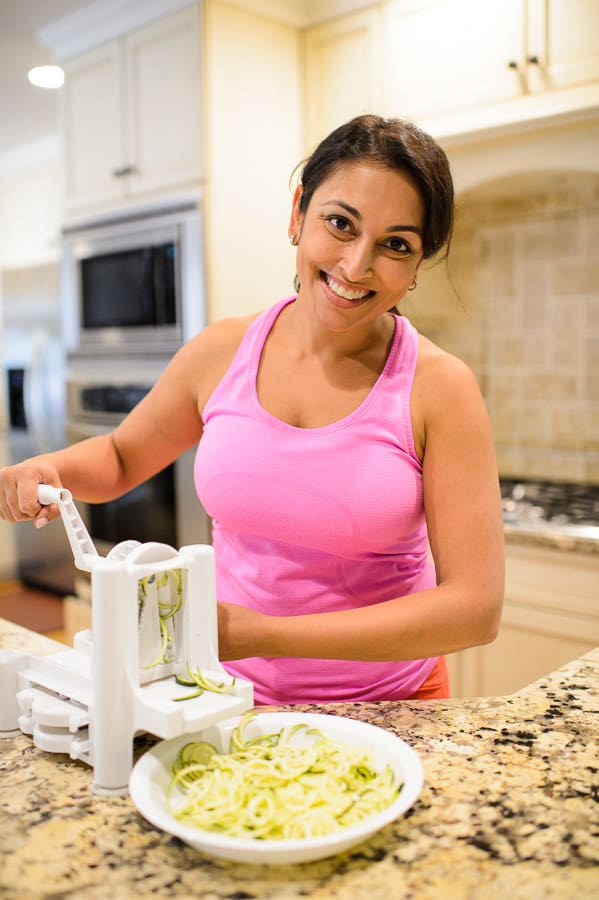 When you turn a good old veggie into strands or ribbons (depends on the attachment), it is called spiralizing. There are many spiralizers out there right now from handheld to counter top.
I love this manual machine! It is easy to operate and to clean. I usually just rinse mine immediately with water and let it air dry. It has "feet" that suction to my counter to prevent budging while turning the handle. It comes with three different blade types that you can easily slide in and out for usage or storage. I recommend placing a wide bowl at the end to catch your noodles. It is the Paderno World Cuisine of Amazon but I saw a similar one at Home Goods for $12.99 last week. They make longer noodles than you would think. I usually cut mine down to a shorter length for ease of sautéing.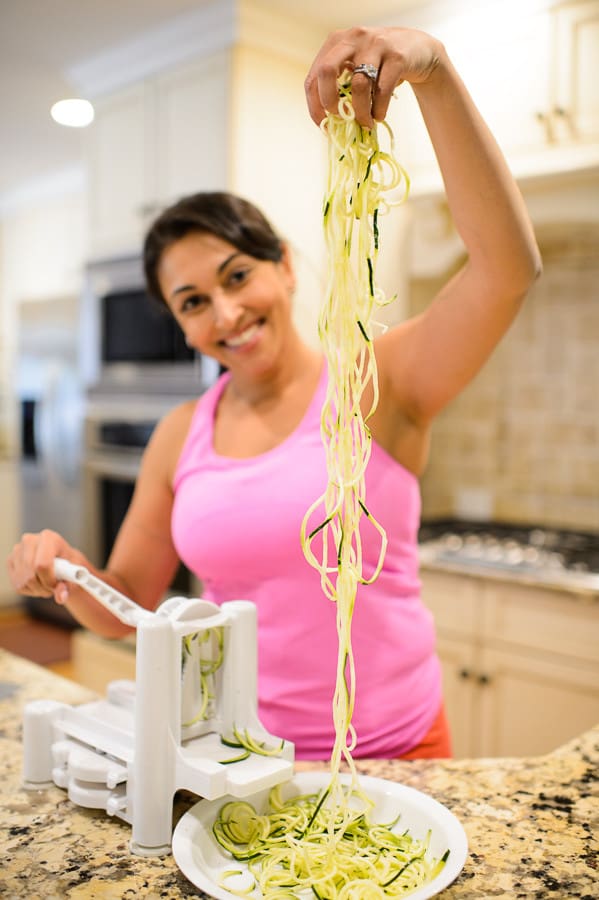 I keep my spiralized zucchini and sauce of choice all ready because they are going to cook in a flash!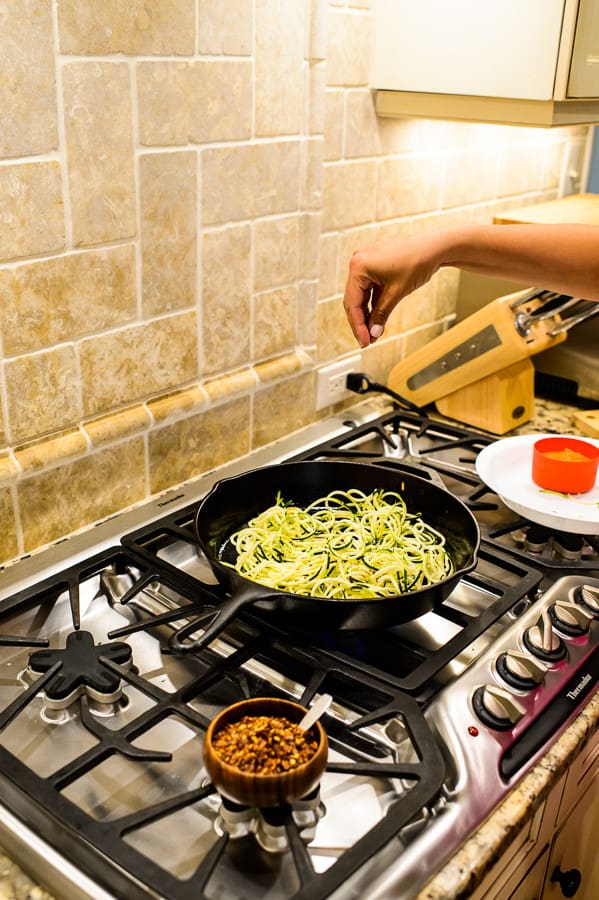 I find them easiest to toss and mix sauce into with tongs.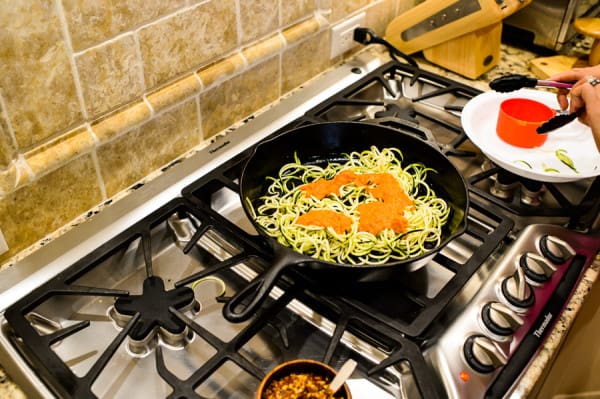 Keep in mind that you don't have to cook the zucchini and can eat this as a raw dish as well.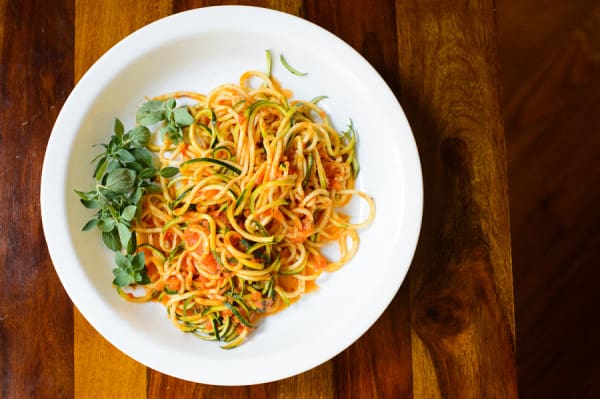 For a great deal on a spiralizer, check out my price here!
Zucchini Spaghetti

Charlotte Veggie Original (but there is not a lot to this recipe & I'm sure many have made it this way)

GF, GRF, DF, NF

Note: Usually 1 medium zucchini needed per person.

Ingredients:

1 medium zucchini

1/3 cup marinara or vodka or cream sauce

1 tsp olive oil

Salt and pepper to taste

Optional: Red pepper flakes, fresh herbs, dried herbs, garlic powder, 1-2 tsp Nutritional yeast (a deactivated form of yeast that has a cheesy, nutty flavor and contains B vitamins) or parmesan cheese

Directions:

1. Wash zucchini and slice off ends. Spiralize.

2. Heat olive oil in a wide pan.

3. Preferably with tongs, saute zucchini strands for 1 minute. Much longer than this and they release too much water. Alternatively, you can keep raw and not cook at all!

4. Toss in sauce.

5. Serve and enjoy right away!

Sprinkle with fresh or dried herbs, nutritional yeast or parmesan cheese, or red pepper flakes. My garden oregano makes me happy as it is an evergreen and actually lives in my garden through winter and through my neglect 🙂 .