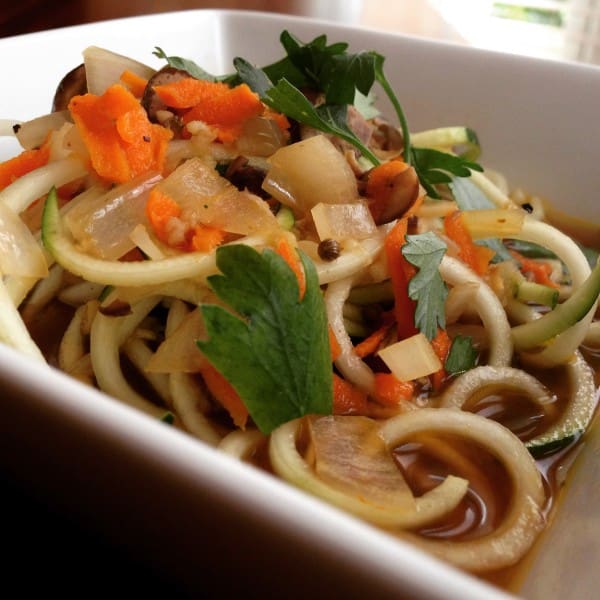 Who doesn't like ramen? The broth is everything. Ok, maybe the noodles too but for a healthier take, zoodles do the trick. A while back, I attempted to make an Asian noodle soup with spiralized zucchini and tofu (pictured below) but it was missing something. Perhaps the mushroom and other vegetables or I didn't allow the broth time to really develop. This second round is fantastic enough to share with you!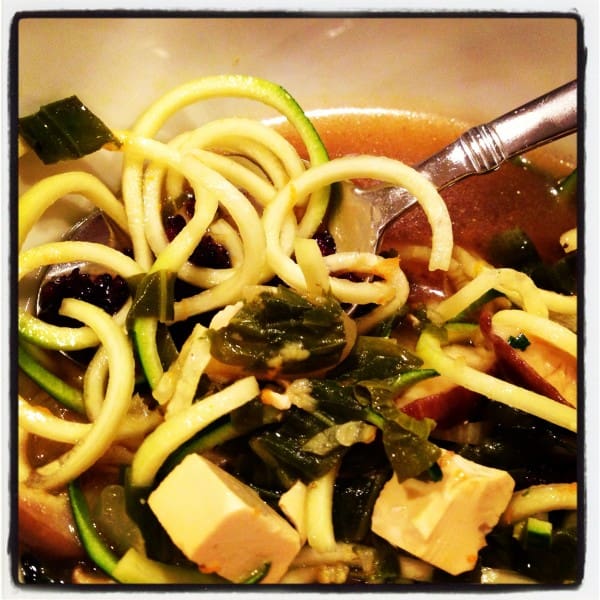 I prefer to chop everything I need first because then I can pay better attention to what's happening on the stove especially if I'm working with garlic which can burn easily and turn bitter. A generous amount of mushrooms, shallots, garlic, and ginger infused the broth exactly how I wanted and the natural sweetness of the shredded carrot balanced out the spice. I shredded the carrots for two reasons: 1. Shredding releases more taste and cooks faster. 2. The only thing I wanted to bite into in this soup was the zoodles.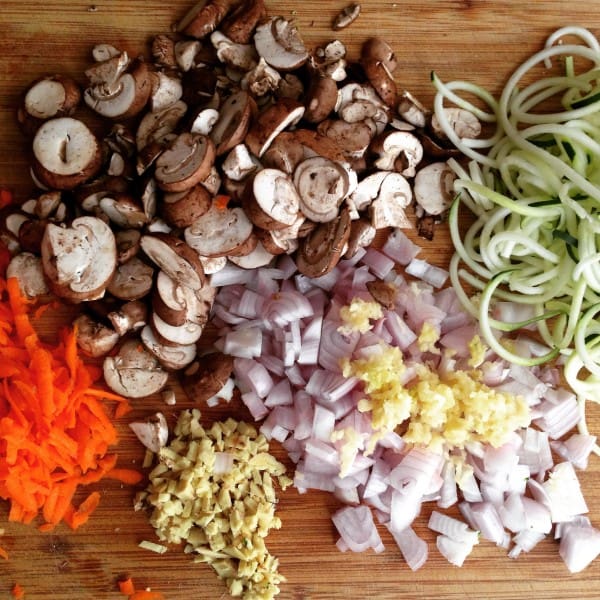 When my cilantro plant bolted mid summer, I collected the coriander seeds and allowed them to dry. I've been waiting to see how I want to use these homegrown, fresh seeds! You can see the transition here: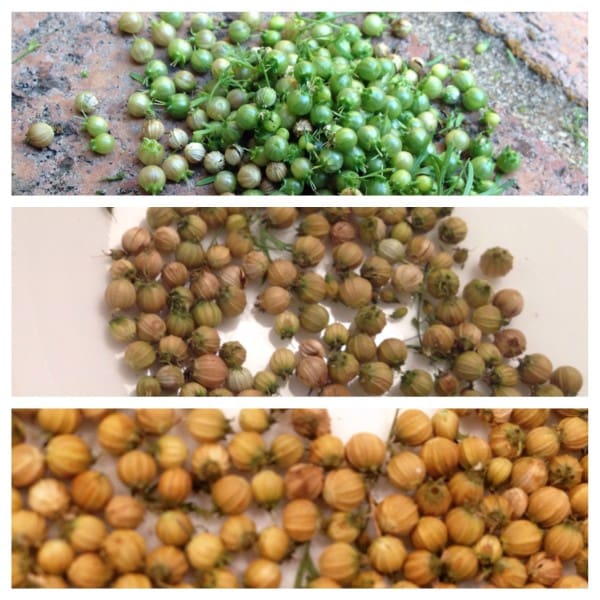 The semi-homemade broth would make an awesome base for other Asian soups too like pho.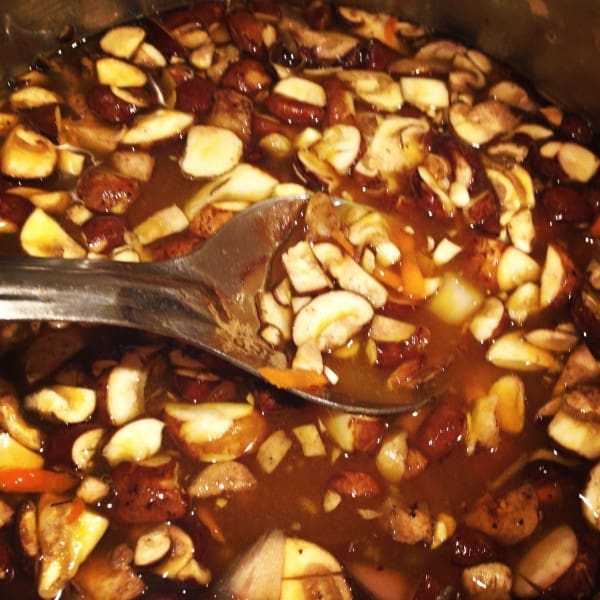 With a ladleful of hot broth poured over them, the zoodles "cook" quickly but remain al dente so to speak.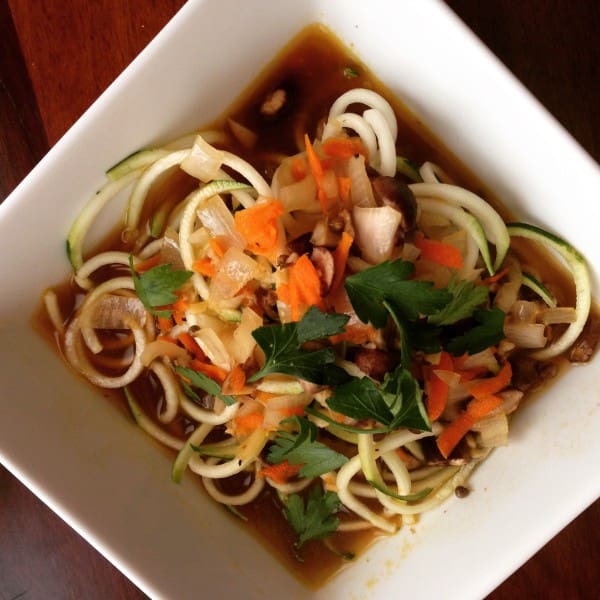 Ramen Zoodles In Mushroom Broth

Charlotte Veggie

GF, GRF, DF, NF

Serves 4

Ingredients:

2 zucchini, spiralized (spiralizer here and here) – you can use store bought ramen, rice, or udon noodles instead

1/2 container of sliced mushrooms of choice, about 4-5 oz., further chopped down

3 shallots, diced

4-5 cloves garlic crushed or minced

1-2 tbsp minced fresh ginger

1/2 a carrot, shredded

4 cups vegetable broth

1 tsp ground coriander or 1 tbsp coriander seeds

1/2 tsp ground ginger

1 tbsp soy sauce

1 tsp coconut oil

1 tsp sesame oil

Salt and pepper to taste

Directions:

Heat oil in a stock pot over medium heat.
Add the coriander seeds, shallots, garlic, and the fresh ginger. Stir occasionally for 2 minutes.
Add the mushrooms and shredded carrots and cook for 2 minutes.
Add the broth, ground ginger, and soy sauce.
Bring to a boil then cover and simmer for 15-20 minutes, the longer the better. Salt and pepper to taste (I believe I did 1/2 tsp of each.)
Ladle into individual bowls and top with zoodles. If you prefer a softer "noodle", saute zoodles in 1 tsp coconut or olive oil for 1-2 minutes first.

Optional toppings: fresh cilantro or parsley, peanuts, scallions, hot sauce, hot pepper seeds, lime juice
For more about spiralizing, see this post as well as the spaghetti recipe and a salad recipe here.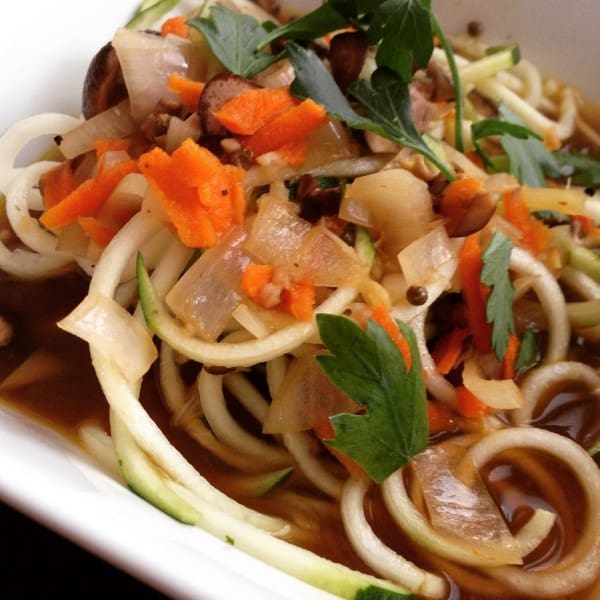 If you're in the Charlotte area and want authentic ramen, try Futo Buta!