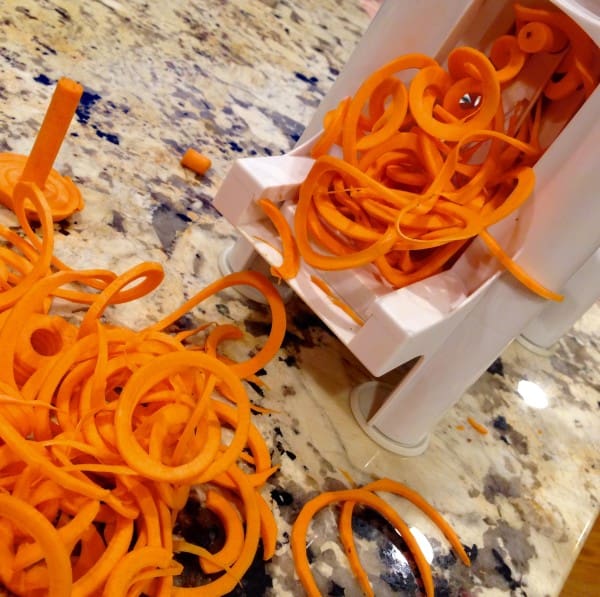 After the great response to my post on spiralizing in Zucchini Spaghetti, I thought I would share another delightful recipe utilizing the same method. I really enjoy using my spiralizer  to make things that my children don't normally like to eat. Believe it or not, the sweet potato fans in the family are pretty much my dog Bella and I… Until I made these.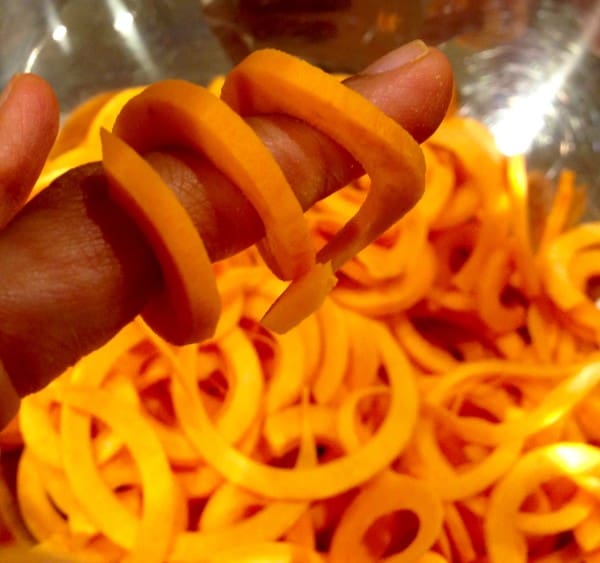 Oh, and I just love the curly-q cuts. And yes, that's my left ring finger. I'm leaving him for these ;). You can toss these in olive oil for a more Italian flavor but they are equally good using coconut oil.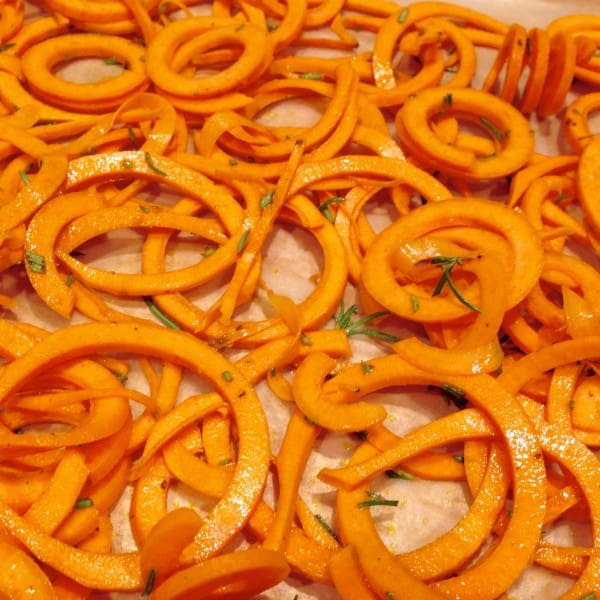 Rosemary pairs well with all the root vegetables as well as breads and is great to infuse oils with. It is my most resiliant garden herb. Being woody and an evergreen, it makes it through freezing temps as well as dry summers and my poor gardening skills. I was bummed leaving my enormous rosemary bush at our previous home.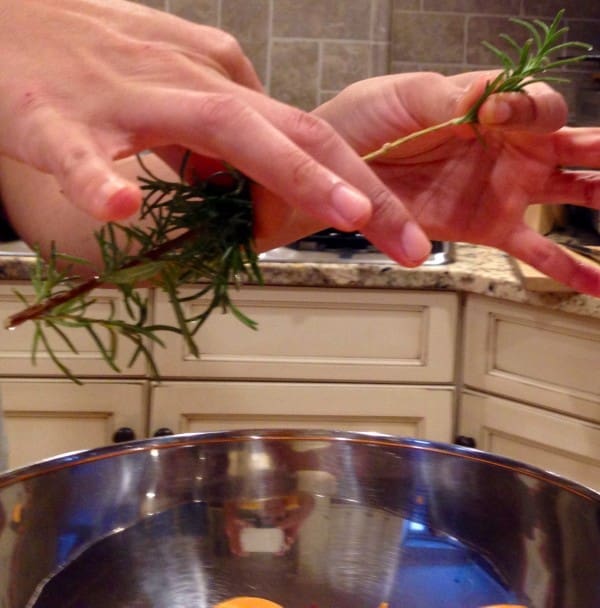 It is easy to zip the "needles" off by pulling them down in the direction opposite to growth. Sometimes I leave them whole and other times, I give them a rough chop with a big chef's knife. Cutting or tearing herbs releases their oils and reveals deeper flavor. Because rosemary is pretty chewy when raw, it is one fresh herb that I add in the beginning rather than at the end. Even when it browns during cooking or baking, it is aromatic and delicious.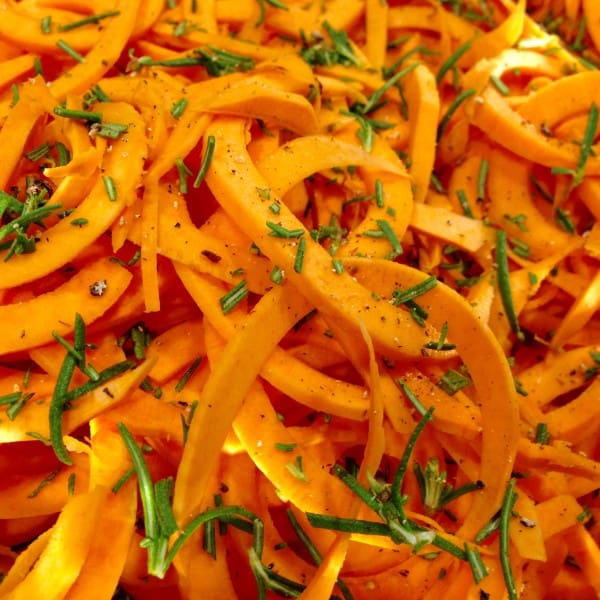 One thing to remember is that rosemary has a strong taste so a little goes a long way. It also keeps well longer than other herbs if you purchase it from the grocery store. I like to wrap mine in a paper towel and refrigerate or put in a glass of water. Rosemary has an ancient reputation of improving memory and even stimulating hair growth. It is known to contain Vitamin E as well.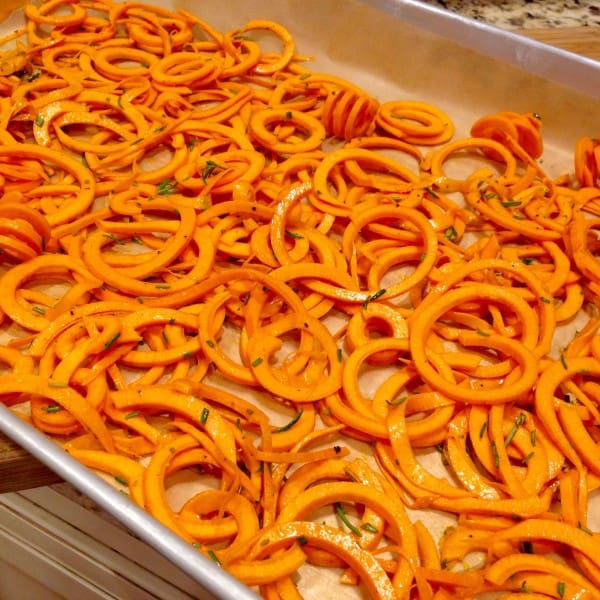 For best results, I recommend spreading out the sweet potato spirals in a large cookie sheet or even baking in batches.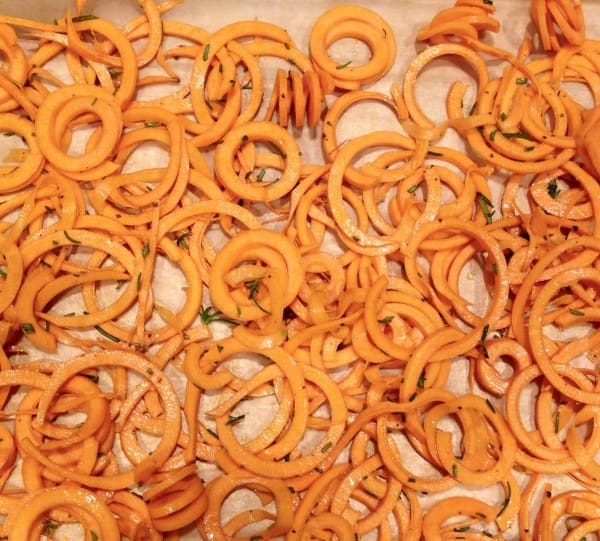 This will allow your fries to really crisp up.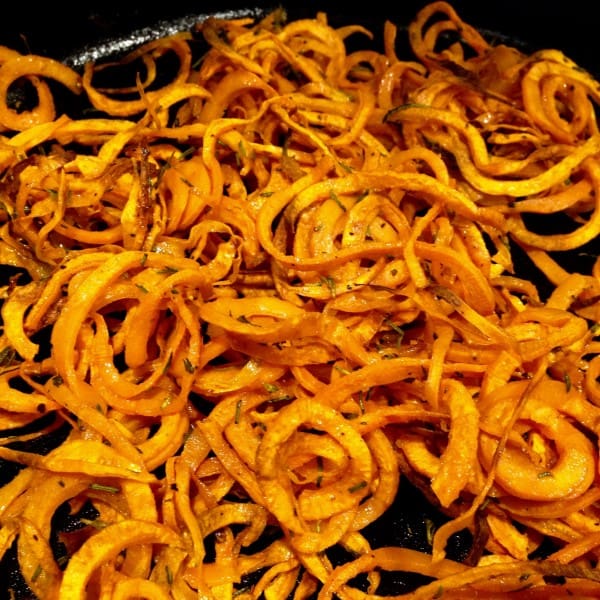 We topped each stack with a creamy cashew sauce boy did that hit the cheese fries spot! I am going to make these again and again both plain and incorporating new toppings!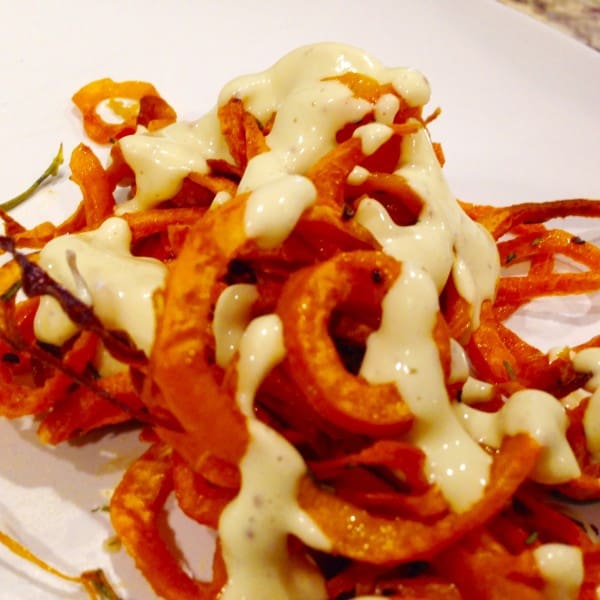 I used 2 medium large sweet potatoes and it was only enough for our family of four to have a small helping. I will have to buy the big bag of organic sweet potatoes at Trader Joe's next time!
Rosemary Speckled Squiggly Sweet Potato Fries

Charlotte Veggie

GF, GRF, DF, NF

Makes a snack or appetizer for 4 – I highly recommend doubling this recipe!

Ingredients:

2 medium large to large sweet potatoes

2 tbsp olive or coconut oil

1 tbsp chopped fresh rosemary

1/2 tsp salt

Freshly ground black pepper

Directions:

Preheat oven to 400 degrees.

Peel sweet potatoes then spiralize.

Cut strands down to a length of 2-4 inches.

Toss in a large bowl with oil then herbs and seasoning.

Bake for 25 minutes.

For Cheesy Cashew Cream:

Soak 1/3 cup raw whole cashews for 1-3 hours in hot water (or even overnight). Drain.

Combine in your blender with:

juice of 1/2 lemon

1/2 cup water or vegetable broth

1/2 tsp whole grain mustard

1/4 cup nutritional yeast

1/4 tsp ground turmeric

1/2 tsp salt

1/4 tsp black pepper

Blend until smooth consistency.