As featured on Fox's Good Day Charlotte! See me on T.V. here 😉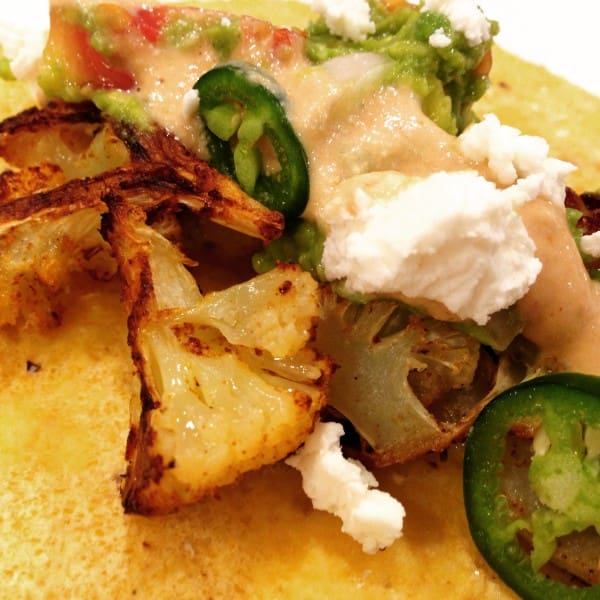 I don't even want to discuss these tacos. They are THAT good. Just make and inhale. Buttery(but not really), crispy (but really) cauliflower drizzled with zesty, sour cream sauce. It's the what dreams are made of: tastes like butter, tastes like cream, but isn't either! Am I kidding you? Nope.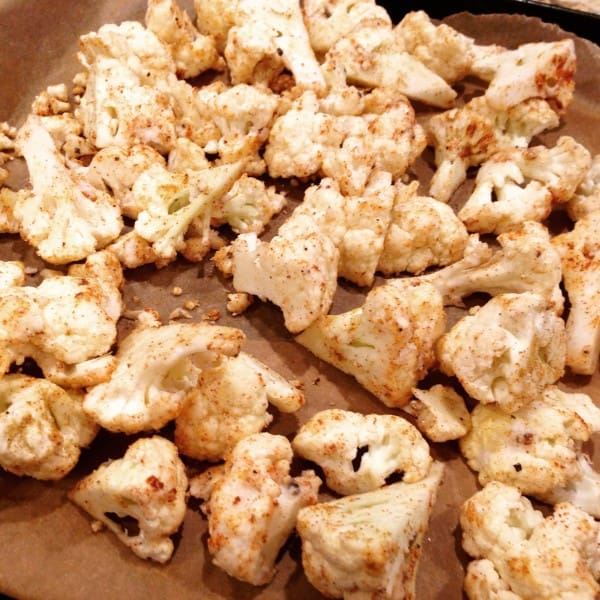 May I introduce you to Star Player #1: Baked cauliflower florets tossed in coconut oil (read some reasons why here) which lends a buttery taste and a no-need-to-measure spice mix results in toasty little bites of delight that you will have to resist popping into your mouth.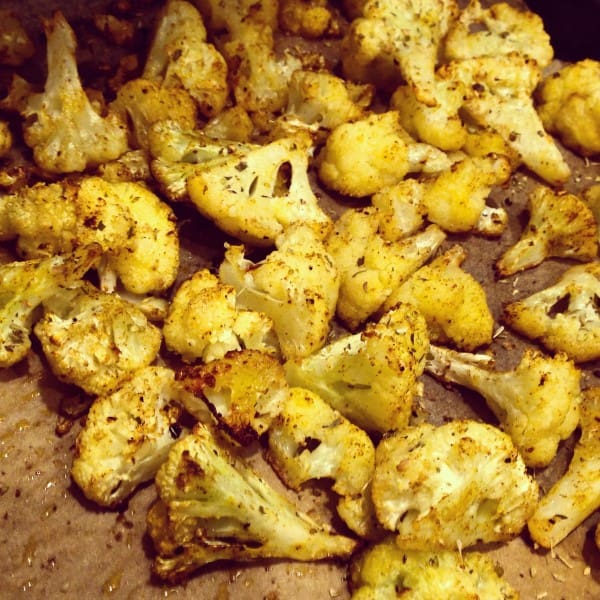 Star Player #2: raw cashews
Thank GAWD for the development of cashew cream. Smother-worthy, dairy free, soy free, and ever so flexible, I have used it as an alfredo sauce, in curries that normally call for butter and heavy cream, as a queso, and for vegan mac n cheez. Life changing. Promise.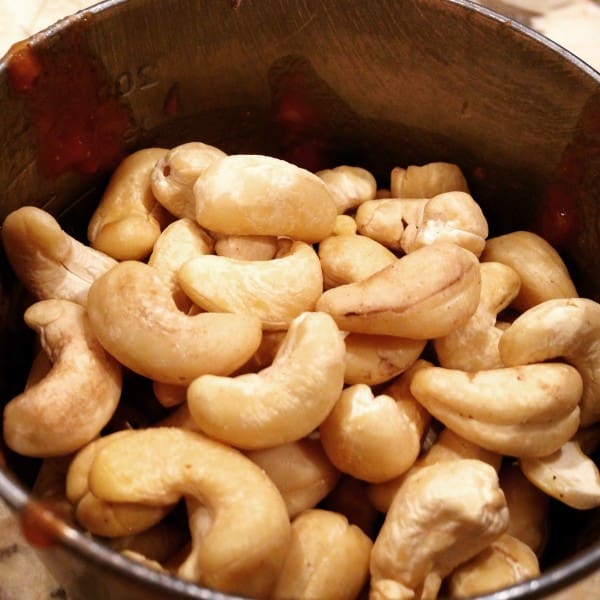 My Cashew Crema is easily replaces the need for sour cream and provides way more zest.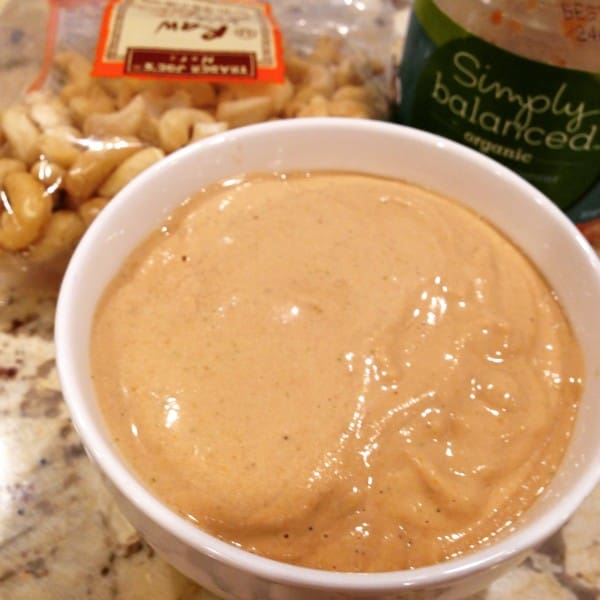 It is decadent but a dollop of this is still healthier than any sour cream and less inflammatory than dairy. Inflammation is the enemy; not good fat. The tacos were taken up a notch with guacamole (recipes: Basic or Gourmet). The filling, including the Star Players, are Paleo and Whole 30 friendly. Not knocking down trendy diets, but as my friend Judith says, "I don't do gimmicks." However, I DO support whole, real foods despite any labeled system. I myself don't have six pack abs but we all decide how far we are willing to go and for me, what's sustainable long term. As I state in About Me, I really enjoy re-creating restaurant entrees at home. Rock Maverick Taco's Roasted Cauliflower Taco made my tastebuds happy but I can assure you that my version is just as yummy and far healthier!
I liked mine with some crumbles of goat cheese. Feel free to wrap in lettuce leaves too!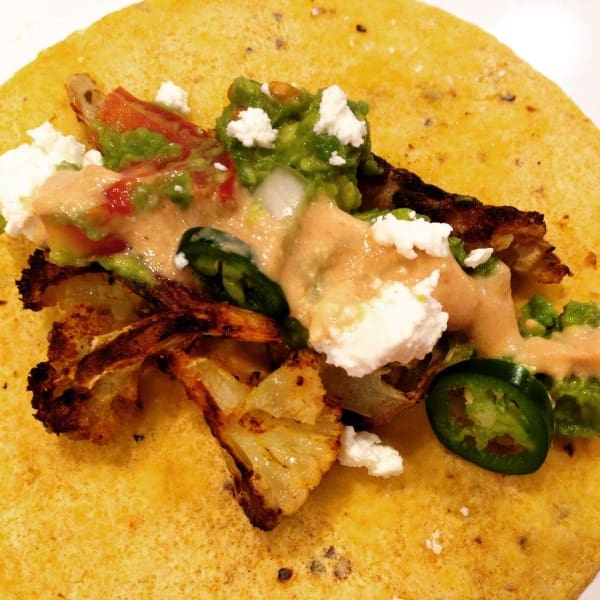 My daughter added cannellini/white beans which were mellow and paired well with the cauliflower and crema. How about some shredded grass fed sharp cheddar too?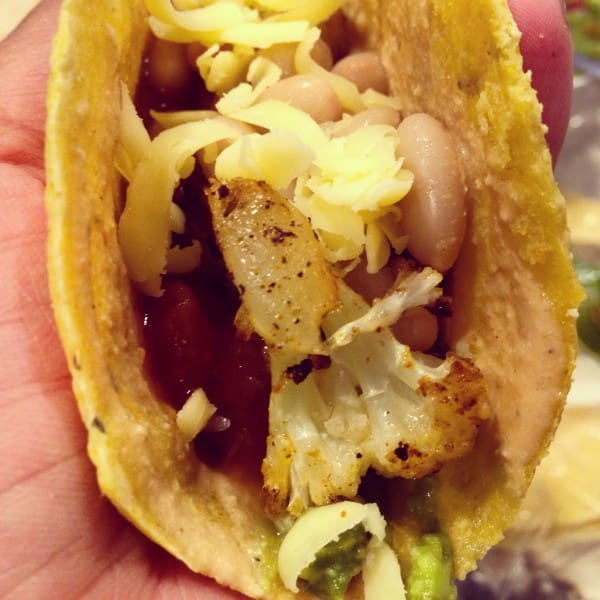 And my son loved his in burrito form wrapped in a whole wheat tortilla warmed over a gas flame.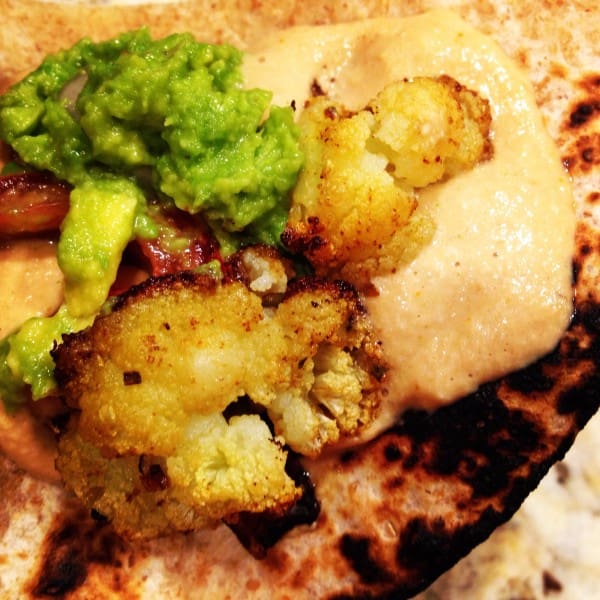 The hubby had 'em in corn tortillas sans cheese but with homegrown, garden jalepeno heat!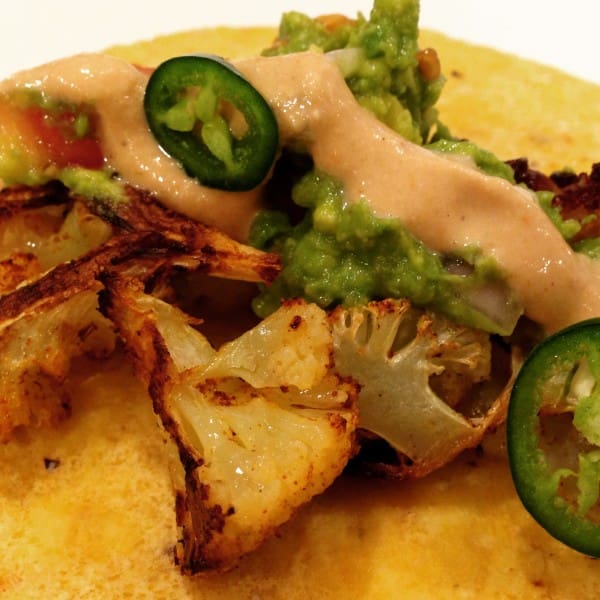 I want to take a minute to tell you how much I love my Breville Smart Oven (well reviewed on Amazon) or read more on the company site. In order to reduce energy bills, a friend's experience, and my preference to minimize using the oven during warmer months, I invested in this appliance. It is far more than a toaster oven. Large enough to hold small casseroles, pizzas, and with features like convection baking, defrosting, and re-warming, it also heats up and cools down quickly. I'm talking minutes.
Crispy Cauliflower With Cashew Crema Tacos

Charlotte Veggie

GF, DF without cheese

Comfortably feeds a family of 4-5; Made 1 burrito and 8 tacos for us when using a few of the optional add-ins as well

Ingredients for Crispy Cauliflower:

1 head cauliflower, chopped into florets or I used a bag of florets from Trader Joe's

1 tbsp unrefined coconut oil +/- coconut oil spray if you have it

Chili powder on hand – no need to measure

Cumin on hand – no need to measure

Salt

Pepper

Directions for Crispy Cauliflower:

Preheat oven/toaster oven if large enough to 400 degrees. You can work on the Cashew Crema below while you wait.

Toss florets in coconut oil. Even if your coconut oil appears solid, it will melt down as you toss or you can melt it first. You can also use coconut oil spray.

Spread cauliflower on a parchment paper lined cookie sheet.

Sprinkle surface area with chili powder, cumin, salt, and pepper trying to make sure that every floret has some spices on it. This is my no-measure technique.

Bake 25-30 minutes on 400 degrees.

Alternatively, you can cook the cauliflower in a skillet over medium heat for 15 minutes.

Ingredients for Cashew Crema:

This makes about 1 cup. We had a lot left over to use up as a dip, spread, or for more tacos!

1/2 cup raw whole cashews (If you do not have a high powered blender, soak in hot water for 1-3 hours and drain.)

3/4 cup of any salsa

1/2 cup water

1/2 lemon's juice

1/4 tsp salt

1/4 tsp cumin

Optional: 2 tbsp cilantro

Directions for Cashew Crema:

Place all ingredients in your blender and let it run for a couple of minutes until creaminess develops. It may look like it's not going to mix at first but it will!

Carry on with taco assembly!

Suggested add-ins for even tastier tacos: shredded lettuce or cabbage, diced tomatoes, salsa, hot sauce, beans, tofu, other protein, guacamole (Basic or Gourmet)