Hey hey it's Fri-yay! I thought I would do a more social post to get you into weekend mode! Last night was a wonderful evening and just adds to why I love my town. Full of good ideas, new developments, and most of all, positive, hope-filled energy, Charlotte is always buzzing with charitable opportunities and events as well as hand crafted drinks and food. I absolutely love living in a town where local businesses are abundant.
Last night, I attended an event for The Surfrider Foundation which was established to protect and preserve our waters from negative environmental impact for surfers but has developed into so much more including a strong advocacy for clean water, influencing the making of laws to regulate beach waters, decreasing pollution, taking interest in improving the condition of and shutting down bad practices in puppy mills, and so much more. The timeline of the Foundation's accomplishments is incredible to read through. Please consider donating to support these admirable efforts.
My friend Judith's business, JWV Artists, was one of the sponsors. The art was by various local artists, including my friend and a gifted photographer, Heather Liebler. Heather's skill with the camera captures the beauty of any subject from her lovely dancers to scenic adventures and grand animals in South Africa to our everyday surroundings including flowers, street signs, and lifestlye/food. Her travels near and far are well documented and illustrated in her works. She is also popular in getting booked for portrait sessions. After the fundraiser, we all wanted to finally try Charlotte's new and only ramen house, Futo Buta.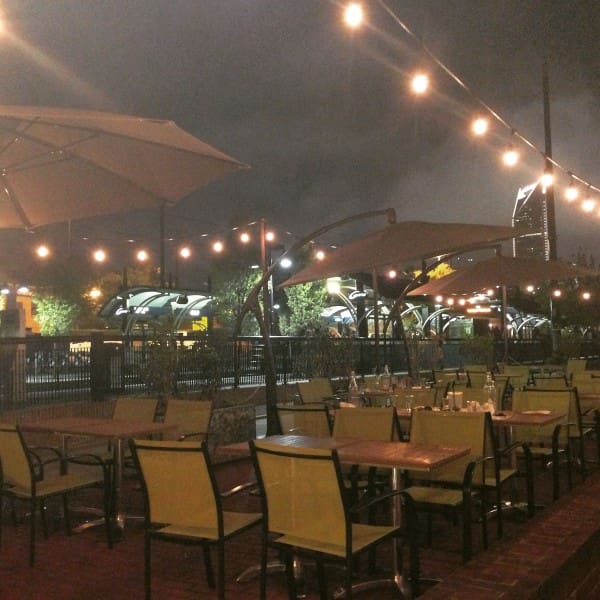 The restaurant is nestled in South End (Behind the Crispy Crepe parking garage). The cooler weather in the 70s was refreshing from the heavy heat we have had lately in Charlotte and I appreciated the generous patio at Futo Buta. The strings of lights and bright furniture felt festive and the simple, clean lines spoke to traditional Japanese decor.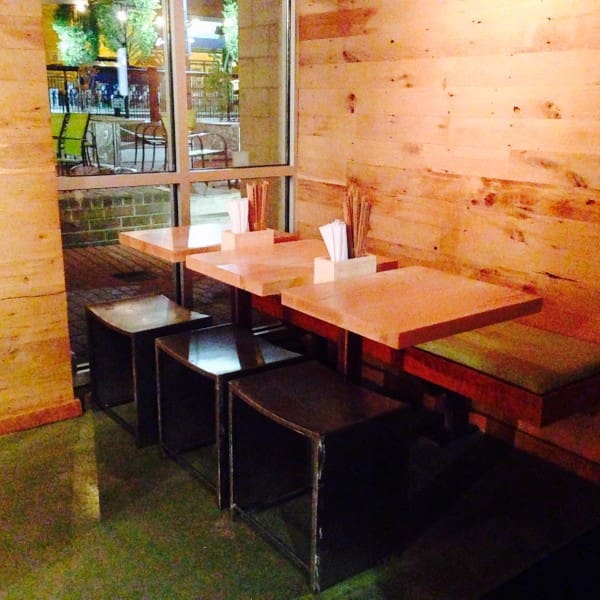 The interior is cozy but airy and felt like a cool hang-out spot with modern touches; totally conducive to an intimate date night, dinner with friends, or even dining solo. The service was personable and prompt and everything we ordered was spaced out well.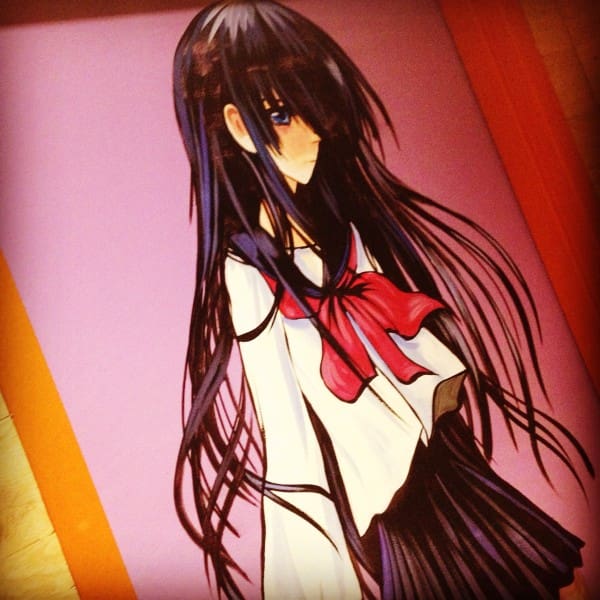 I had heard about these japanimation images on the restroom doors. If you are at all intimidated to try different ethnic cuisine or to visit a new trendy restaurant, this art will totally put you at ease. You see, my husband and I went to Baku for an after movie snack early this year. We happened to sit next to Chef Shortino, who later left Baku to open Futo Buta. We had friendly conversation and it was immediately apparent that Chef Shortino is funny in a quirky way, exceptionally imaginative, experienced yet a visionary, and like all those who are successful, not afraid of risks.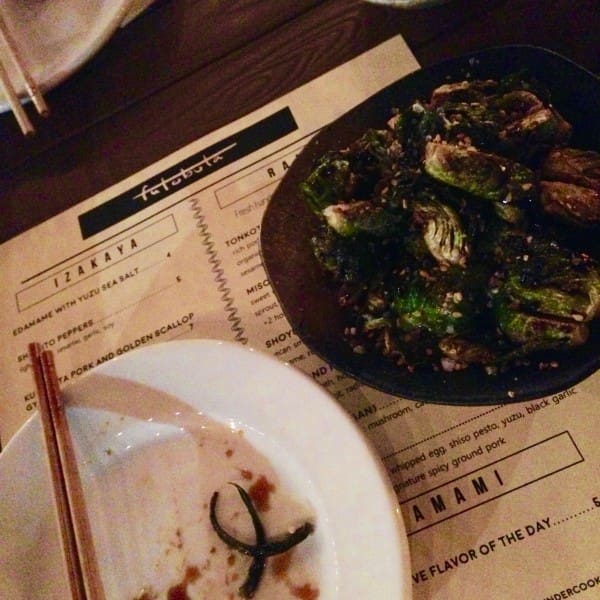 As I've gotten older and tried more and more restaurants, I prefer smaller menus than the spiral bound books of The Cheesecake Factory. To me, fewer choices means fewer ingredients which makes me think of freshness and more talent in the kitchen. Every experience I've had dining out with limited offerings has resulted in a high quality dish. Good art can't be mass produced so to speak. However, although the menu at Futo Buta looks small, each offering is unique and extensive in its own way. I was thrilled that they offer shishito peppers which we ate too quickly to photograph! Only the stems in my plate above :).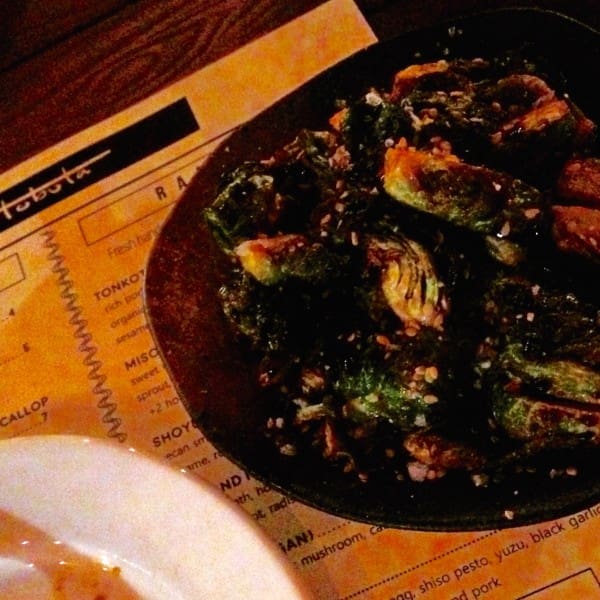 The brussel sprouts (sans bonito for me – fish flakes) were everything you would want them to be: caramalized, crispy edges, easy to chew but with a bite, and flavored throughout, not just on the surface. There was a mild sweet aftertaste that provided a great finish.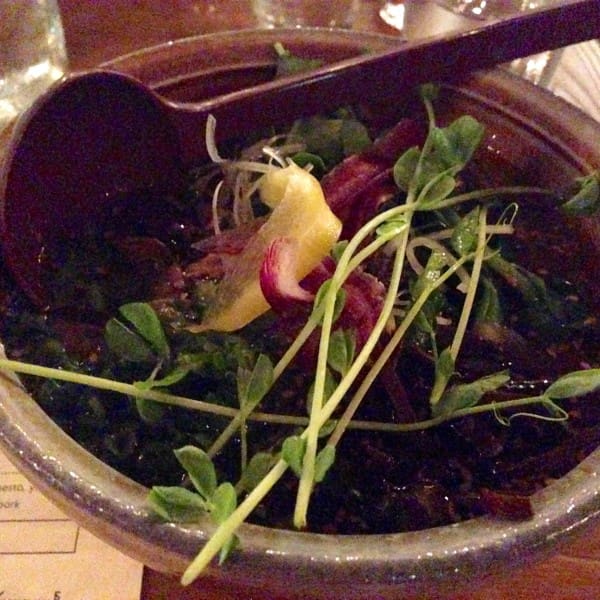 I ordered the vegan ramen bowl NIWA: roasted organic mushroom, cabbage, leek, arugula, sesame
From the deep pottery type bowl that kept my food warm to the spoon so perfect to ladle the broth into my mouth to the pretty raw garnish, and the layers of goodness, the presentation was remarkable. The temperature was perfect: hot enough to warm your belly but not burn your tongue so you could dig in right away.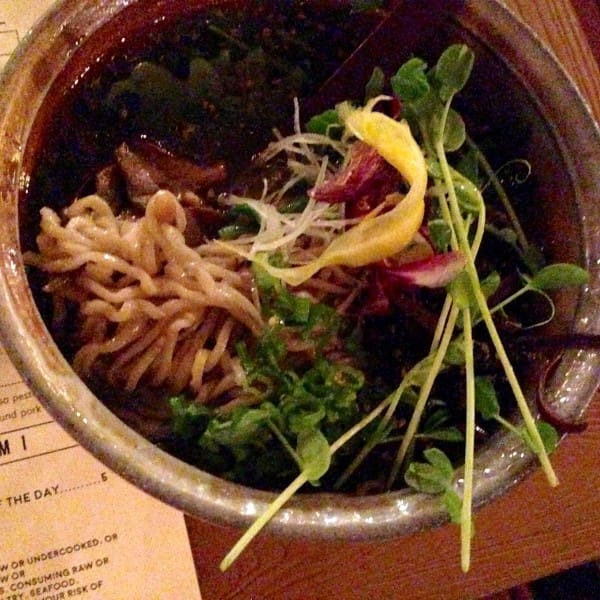 I want to describe my opinion of the seasoning to you. First, I love Asian food. All of it. But my consistent gripe is the high sodium content, and although yummy, too greasy. Bloat and thirst follow. And although I love both garlic and ginger, they speak so loudly in most Asian entrees that my clothes, hair and breath are saturated with it. Until now.
Yes, the ramen and the appetizers were nothing short of delicious. But the food didn't just make me a repeat patron of Futo Buta, but a follower of Chef Shortino as well. I will try his every future culinary establishment because the man can most definitely cook and create but he also knows how to truly meld his flavors. There was most certainly garlic, ginger, soy, sesame, oil, and salt in my NIWA. However, I savored every bite and slurp without being overwhelmed; balanced spice pleased my palate. I was never thirsty or bloated. The ingredients were undeniably fresh, healthy, local and organic as possible. Whether for a short stop, casual lunch, or celebratory dinner, I will return here without question! Dying to try next~ Steamed Bun: roasted eggplant and zucchini with pickled ramps, black garlic oil, shiso pesto.
Just go and tell them Charlotte Veggie sent you!