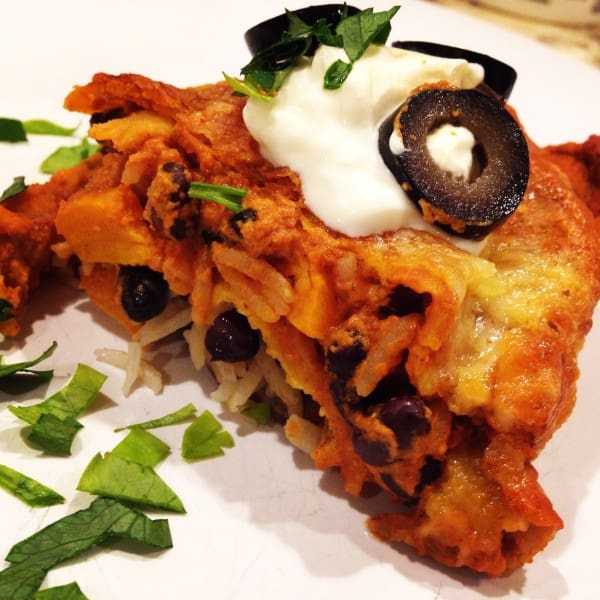 Oh enchilada pie, where have you been all my life? Actually I attempted stacked enchiladas once but because I used a large 9×12 dish so everything was too spread out with only one layer of filling. A thicker, layered pie is essential. Two things we loved most: 1. I did NOT miss rolling up each individual enchilada and 2. The tortillas held there structure and chewiness without getting soggy.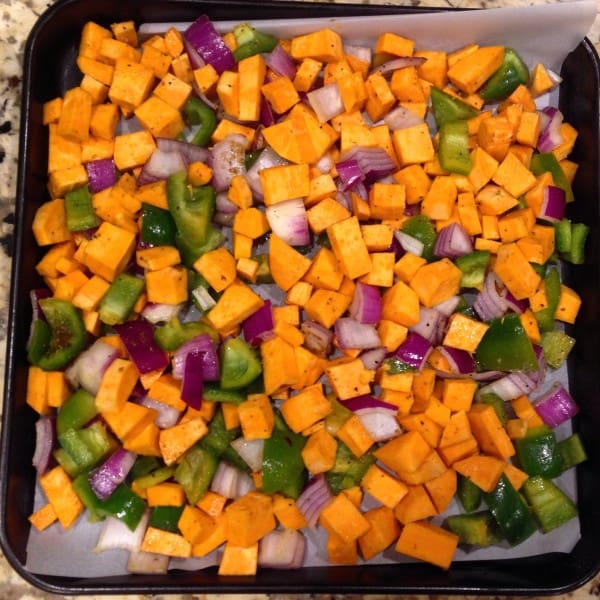 Some days I just feel like throwing it all in the oven and letting it do its thing while I do other things!  Nice not to bother with pots and pans. In addition, while they baked in my countertop oven which has auto shut off after the set timer goes off, I left for 15 minutes to pick up one of my kids. Yes, I know it's a risk, don't do it often, and I'm not recommending it but I cannot stress enough how much I love my Breville as I've mentioned before –  In order to reduce energy bills, a friend's experience, and my preference to minimize using the oven during warmer months, I invested in this appliance. It is far more than a toaster oven. Large enough to hold small casseroles, pizzas, and with features like convection baking, defrosting, and re-warming, it also heats up and cools down quickly. I'm talking minutes.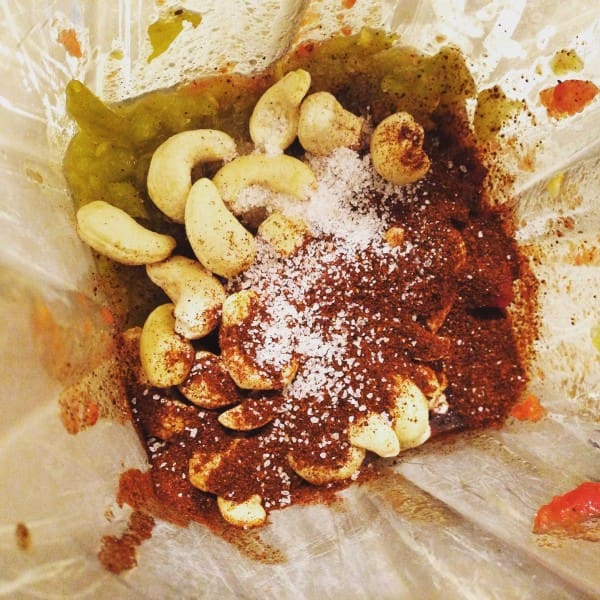 Sweet potatoes and this smoky, spicy sauce make a magical combination.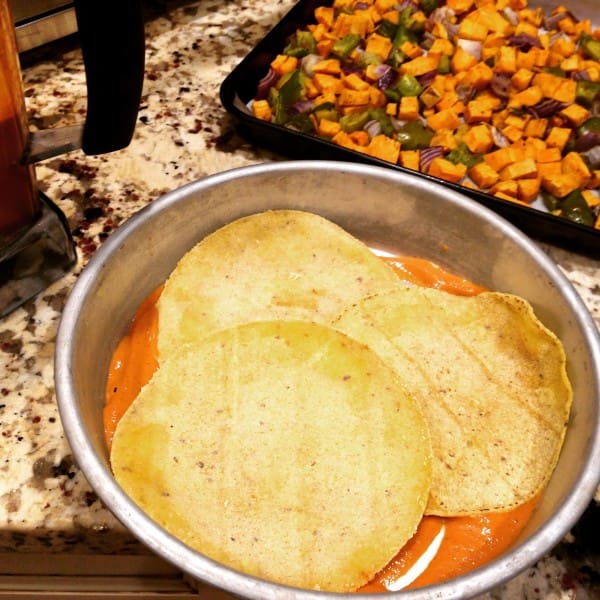 It's really neat how the tortillas don't cover the whole surface in the pan but in the end result, you can still cut slices. If you want better coverage, you can cut the tortillas.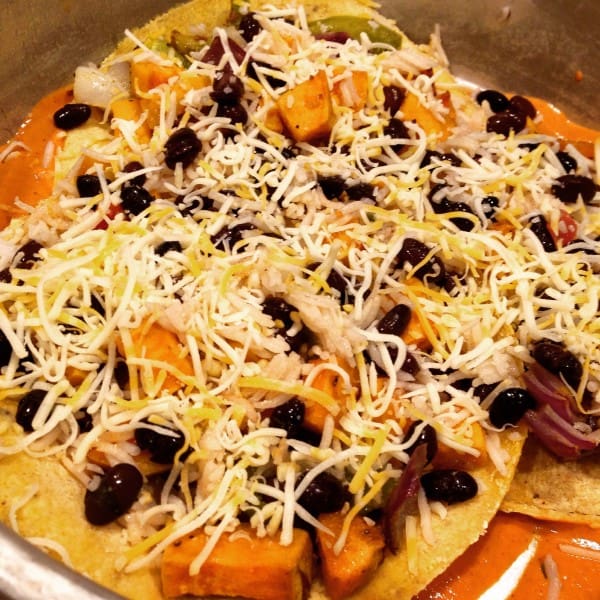 Fill them up layer by layer…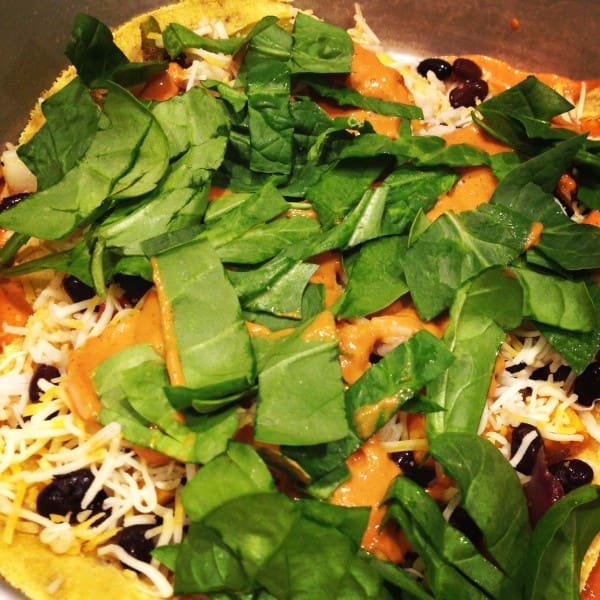 with a dollops of sauce, sprinkles of cheese, and fresh greens in between.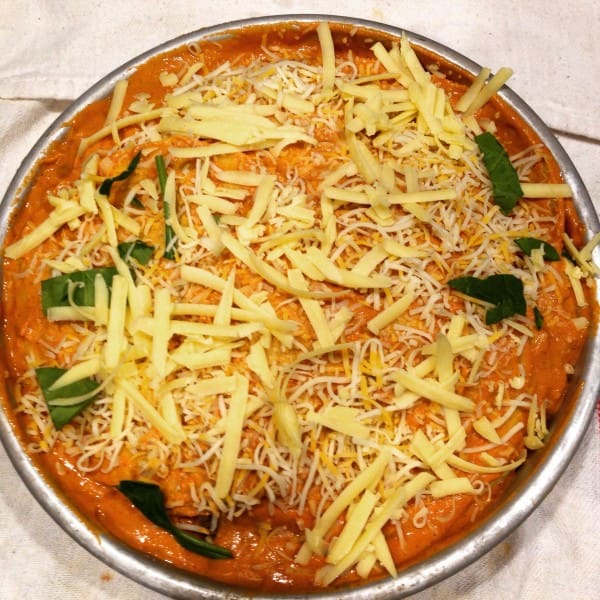 The dish will be filled almost to the rim making for a deep dish dream.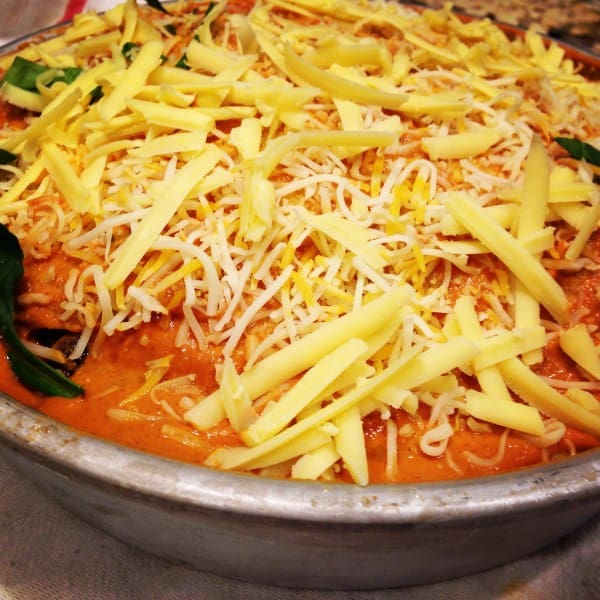 Melty, bubbly, savory, moist, soft but chewy, perfection. You can assemble this pie if you meal plan for the week ahead and refrigerate it or freeze it too! Double baking time if frozen.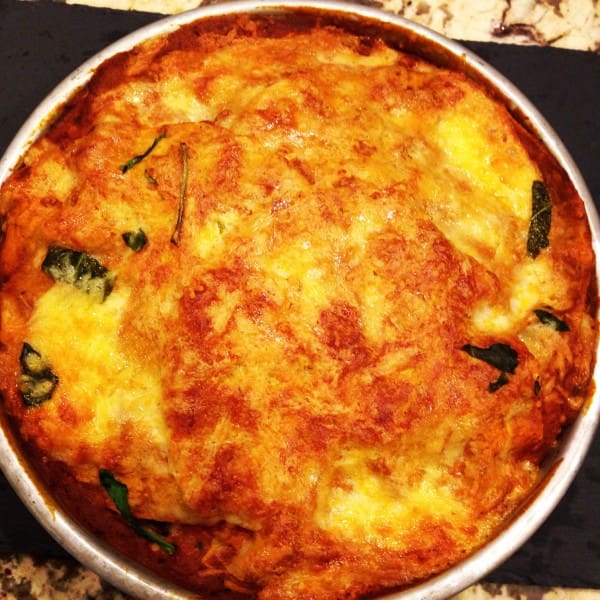 Stacked Sweet Potato Enchilada Pie

Charlotte Veggie

GF and for a NF sauce, make this one instead ( you can also omit the cocoa powder and cinnamon in it)

Serves 4

*Recommend using a 9 inch round cake pan or an 8x8x2 square baking dish/pan and use a little oil or cooking spray to grease it.

Ingredients:

12 corn tortillas

1 cup shredded cheese of choice, less or omit if preferred

2 sweet potatoes, diced

1 bell pepper, diced

1/2 red onion, diced

1 cup cooked or canned black beans

1/2 cup cooked rice

You can replace the rice and beans or throw in additional ingredients of choice.

1/2 tsp ground cumin

1/2 tsp ground coriander

1 tbsp olive oil

Other filling ideas: mushrooms, another type of bean, another protein, nutritional yeast instead of cheese, sour cream, tomatoes, garlic, cilantro, olives

Directions:

Preheat oven or countertop oven to 400 degrees and line a baking sheet with parchment paper.

Toss diced sweet potatoes, peppers, and onions in a large bowl with the olive oil, cumin, coriander, salt, and pepper.

Spread on baking sheet and cook in the oven for 25 minutes.

Meanwhile, make the below sauce and pour enough into your lightly greased baking dish to coat the bottom.

Remove veggies from the oven and reduce the temperate to 375 degrees.

Place down 3 tortillas and scatter on some filling.  Put a dollop of sauce on each and sprinkle of cheese. You can replace the rice and beans or throw in other ingredients of choice. Repeat for 2 additional layers and cover with remaining tortillas and the rest of the sauce and cheese.

Bake for 20-25 minutes at 375 degrees.

Ingredients + Directions for the Sauce: blend together the following:

1/3 cup raw cashews (if you do not have a high speed blender, soak cashews in hot to boiling water for as long as overnight to as short as 30 minutes and drain)

1/3 cup water

1/2 lime's juice

One 14.5 oz can fire roasted diced tomatoes

One 4 oz. can green chiles

2 tbsp chili powder

1/2 tsp salt

1/4 tsp black pepper