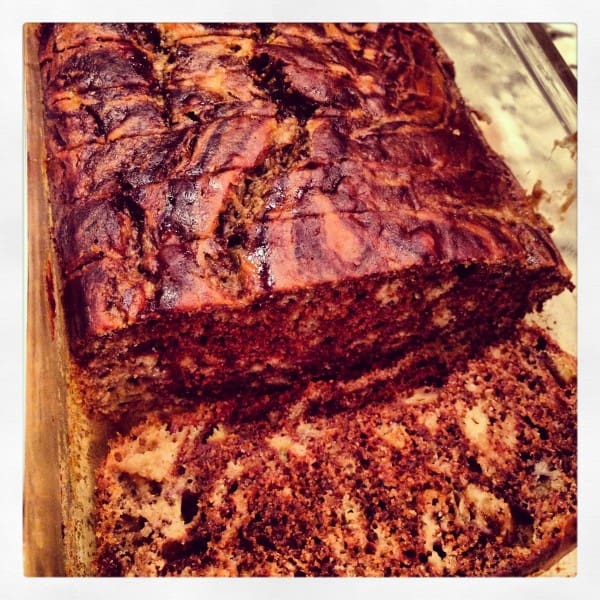 Something I really enjoy doing when we have overnight guests is getting up early and preparing something sweet to cook in the oven. As the goody bakes, it fills the house with a warm and welcoming aroma that everyone appreciates waking up too. Add a pot of hot coffee or tea and bam, just call me Miss Bed 'n Breakfast! I'm expecting new neighbors that I may bring this insanely good chocolate banana bread to as well :).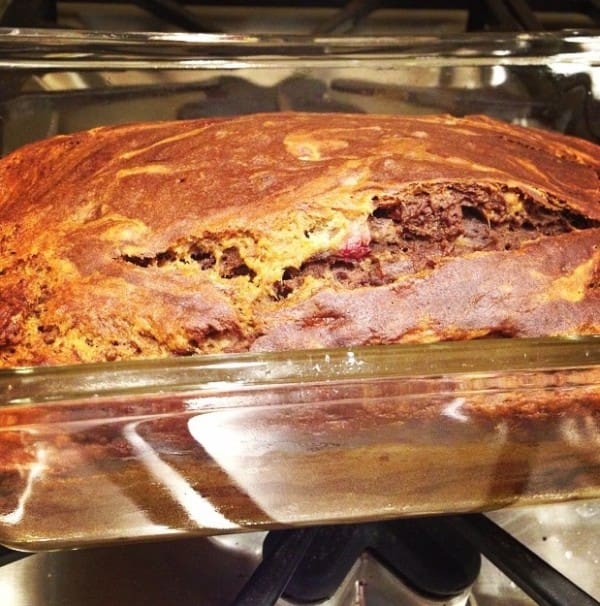 This banana bread is a bit more involved but worth every minute. Bananas and chocolate were just meant for each other. It's optional to add in some fresh strawberries if you can even handle an additional yum factor.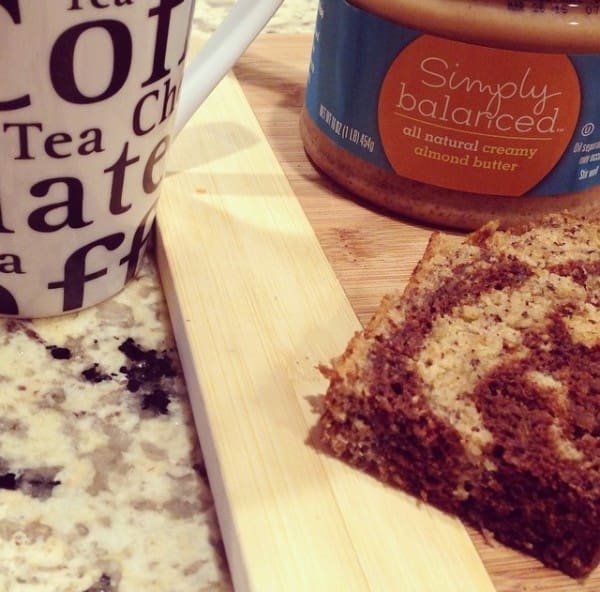 I like how it is tender but stands up to a spread like peanut butter. Basically, it is like eating banana bread + chocolate cake together! It is really awesome to serve up and see people impressed with this little twist on a classic breakfast baked good.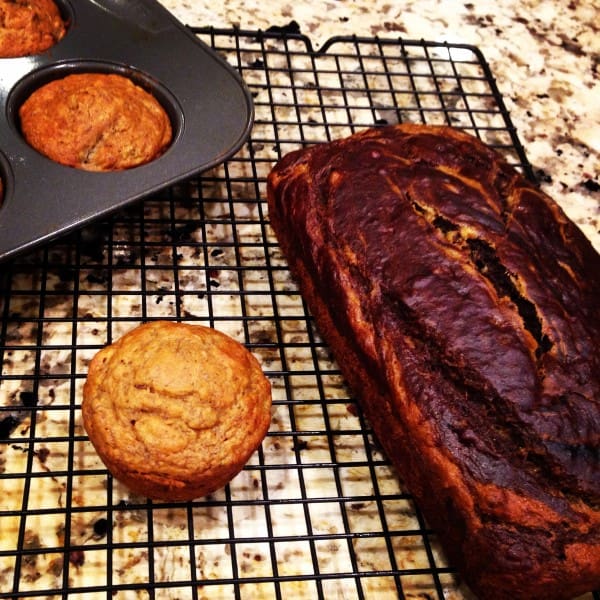 Isa Chandra Moskowitz was the first vegan recipe developer to really amaze me. Her cakes and cupcakes are spot on and don't give anyone a single inkling that the they are dairy free. I have her books Vegan Cupcakes Take Over the World, Vegan Cookies Invade Your Cookie Jar, Appetite for Reduction, and Veganomicon and recommend them all. You will see my fave recipes of hers featured throughout this blog. Pictured are also her banana nut muffins for another day. I made some healthy modifications like cutting the sugar and using a whole wheat flour. Whole wheat pastry flour proves to work just like all purpose flour in anything from sweets to pizza dough to breading.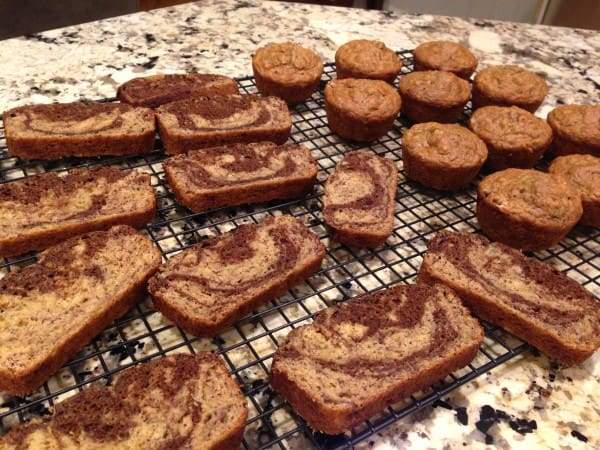 The swirls come out differently on each slice making for a really cool, gourmet presentation.
Marbled Banana Bread

Author: Isa Chandra Moskowitz

Below recipe with my modifications

Full original recipe: http://www.theppk.com/2011/11/marbled-banana-bread/

DF, NF

Servings: 8-9 slices

Ingredients:

3 ripe bananas, mashed
1/3 cup coconut sugar (or sugar of choice)
1 teaspoon pure vanilla extract
2 tablespoons melted coconut oil or nonGMO canola oil
1/3 cup almond milk (or other non-dairy milk)
1 1/2 cups whole wheat pastry flour
3/4 teaspoon baking soda
1/4 teaspoon salt
3 tablespoons unsweetened cocoa powder
6 tablespoons boiling water, divided

Optional: 1/2 cup diced fresh strawberries (a twist from my son's preschool class cookbook)

Directions:

Preheat oven to 350 degrees and lightly grease a bread loaf pan. I use coconut oil for this.
Boil a small pot of water, no need to measure yet, and keep warm.
Mash the bananas in a large mixing bowl until smooth. Whisk in the sugar, oil, milk and vanilla.
Sift  in the flour (I just use a mesh strainer), baking soda, and salt and gently incorporate without overmixing.
Take out 1 cup of the batter and put it in a separate bowl. Separately, in a mug, mix the cocoa powder with 3 tablespoons boiling water and stir until the dissolved. Add this chocolate mixture to the one cup of batter and mix thoroughly.
Return to the original plain banana batter and mix in 3 tablespoons of boiling water until smooth. (Fold in strawberries if using.)
It's time to marble! "Scoop alternate 1/2 cupfuls of chocolate/banana batter into the loaf pan. Nothing has to be precise here, in fact, the more random, the better. Once all of the batter is in, take a butter knife and swirl it through the batter in a circular directions for about 10 seconds."
Bake for 50 minutes. Turn off oven and leave in for another 10 minutes. Let cool for 30 minutes so that it will be easier to slice.