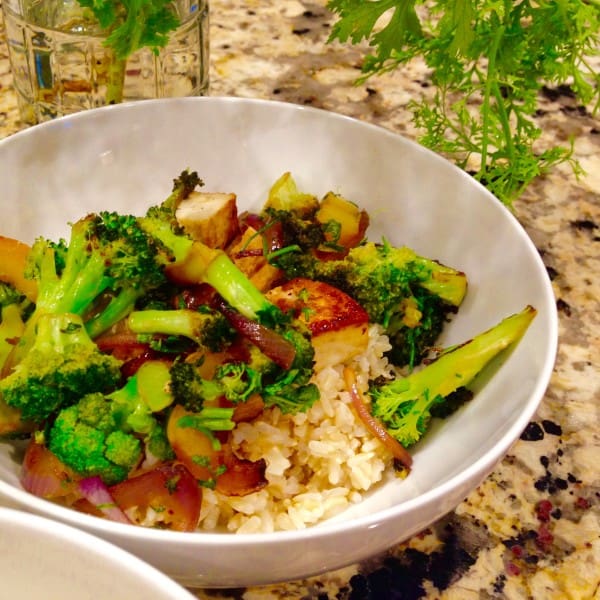 Our family loves eating Asian food but we minimize dining out in general due to cost, ingredients, high sodium and sugar content. Our favorites, Chinese and Thai restaurants, often use genetically modified soy which has been treated with the Round Up. The movie Food, Inc. (please see this preview) is a mind blowing documentary about the U.S. food industry including how genetically modifying and using pesticides has expanded the production of corn to the point that it is in almost every processed food. Corn is actually considered a grain; ask anyone you know with a corn allergy or grain intolerance how difficult it is to find non-whole foods without an ingredient that doesn't trace back to corn (ex. maltodextrin, magnesium stearate, caramel coloring, the alcohol in vanilla extract, baking powder). It is truly eye opening how the fast food industry alone drives the majority of this process. I know their are many people skeptical about how bad genetically modified organisms (GMOs) really are for you. The interesting thing is that they weren't even created and regularly in our food until the 1980s and 1990s, affecting recent generations even more.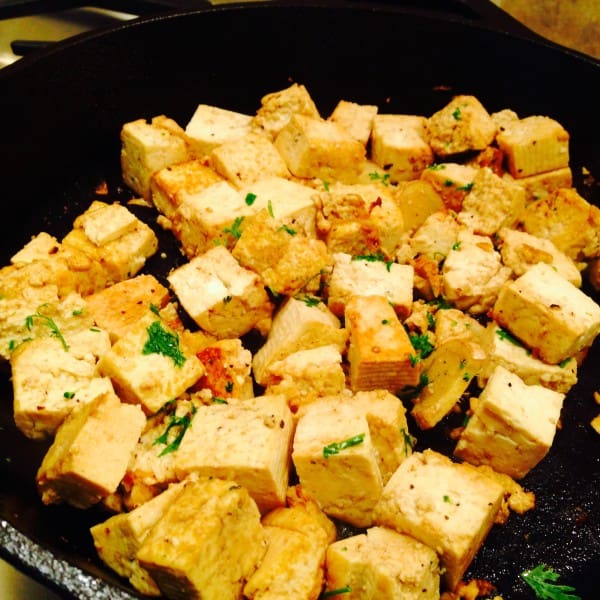 Just as controversial is soy. Some believe that because it is plant based, it can be consumed in mass quantities. NOTHING should be eaten in mass quantities. There have been claims about soy's benefits from reducing your cholesterol and risk of heart disease to its detriments on increasing the risk of breast cancer. My view: moderation. We eat organic, normally sprouted tofu 1 or 2 times a month at home and use a low sodium, non-GMO, gluten free soy sauce 3-4 times a month.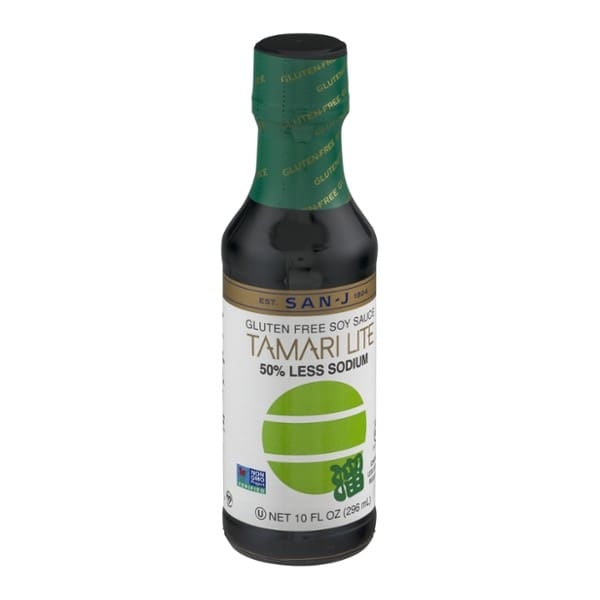 Stir frying is a fast cooking over high heat. This retains the raw crispiness of fresh vegetables and also brings out their vivid colors. I cook my tofu and vegetables in separate pans to avoid to much water release in one pan. Soggy stir fry is no bueno!
So pretty right. 🙂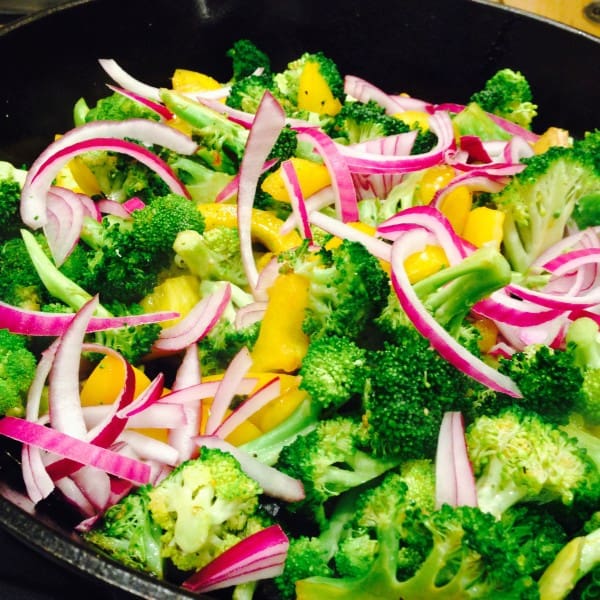 Ginger is in many stir fry recipes and has truly been an acquired taste for me. When I tell you that I couldn't stand it as a child, I am not exaggerating. Somehow I have grown to appreciate the flavor it lends as well as its benefits. Ginger is a root and famous for its anti-nausea effects. It makes Asian and Indian dishes authentic and warm. Smoothies are a great place to use ginger but I recommend gradually increasing the amount so you know what you can tolerate. I generally use 1/4-1/2 inch per 8-12 oz of a smoothie. In this recipe, I was tired, busy, hungry (a.k.a. the norm for a lot of us) and couldn't be bothered to mince or grate the ginger. Therefore I cut big slices that I knew would infuse flavor but be easy to pick out while serving. Try to remember your slice count!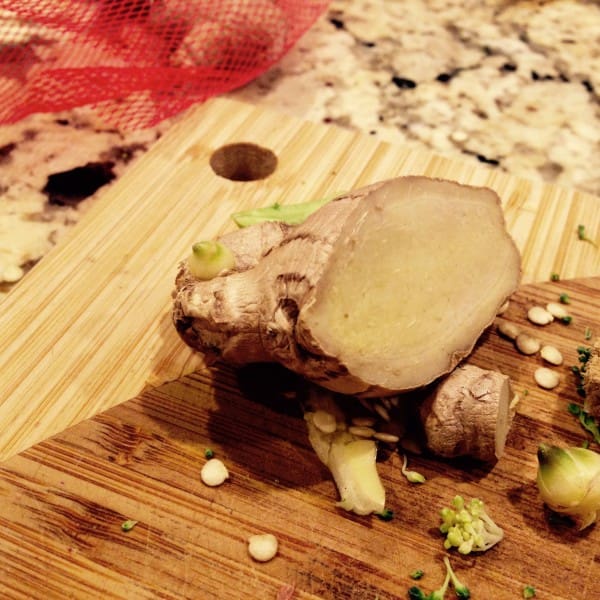 In addition to the big pieces of ginger, I used some other shortcuts too. Remember, homemade as possible is always better, and often cheaper, than eating out. I used a bag of Trader Joe's broccoli florets as well as their frozen organic brown rice. I do feel a pang of guilt whenever I buy frozen rice. It is one of the cheapest foods to buy uncooked but when I need to save time, it's either going to be white rice or this. Time is money and brown rice far outweighs white rice. BPA-free, microwave safe or not, I do not believe in heating plastic ever. I cut open the packets of rice, dump it into a bowl, add a few tbsp of water, and microwave covered with a plate per package instructions.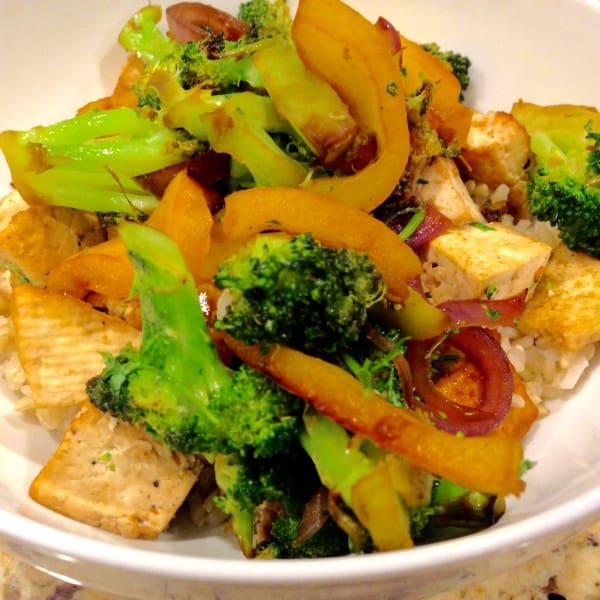 I was pleased with the quantity and quality of how this spontaneously thrown together meal turned out! You CAN skip the tofu altogether or replace with another protein source.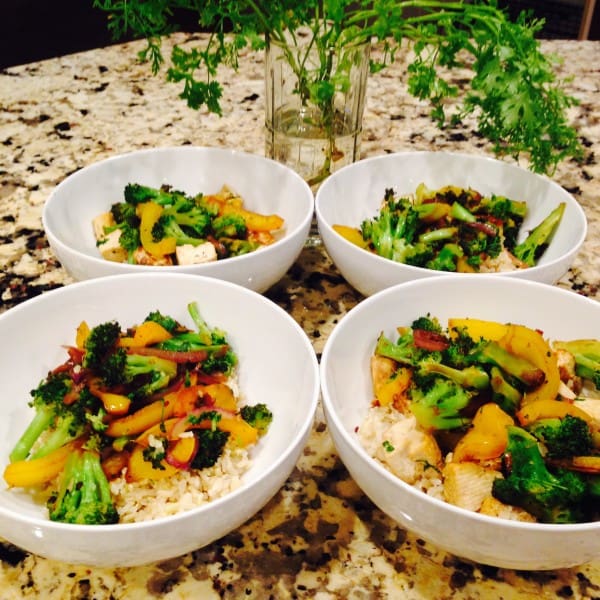 I added some hot sauce or you could use red pepper flakes for some heat as well.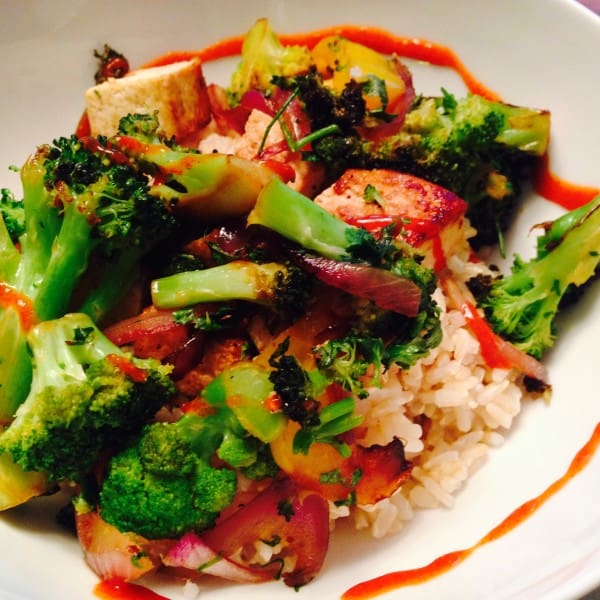 Soy Delish Stir Fry Veggie Rice Bowls

Charlotte Veggie Original

GF, DF, NF

Serves 4-5 people

Ingredients:

1 cup uncooked brown rice prepared according to package or 2-3 cups cooked or 2 packets of the Trader Joe's frozen rice

1 block organic firm or extra firm tofu, absorb as much water as you can by wrapping and lightly squeezing it in a clean cloth, then dice into 1/2-1 inch cubes

1 head broccoli, or about 3 cups chopped, or one bag Trader Joe's broccoli florets

1 small red (purple) onion, thinly sliced

1 yellow or orange or red bell pepper, sliced similarly to the onion

4-6 ginger slices 1/4-1/2 inch thick

2 garlic cloves, crushed or minced

2 tbsp total coconut oil, divided in half

2 tsp sesame oil, divided in half

4 tbsp tbsp soy sauce, divided in half

1 tbsp mirin (a type of sweet rice wine in the ethnic aisle of the grocery store)

1/2 tsp salt, divided in half

Freshly ground black pepper

Optional: 1/4 cup loosely packed chopped fresh cilantro, 1 tsp sesame seeds, or lime wedges for garnish and more flavor!

Directions:

1.  Make rice and set aside.

2.  Heat a pan with 1 tbsp coconut oil + 1 tsp sesame oil. Add in tofu, 1/4 tsp salt, and some black pepper. Add in 2 tbsp soy sauce and all of the mirin. Stir and flip occasionally until browned over medium heat, about 10-15 minutes. Set aside.

3.  Heat the other 1 tbsp coconut oil + 1 tsp sesame oil in a large pan or wok with ginger for 3-4 minutes on medium high heat to infuse. Add all the vegetables, remaining 2 tbsp soy sauce, salt, and pepper and stir frequently on high heat for 5-10 minutes depending on desired tenderness. Garnish with cilantro, sesame seeds, or squeeze of lime juice if desired.

4. Place 1/3 to 1/2 cup of rice in each bowl. Layer on tofu and veggies. Serve immediately.