We are almost through our Back to School series! So far, we've made doughnuts for breakfast, came up with lots of lunch box ideas, and scrumptious popcorn for snack time. It's all very kid friendly, suitable for various diets, and without having to compromise lots of time or nutrients. Now it's time for everyone's favorite, pizza!
(See my gluten-free, grain-free pizza here.)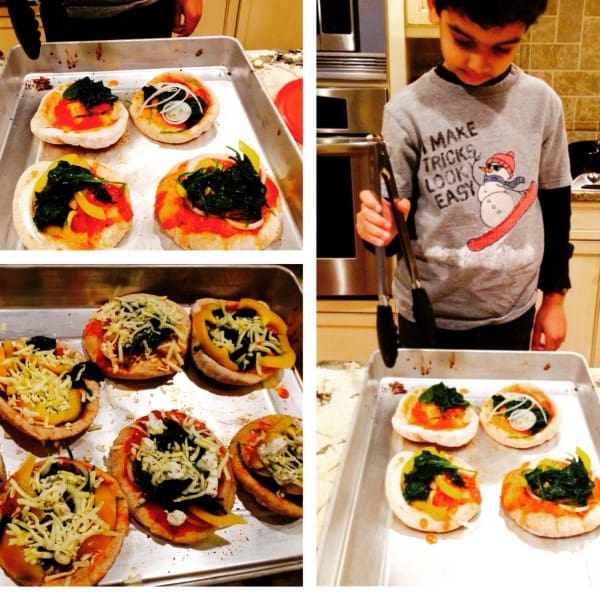 Everyone is tired come Friday but this can be the case on any weekday. It is known that getting children involved in the kitchen helps them develop cooking skills and real food interest longterm. On a day to day basis, it helps me survive the witching hour where they are starting to decompensate, climb the walls, and all over me!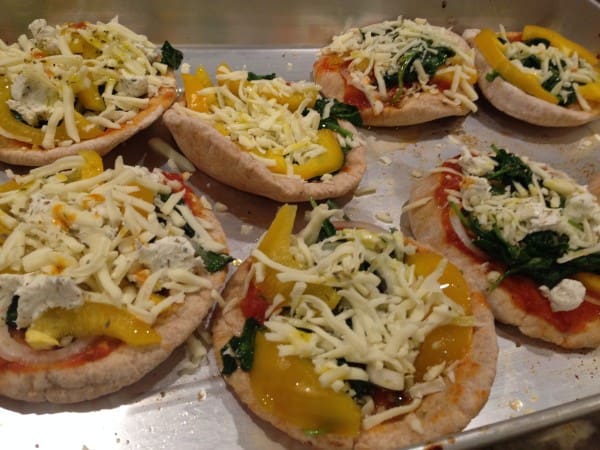 I like these because they truly are a healthy, fast, customizable take on pizzas. Each person can choose toppings of their liking and be exactly pleased. I provide more of a guide than a recipe below because you can make these personal pizzas so many different ways. The idea of using different types of bread as a pizza crust is not novel but I think we don't realize just how much goodness you can pile on top!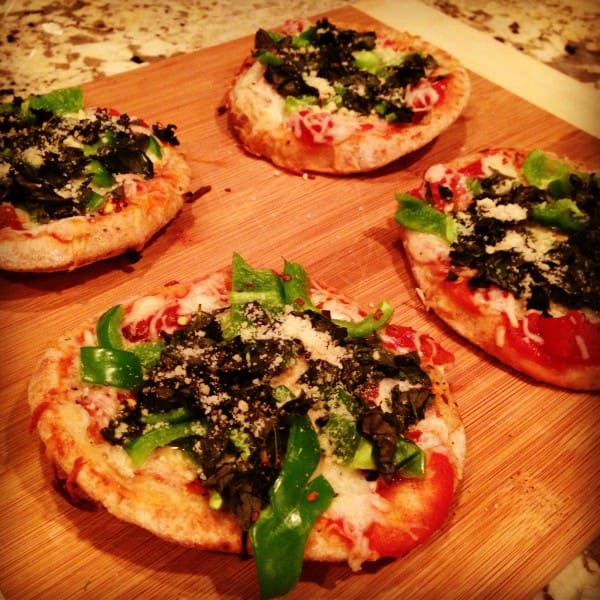 I buy the Trader Joe's whole wheat pita pockets because they contain minimal ingredients: whole wheat flour, water, honey, yeast, salt, ascorbic acid. Not perfect but the best over the counter I can find. 100 calories each, 0.5g fat, 22 carb (4g fiber, 0g sugar), 4g protein, 6% iron, 2% calcium.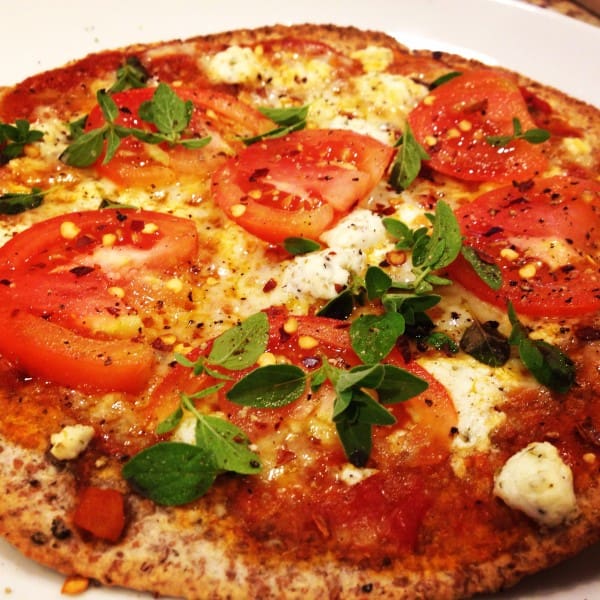 I have used sprouted grains tortillas as well after lightly toasting first. Fresh oregano and soft cheese like goat and ricotta really enhance the pizza.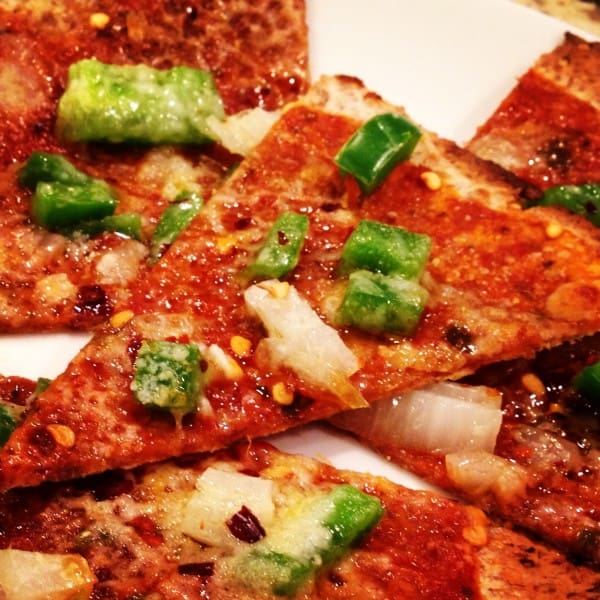 Thin and crispy, these work well as an appetizer too. It is not hard to give these a gourmet appearance!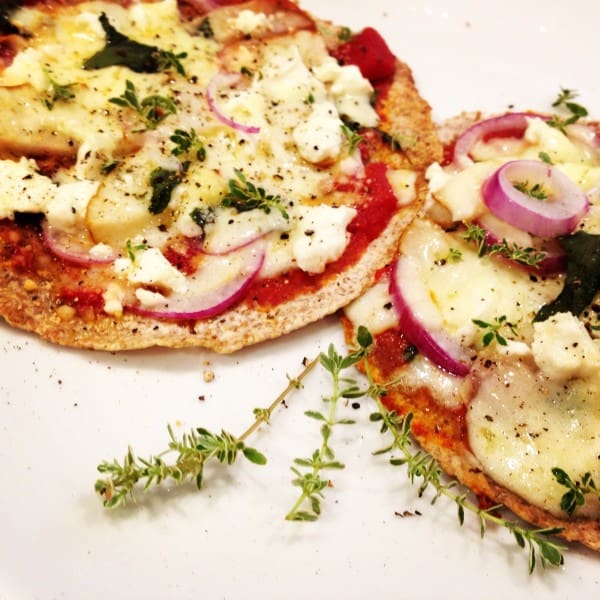 If you've never used thyme on your pizza, it adds a more subtle undertone than oregano and provides that Italian flavor with less bitterness.
Kid Size & Kid Made Friday Night Pizza

Charlotte Veggie

NF

See my gluten & grain free Herbed Cauliflower Crust Pizza if you have dietary restrictions

The below is based on what you need per pita pocket, tortilla, or English muffin. We generally need 2-3 pita pizzas per person, less if serving with a salad or other side.

Ingredients:

1 pita pocket, tortilla, or English muffin

2-4 tbsp of your favorite sauce depending on size of the above bread (I use the tastiest I've found: Premium Organic Paesana Tomato and Basil sauce from Costco.)

3 tbsp shredded mozarella cheese (I used Trader Joe's organic shredded mozzarella)

Olive oil on hand

Topping ideas: dried or fresh herbs, red pepper flakes, bell peppers, onions, roasted garlic, mushrooms, tomatoes, olives, baby spinach, goat cheese, ricotta cheese, parmesan cheese, and choice protein

Directions:

Preheat oven or toaster oven to 375 degrees.

If using, English muffins, separate halves.

Brush each side of your pita, tortilla, or English muffin with olive oil.

Lay on cookie sheet and spread on desired amount of sauce.

Sprinkle on half of your cheese, toppings, and remaining cheese.

Drizzle with olive oil for richer flavor and to avoid cheese burning. Totally optional.

Bake for 10-15 minutes.
Side note: I love my Breville Smart Oven (well reviewed on Amazon) or read more on the company site. In order to reduce energy bills, a friend's experience, and my preference to minimize using the oven during warmer months, I invested in this appliance. It is far more than a toaster oven. Large enough to hold small casseroles, pizzas, and with features like convection baking, defrosting, and re-warming, it also heats up and cools down quickly. I'm talking minutes.