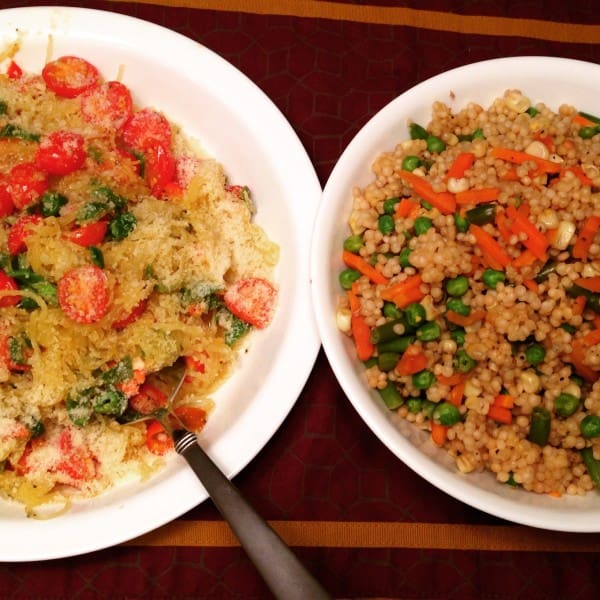 We all enjoyed both dishes but initially I made the spaghetti squash for the adults and the couscous for the kids. Although the recipes are very simple, they turned out unique and delicious. We ate up the rest of the stew too and it complemented both! First, I want to talk about spaghetti squash.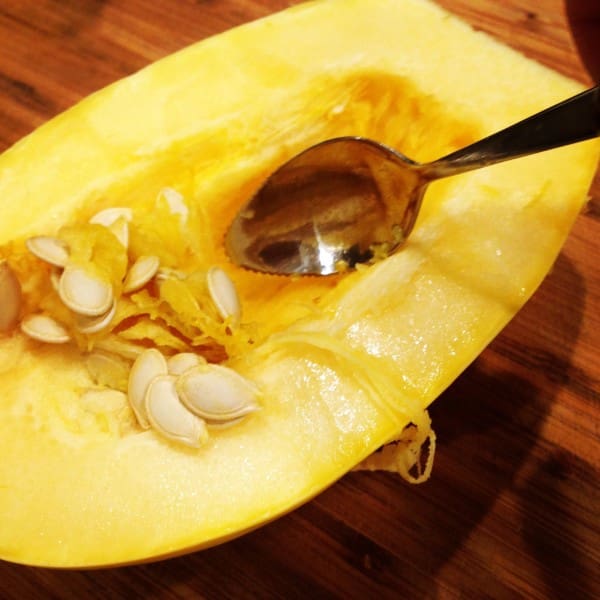 Spaghetti squash can be scary to cut into because it is round, so smooth, and very hard. To make it easier and safer, I microwave the whole thing for 2-3 minutes first. You can use a regular spoon or grapefruit spoon to take out the seeds and middle spongy flesh.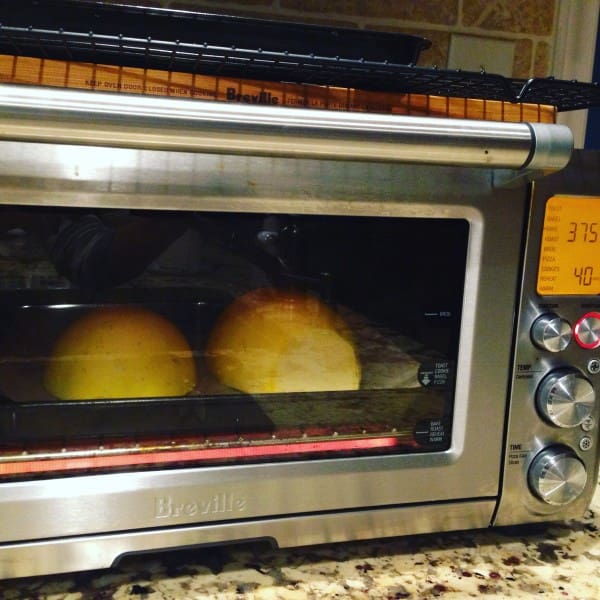 After brushing the cut sides with oil and seasoning with salt and pepper, I bake them face down.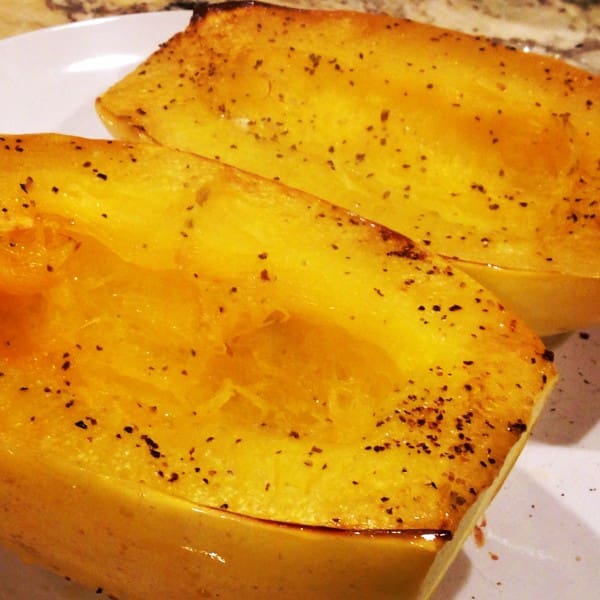 I prefer to allow the squash to cool a little before pulling out the stringy inside.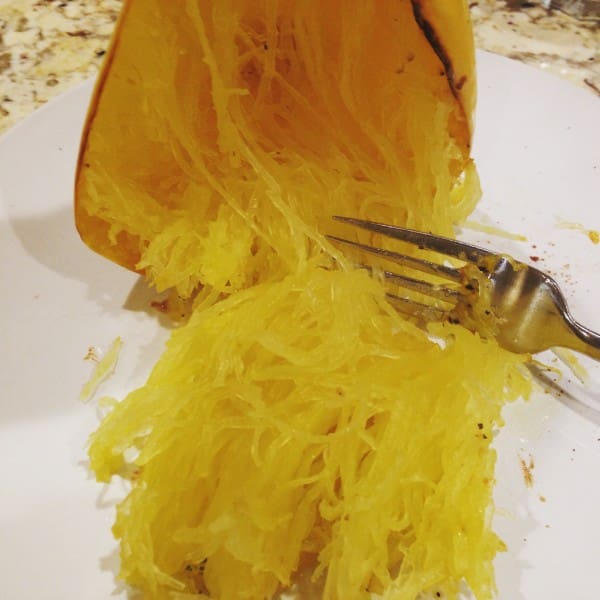 And just like that, you have strands to dress any way you desire. I'm always surprised by the quantity of the "spaghetti" and how it isn't soggy and actually has a little bite to it. The squash is mild without a strong distinct flavor so it is yummy with just some oil and spices to a more complex sauce.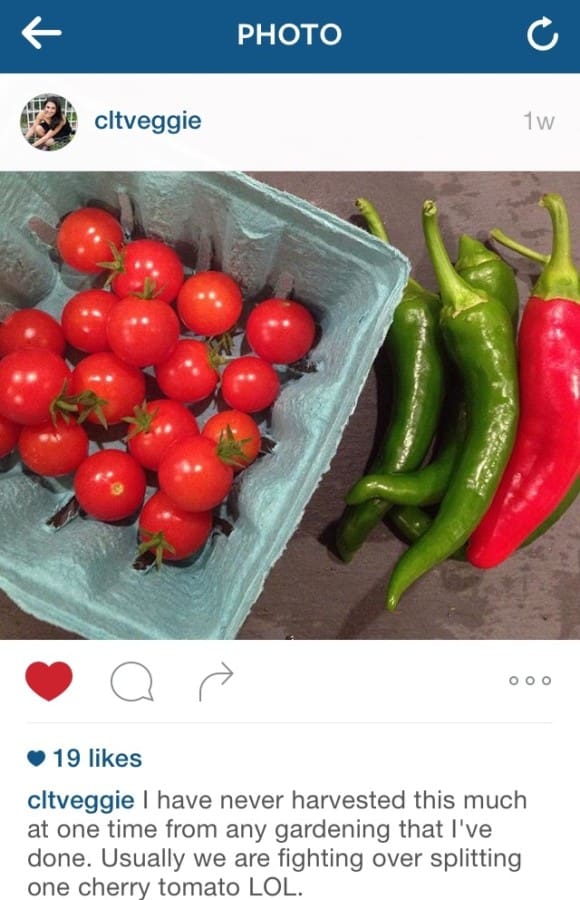 I used the last of my garden cherry tomatoes, sweet peppers, and basil as well as a dusting of parmesan cheese.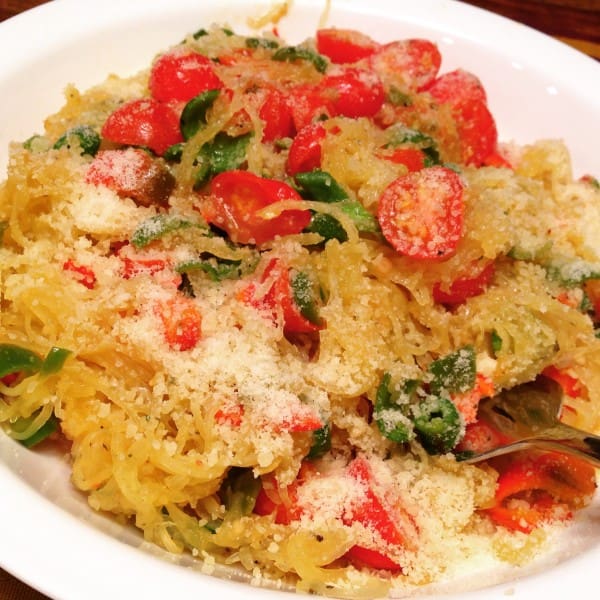 Spaghetti Squash Peperonata

GF, GRF, NF (DF without cheese)

Serves 4

Ingredients:

1 medium spaghetti squash

1 tbsp olive oil

Salt and pepper to taste

1 cup cherry or grape tomatoes, cut into halves

1 bell pepper or 5 sweet peppers, diced

8-10 basil leaves, torn or julienned

Another 1 tbsp of olive oil

Directions:

Preheat oven or toaster oven to 375 degrees.
Microwave whole squash 2-3 minutes.
Slice off top, a few inches below the stem then place that side down on your cutting board.
Carefully slice down in half lengthwise.
Lay on a parchment lined cookie sheet face up, brush with oil, season with salt and pepper, and turn over to lay face down.
Bake for 40 minutes.
Meanwhile, heat olive oil in a pan over medium heat and saute tomatoes, peppers, garlic, and salt and pepper for 10 minutes just until beginning to soften.
Allow squash to cool enough that you can handle it.
Carefully pull out strands as was pictured above.
Toss in sauteed veggies. Garnish with basil.
Pearled, or Israeli, couscous refers to these little bead-like pasta. My kids love it so it is always a treat for them. Using it to get vegetables into them is a treat for me! You can also find it in whole wheat. It cooks more like rice than pasta because there is no need to drain the water as it is absorbed.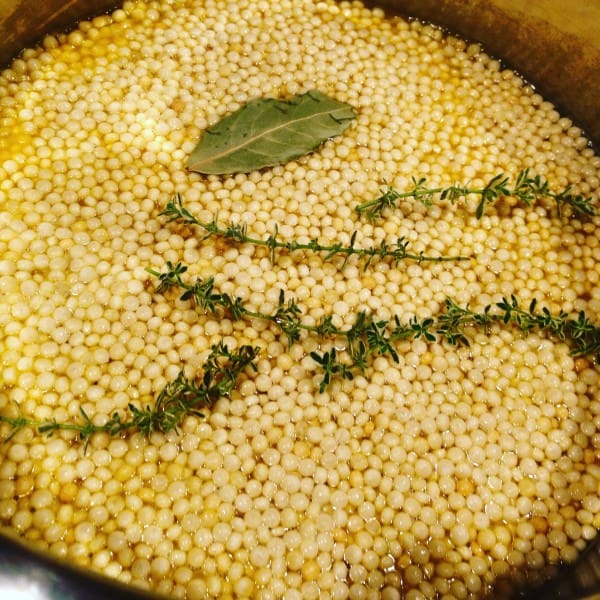 I place some fresh herbs right into the water or broth to infuse flavor and fragrance. They float to the top by the end of the cooking process and are easy to remove.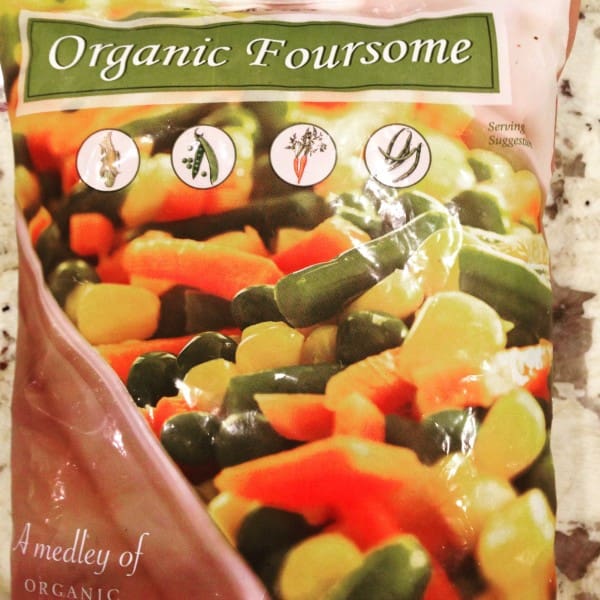 I am not a huge fan of mixed frozen vegetables but when I do use them, these are the ones we prefer from Trader Joe's. I always keep a few bags in the freezer for when we are out of fresh groceries or I need to whip up something quickly. They are useful for plates like this pilaf as well as homemade fried rice or polenta casserole.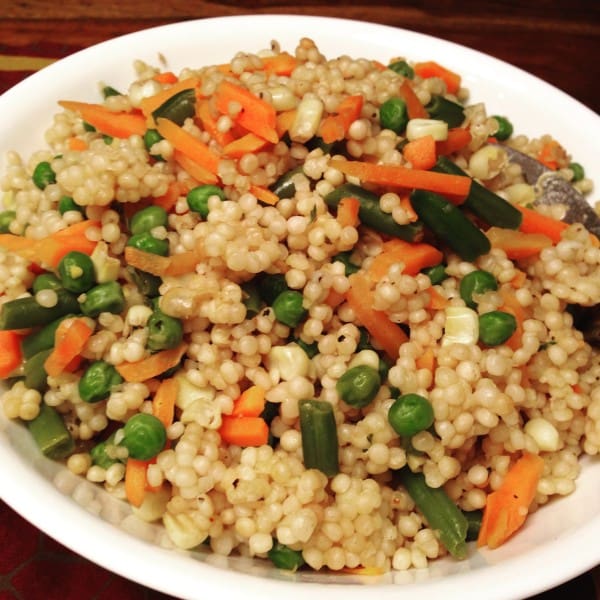 Pearled Couscous Pilaf

NF, DF if you use oil rather than butter

Serves 4

Ingredients:

8 oz. Israeli or pearled couscous

1 bay leaf

Few sprigs fresh thyme or oregano but you use fresh parsley or cilantro at the end as well as use dried herbs to season with at the end.

1/2 tbsp butter (or olive oil or coconut oil)

1  3/4 (1.75) cups water, broth, or combination of both

16 oz bag of frozen mixed vegetables but you can absolutely dice up about 1-2 cups of your fave fresh veggies instead

1/2 tbsp olive oil

1/4 tsp cinnamon

1/4 tsp black pepper

1/2 tsp salt

Directions:

Heat butter (or oil) in a pot over medium heat and add couscous.
Stir to coat allow to toast for 1-2 minutes.
Add water/broth, bay leaf, and herbs.
Bring to a boil, cover, and reduce heat to a simmer for 10-12 minutes.
Heat a pan with the 1/2 tbsp of olive oil over medium high heat and add the frozen veggies as well as cinnamon, salt, and pepper. Cook through well, about 15 minutes.
Combine couscous and vegetables.