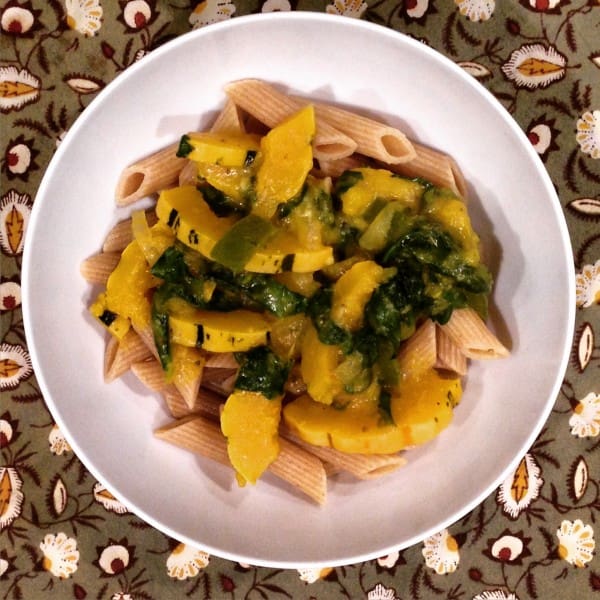 I always say that last minute plans can end up being the best plans. Every now and then an out of town friend is passing through or you run into someone at the store or your neighbor walks down and you end up having the best time. The same can be true of meals. Those nights you're tired, have little to work with, and need groceries but keep putting it off. Yet another unexpected, good recipe is born! Small miracles.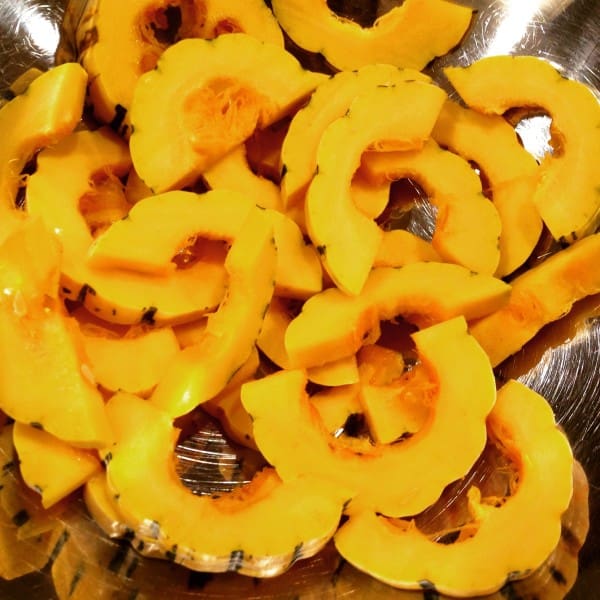 All of the various colors, shapes, and sizes of squash that fall brings always captivate me. I feel like they say "buy me, buy me!". I especially appreciate the presentation of delicata squash with the contrast of bright yellow with dark green stripes and how the bumpy ridges make such decorative looking slices. As my son pointed out, "it looks like a funny little watermelon"! I started to prepare it for roasting like I usually do but really wasn't sure what to serve it with. I could eat just this but the family not so much. I cannot tell you how many times I don't know what I'm going to make for dinner so I just started chopping and the ideas start flowing!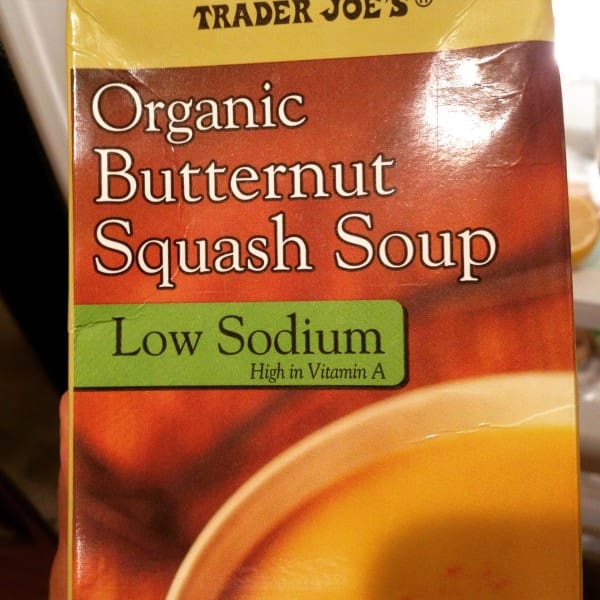 I like to grab these soup cartons to warm up and add to my lunches which are usually cold salads and leftovers. This has to be the most seasonal, shortcut sauce I've ever "made". My family is NOT a fan of this soup flavor but somehow they loved it as a sauce! Another win.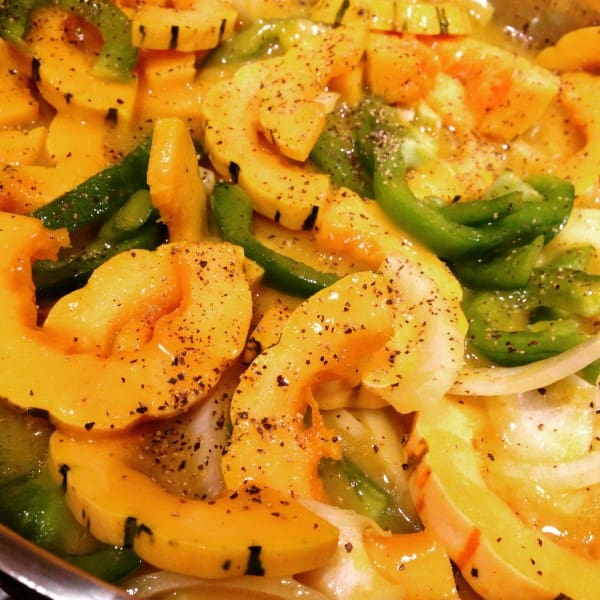 Delicata is about as hard a squash as butternut although with its smaller size, it is easier to cut into. The texture is creamier than butternut. I was still afraid that it would take forever to cook but adding a liquid and lid really accelerated the process.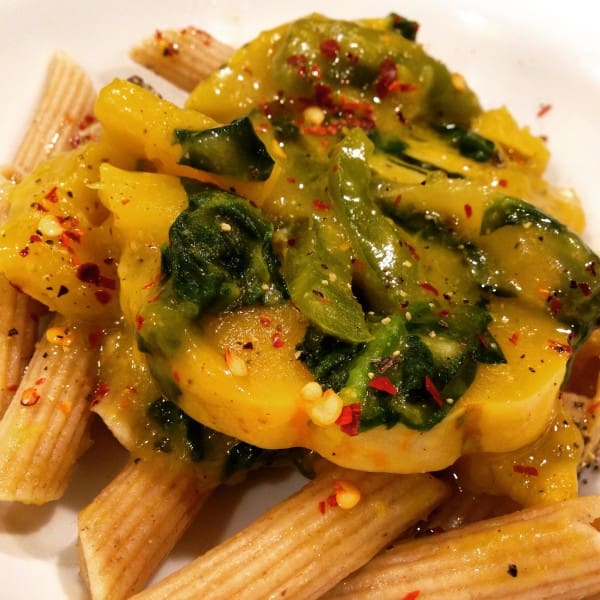 At around $12 and 35 minutes, I'm so glad for a new, seasonal, and affordable meal!
Autumn Pasta: Delicata Squash With Butternut Sauce

Charlotte Veggie

NF

Serves 4

Ingredients:

16 oz bag of preferably whole wheat penne rigate pasta (this is penne with ridges and holds sauce better)

1 delicata squash, cut in half lengthwise, seeded, and sliced into 1/2 inch thick half moons

1 green bell pepper, sliced

1 onion, sliced

2 cups baby spinach leaves

1/4 cup grated parmesan cheese

1 tsp dried oregano

1/2 tsp garlic powder

1/2 tsp sea salt

1/2 tsp black pepper

2 tbsp extra virgin olive oil

2 cups butternut squash soup

Optional: fresh garlic, more parmesan, nutmeg, red pepper flakes, nutritional yeast

Directions:

Cook pasta according to package directions. I find that it is key to use big pot of water and really "drown" your pasta whether you prefer it al dente or softer. Not using enough water is one of the top ways that noodles don't turn out well. The water will boil faster if you cover the pot but do not cover once you've added the pasta.

Heat a wide pan with the olive oil on medium heat. Add the delicata, onions, peppers, salt, pepper, and oregano and stir. Saute for 10 minutes.

Add butternut squash soup, cover, and cook for 20 minutes or when the delicate is soft enough to easily pierce with a fork.

Turn off heat, add parmesan and baby spinach.

Combine with pasta and serve.

I had some leftover sage from my pumpkin ravioli last week and it further enhanced the dish.