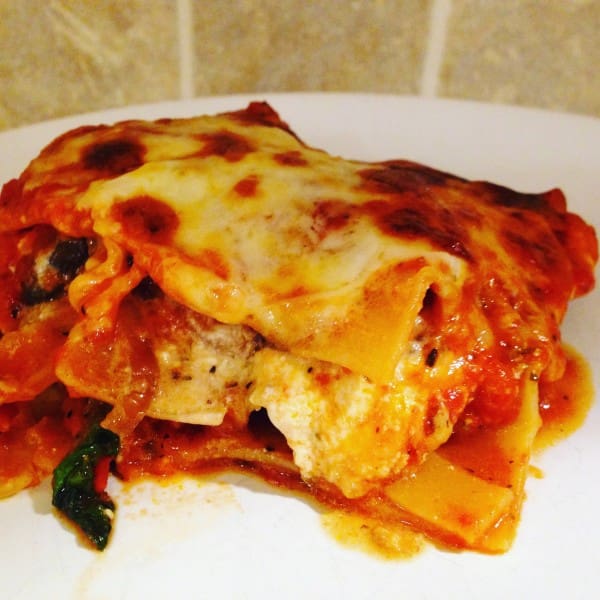 Who doesn't enjoy a big soft, melty, belly warming, square of lasagna?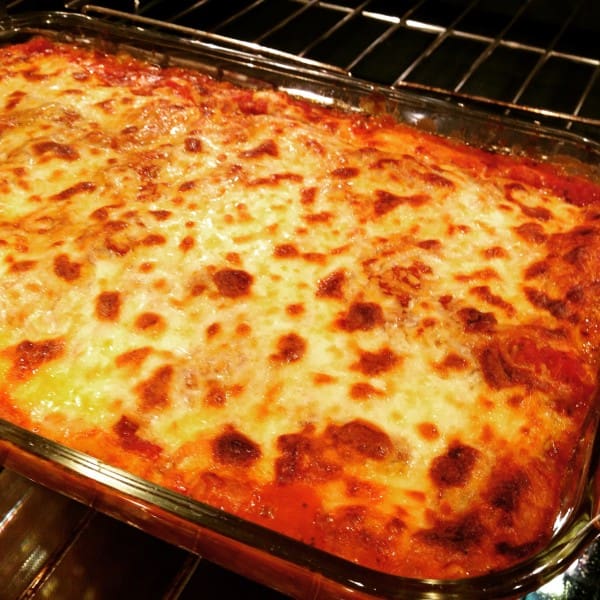 We don't have it often but I was invited to a lasagna potluck at work. I was assigned to come up with a fall themed, vegetarian version. And boy was this compilation a crowd pleaser!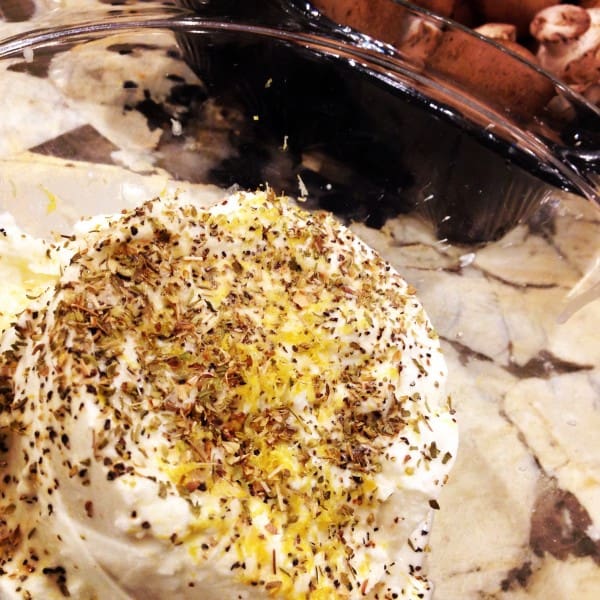 As I mentioned in my butternut bruschetta post, I love freshening up ricotta with lemon zest and herbs. It really makes all the difference in the final result.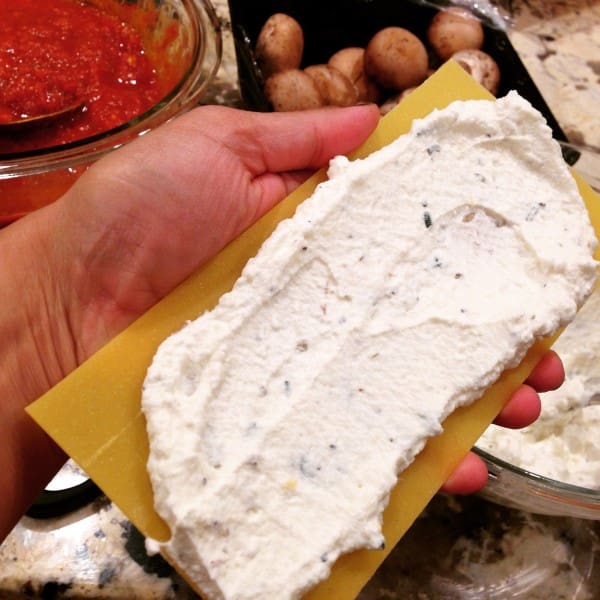 I was excited to discover oven ready whole wheat lasagna sheets at our local grocery stores. It is easier to spread on the ricotta while holding the noodle rather than laying it down in your casserole dish.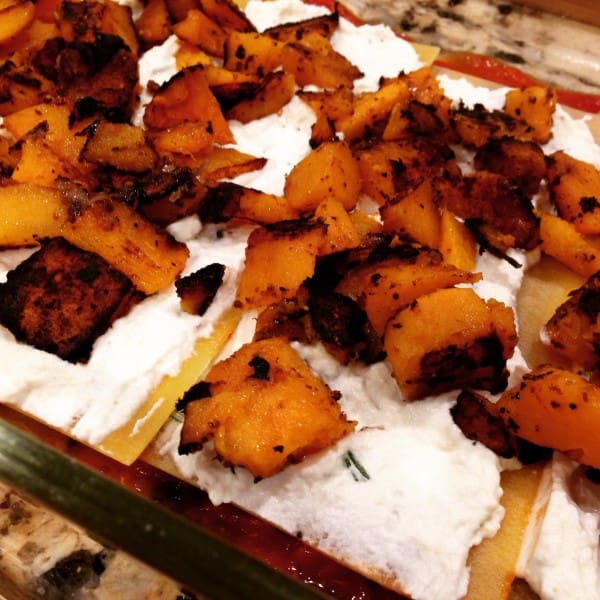 Butternut squash and woody herbs like rosemary and oregano were my fall theme contributions. I let the butternut surface get charred to lend a smoky sweetness but only cooked it through partially. It finished in the oven because I didn't want it to get mushy or release too much water.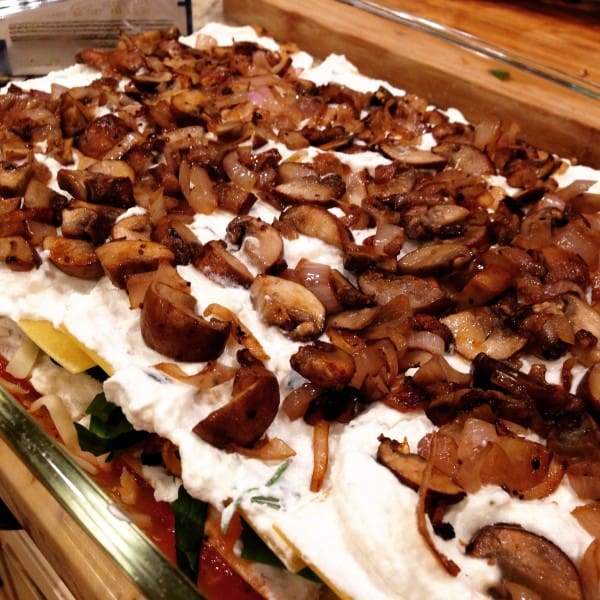 The shallot mushroom combination is my favorite. Shallots are somewhere between red and sweet onions in taste and they really compliment mushrooms. I also find that I don't always need fresh garlic when I choose shallots over onions.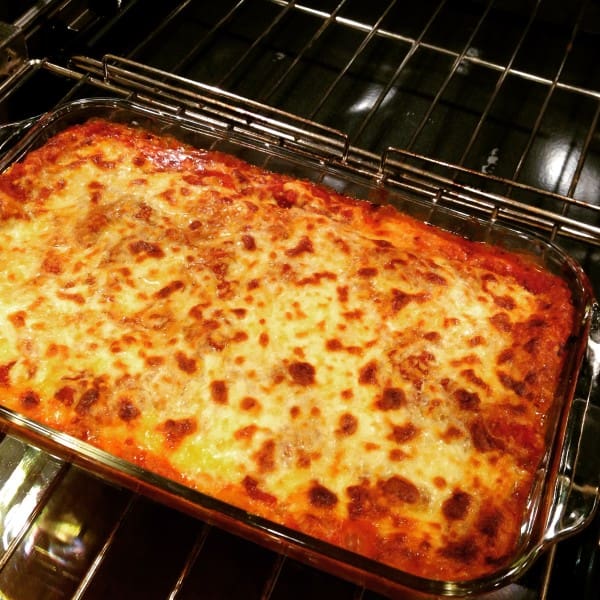 A quick broiling at the end give you that browned, bubbly cheese top that everyone loves.
Hearty Harvest Butternut Lasagna

Charlotte Veggie

NF

Serves 6

Ingredients:

9 regular lasagna sheets or 12 oven ready lasagna sheets

8-10 cremini/baby bella mushrooms, diced

2 shallots, diced

2 cups diced butternut squash

1 container ricotta cheese

8 oz. shredded mozarella cheese

1/8 cup grated parmesan cheese

2 jars or 6 cups of your favorite tomato/marinara/Italian sauce

1 tbsp and 1 tsp olive oil

Zest of 1 lemon

1/2 tsp garlic powder

1/2 fresh or 1 tsp dried rosemary

2 tbsp fresh or 2 tsp dried oregano

Salt and pepper to taste

Directions:

Preheat oven to 375 degrees.

If you are using regular lasagna noodles (not no-boil or oven ready), cook according to package first.

Heat a pan with 1 tbsp of the olive oil over medium heat and cook butternut squash for about 15 minutes, flipping occasionally. Season with salt and pepper. Remove from pan into a bowl.

Using the same pan, heat the 1 tsp of olive oil and add mushrooms, shallots, salt, and pepper. Saute until partly softened, about 7-8 minutes.

In a small mixing bowl, mix together the ricotta, parmesan, lemon zest, garlic powder, rosemary, oregano, and some black pepper.

Pour about 1/2 cup of sauce in the bottom of an 8 x11 baking dish.

Spread about 1/4-1/2 inch thick layer of ricotta mixture onto each of 4 lasagna sheets. Lay those sheets side by side in your baking dish, slightly overlapping. Spread on the butternut squash and then add about 1/4 cup of sauce on top of each noodle and a sprinkle of mozzarella cheese.

Repeat with another layer but this time topping with mushrooms and shallots rather than the squash.

Top this with remaining lasagna sheets, the remainder of the sauce, and mozarella cheese.

Loosely cover with foil so it is not in direct contact touching the food, bake for 40 minutes, remove foil, bake for 5 more minutes, then broil for 3 minutes.