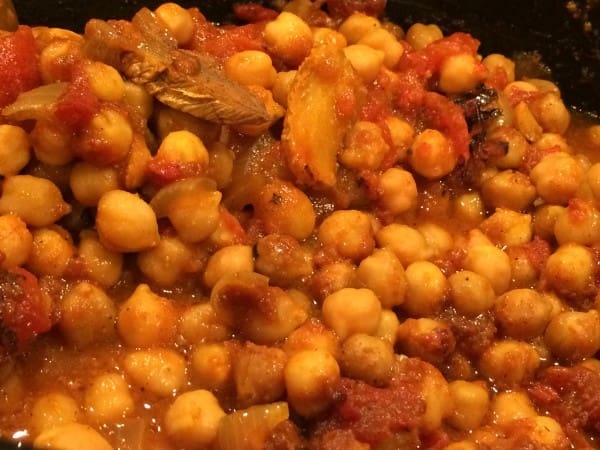 I've been receiving requests for Indian food recipes and this one requires no culinary expertise. The gravy drowning the chickpeas is light but full of spices making a totally mouthwatering experience. On a day that I was scheduled to work at the hospital and knew it was going to be a long day, I developed this recipe. There was a good chance that I would come home too late to fix my family a proper dinner and I would need to cure my own "hanger" (hungry+anger) with something savory and nourishing. Forget about grocery shopping while hungry; you don't want to see me raid my own fridge and pantry! Before going to bed the night before, I threw the ingredients into my Crock Pot, and covered with the lid. Before I left for work in the morning, I hit ON. We served it with the Trader Joe's Frozen Multigrain Blend with Vegetables (not perfect but 'emergency' item I keep on hand) because I was out of whole wheat pita bread, rice, and quinoa. I had mine with plain yogurt. You do the best you can.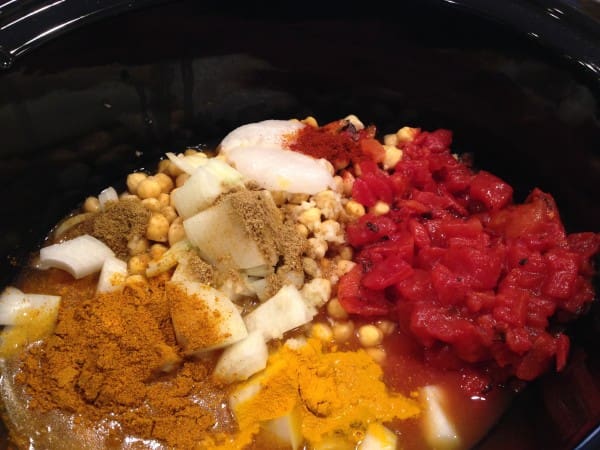 Slow Cooker Chana Masala (Indian chickpea curry)

Charlotte Veggie Original

GF, GRF, DF, NF

8 servings

Ingredients:

2 cans/cartons or 3 cups of unsalted chickpeas (also called garbanzo beans), rinsed and drained. You can also use chickpeas that were soaked overnight or for at least 6-8 hours

1 can fire roasted tomatoes

1 yellow onion, diced

2 cloves garlic, minced or crushed (optional)

3 half inch thick slices of ginger

1/4 tsp garam masala (really transforms Indian dishes)

1 tbsp curry powder (I just used the Trader Joe's one)

1/2 tsp each: ground turmeric and paprika

1 tsp each: ground cumin, ground coriander, and salt

Black pepper to taste – about 1/4 tsp

1 tbsp coconut oil (unrefined and organic)

4-6 cups vegetable broth (You can also use water for part of it)

Directions:

Place all of the above in your slow cooker, give it a stir, cover, and cook for 6-8 hours on LOW or 4-6 hours on HIGH.

Carefully pick out ginger slices and dispose.

Serve with any type of bread, rice/barley/couscous, or quinoa as well as some plain yogurt.

Add cilantro and lime juice if desired.