Whether celebrating winter holidays is your tradition or not, there is something in general about the year ending up that makes life incredibly hectic. My dog Bella tries to help with all of the wrapping.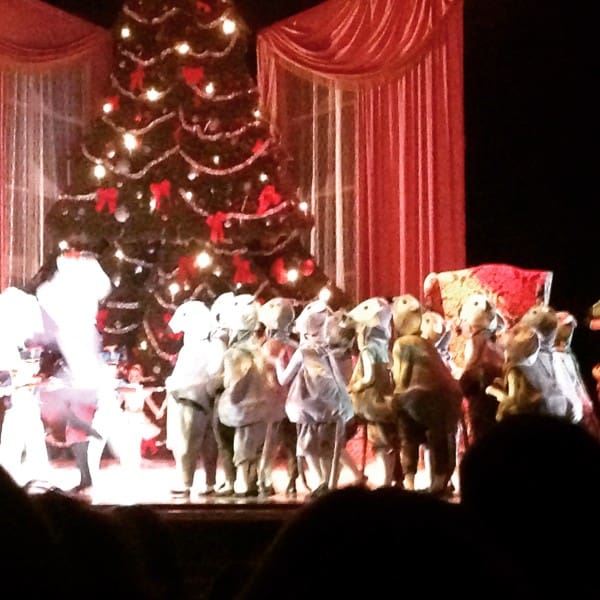 In addition to the usual Christmas shopping and parties we have this time of year, my daughter's dream of having a role in The Nutcracker production has come true! She is performing multiple times in a two week period and boy does it have us busier than busy. Insane would actually be a more suitable word.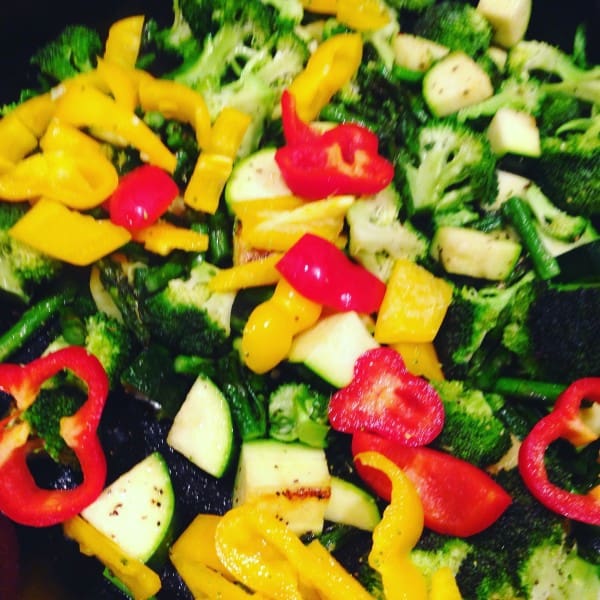 The situation is truly a test of how well I can keep her nourished and energized while also being realistic and balancing my own energy drainage! Having said that we have eaten some meals out and the ones I've cooked have had to be fast with little time. Choose additional or alternative vegetables or protein as this dish can work with anything!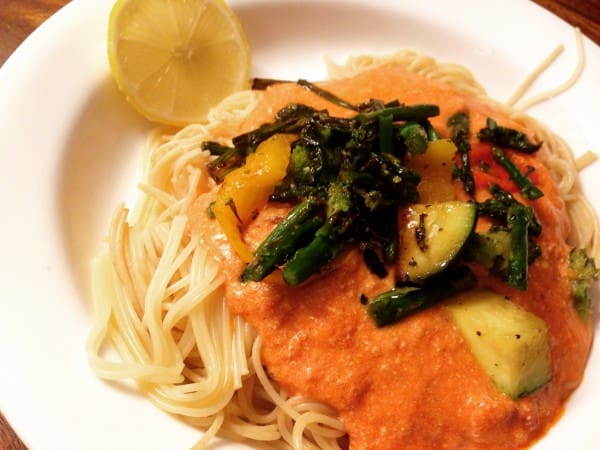 This recipe is something I threw together and it turned out so incredibly delicious so I had to share it. Full of garlicky caramelized colorful veggies over thin strands of al dente noodles and dressed in a vodka-esque, creamy pink sauce, this dinner was both pleasing and healthy for my little dancer.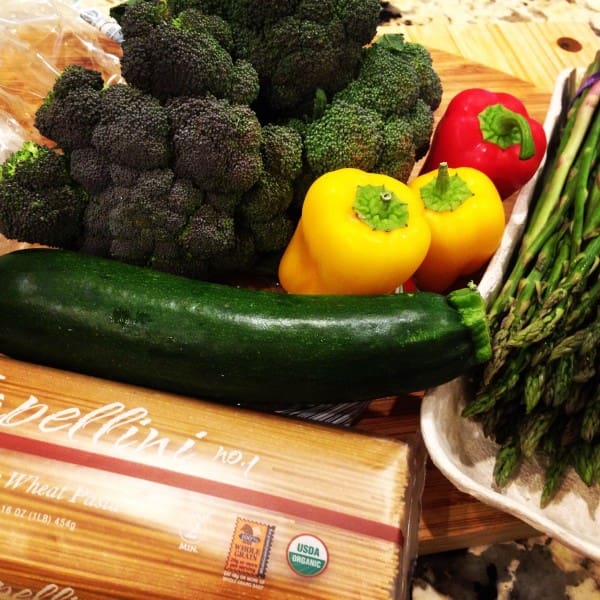 I had a quite a few social events this past weekend and whenever that happens, I pretty much take all of my vegetables out on the counter and decide what to concoct that will restore some healthfulness.
Just three basic products resulted in one of the best Italian sauces I've ever made. It was such a nice change from jarred sauce as well as not having to cut and saute onions and garlic and add spices. This sauce was created because my son doesn't like ricotta including in lasagna so I decided to melt it and hide it: he thought it was pretty much marinara + alfredo. Nope, sneaky mom.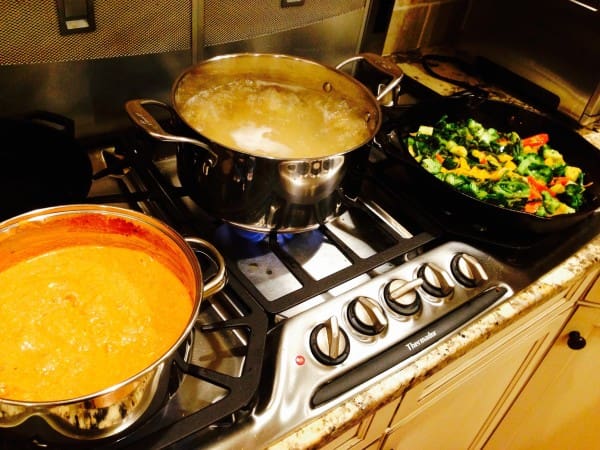 Cutting up the vegetables is really the only work and with three burners going, this meal was ready is less than a half hour.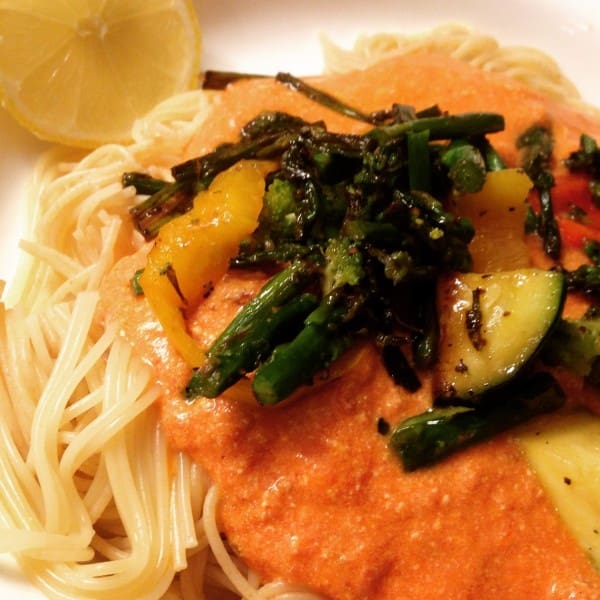 I had the leftover sauce with zoodles the next day!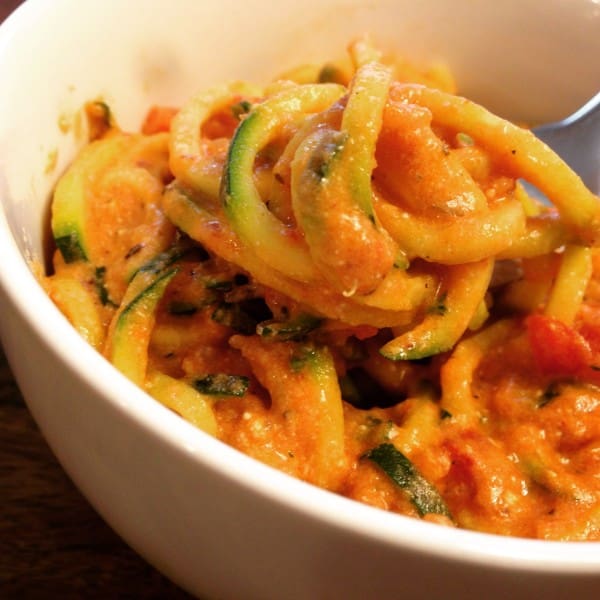 Capellini Primavera Alla The Easiest Tastiest Pink Sauce

Charlotte Veggie

NF

Serves 4

Ingredients:

Large pot of water

16 oz. whole wheat cappellini or angel hair pasta

28 oz. can of crushed tomatoes (I used Muir Glen organic crush tomatoes with basil.)

10 oz. jar of roasted red pepper spread (Trader Joe's Roasted Piquillo Pepper & Quinoa Spread or Roasted Red Pepper Spread With Eggplant & Garlic)

15 oz. whole milk ricotta cheese (I use Organic Valley or Trader Joe's brand.)

1 tbsp extra virgin olive oil + 1/2 tsp garlic powder OR garlic flavored olive oil (Trader Joe's organic garlic olive oil)

1 bunch broccoli, chopped, approximately 3 cups

1 medium zucchini, chopped

1 bunch asparagus, chopped, approximately 1 cup

1/2 cup chopped bell peppers

Salt and pepper to taste

Optional: 1 tsp lemon zest

Directions:

Put water to boil for pasta. Meanwhile, get out all of the ingredients and cut up the vegetables. Cook pasta according to package.

Heat oil in a wide pan, add vegetables, salt and pepper and lemon zest if using. Stir occasionally and cook over medium heat for 10-15 minutes.
While the veggies get tender and caramelized, add the ricotta, crushed tomatoes,and pepper dip to a pot. Mix together and heat for 10 minutes.
Serve by layering pasta, sauce, and veggies or combine all of it.
For gluten free ideas with which you can use this pink sauce, see my zucchini spaghetti , spaghetti squash peperonata, or quinoa puttanesca recipes.