Whenever I don't know what to make for lunch or dinner, I just start chopping veggies and sautéing them in olive or coconut oil. As the aroma fills the air, my creative juices start flowing. I've got my fiber and antioxidants covered with the veggies and my fat covered with the oil. Next I try to come up with a protein and or healthy starch to incorporate. Few things cover all bases like quinoa. It is high in fiber, has multiple vitamins, and is a solid source of complete protein not to mention it cooks up in 10-15 minutes! I admit that I didn't like it much at first having tried it plain. The game changer was when I heard or read that you should rinse it first. There's a slight bitterness that this step removes. It is now a regular go to in place of rice or couscous for us! As always, this recipe is very versatile; add more or less garlic, a different type of bell pepper, onions, carrots, broccoli, squash, capers, or any other mix-in of choice. Colorful, nutritionally rich, and comforting!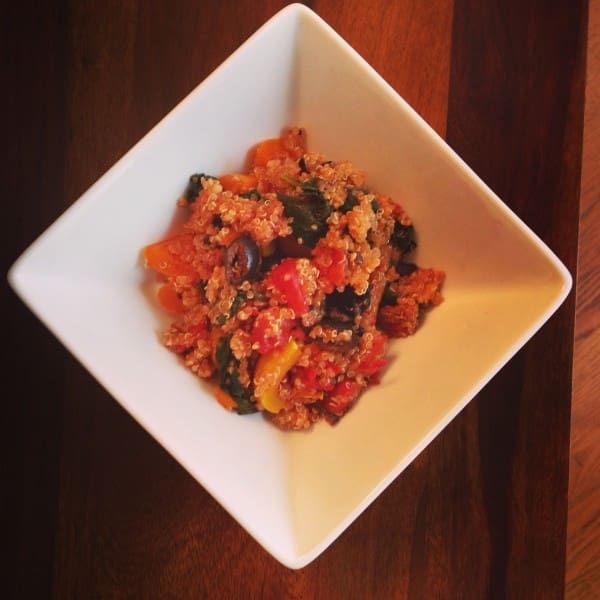 Quinoa Primavera Puttanesca


CLT Veggie Original

GF, GRF, DF, NF

Serves 4 and more if used as a side dish or supplemented with a soup or salad

Ingredients:

1 cup dry quinoa

2 cups water

2 tablespoons cold pressed extra virgin olive oil

2 tablespoons balsamic vinegar

1/2 cup kalamata olives, chopped

3 cloves garlic, crushed or minced

1 15oz can fire roasted diced tomatoes

1 yellow bell pepper, diced

1 orange bell pepper, diced

1-2 cups roughly chopped baby spinach or you can toss in the whole leaves

1/4 cup fresh oregano or other fresh herb such as parsley OR 2 tsp dried form

(Side note: I don't have a green thumb but yet my garden oregano survives and returns every year!)

Directions:

Rinse quinoa in a fine mesh colander/strainer so it drains as you wash it. Dump this into a pot with the 2 cups of water and bring to a boil. Then cover and simmer on low heat for 12-15 minutes. Remove lid, fluff with a fork, and set aside on a cool burner or pot holder.
Heat oil in a large cast iron or other type of pan. Saute peppers, garlic, olives, and tomatoes for 10 minutes on medium heat.
Stir in vinegar and cook another 5 minutes.
Stir in spinach and herbs for a minute or until the greens wilt into the mixture.
Combine with quinoa.

Top with more herbs, red pepper flakes, a drizzle of olive oil, nutritional yeast, or parmesan/aged cheese!