As much as I would love to live in my kitchen full time, I value time with people more than cooking! Back in 2011, I made the resolution that I would really try to spend time with my guests rather than tying myself up to food prep while everyone else mingled. So below you will find three recipes that will do just that- free you up for Independence Day to enjoy your family and friends!
I'm not going to lie. I'm new at this whole grilling thing. For years, we've been enjoying my friend Megan's mad grilling skills. She's so creative with it and we love being invited over when she's trying new recipes whether indoors or outdoors. For Memorial Day, we had her grilled watermelon salad with mint and feta, marinated spicy brussel sprouts, corn with parsley butter, BBQ tofu served along with a cheese plate made for a queen and vegan coleslaw. I provided the homemade mac and cheese. I cannot even tell you how happily, uncomfortably full we were!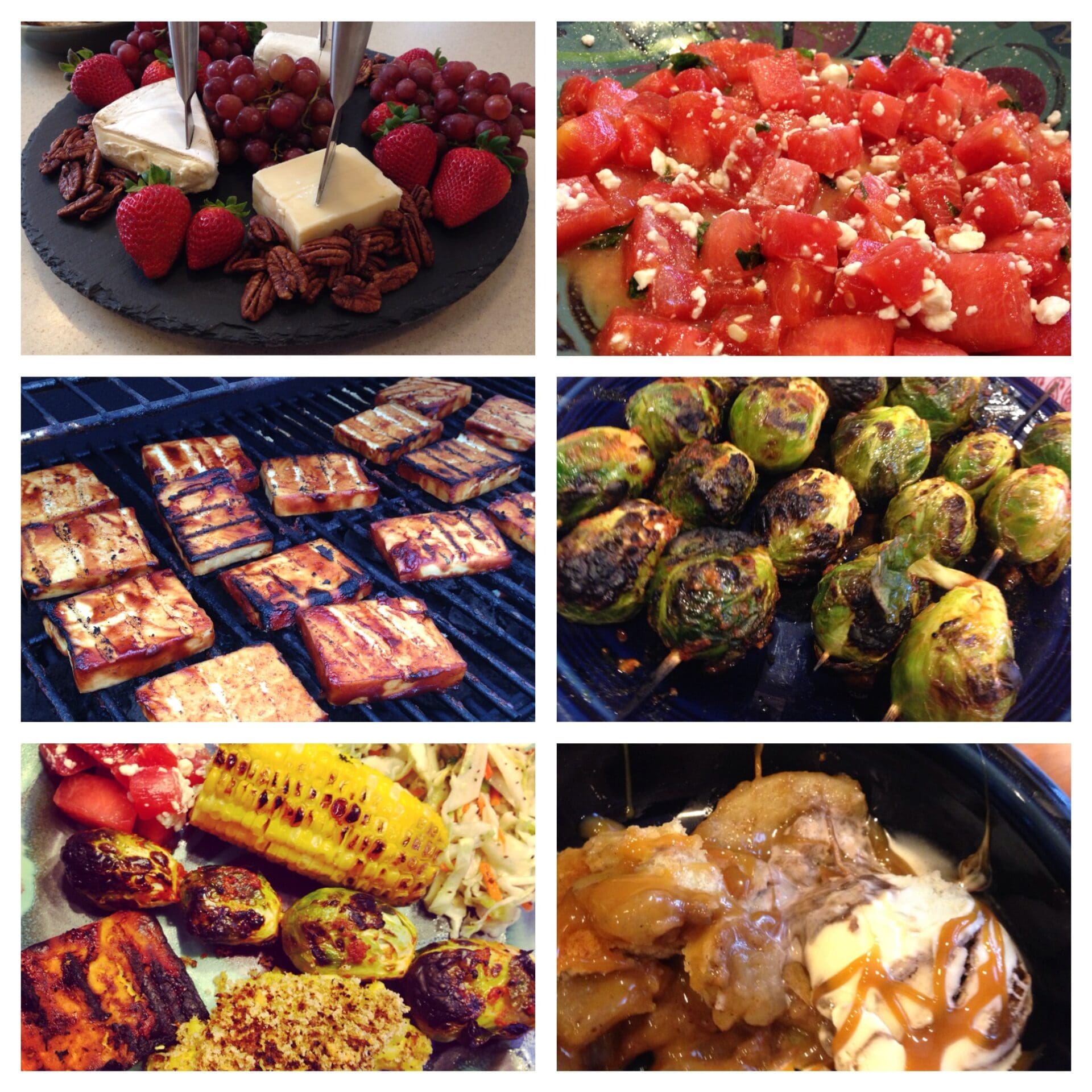 Shortly after that, I worked a Sunday at the hospital and came home to my first ever grill. Getting surprised was a surprise in itself so you can imagine how ecstatic I was!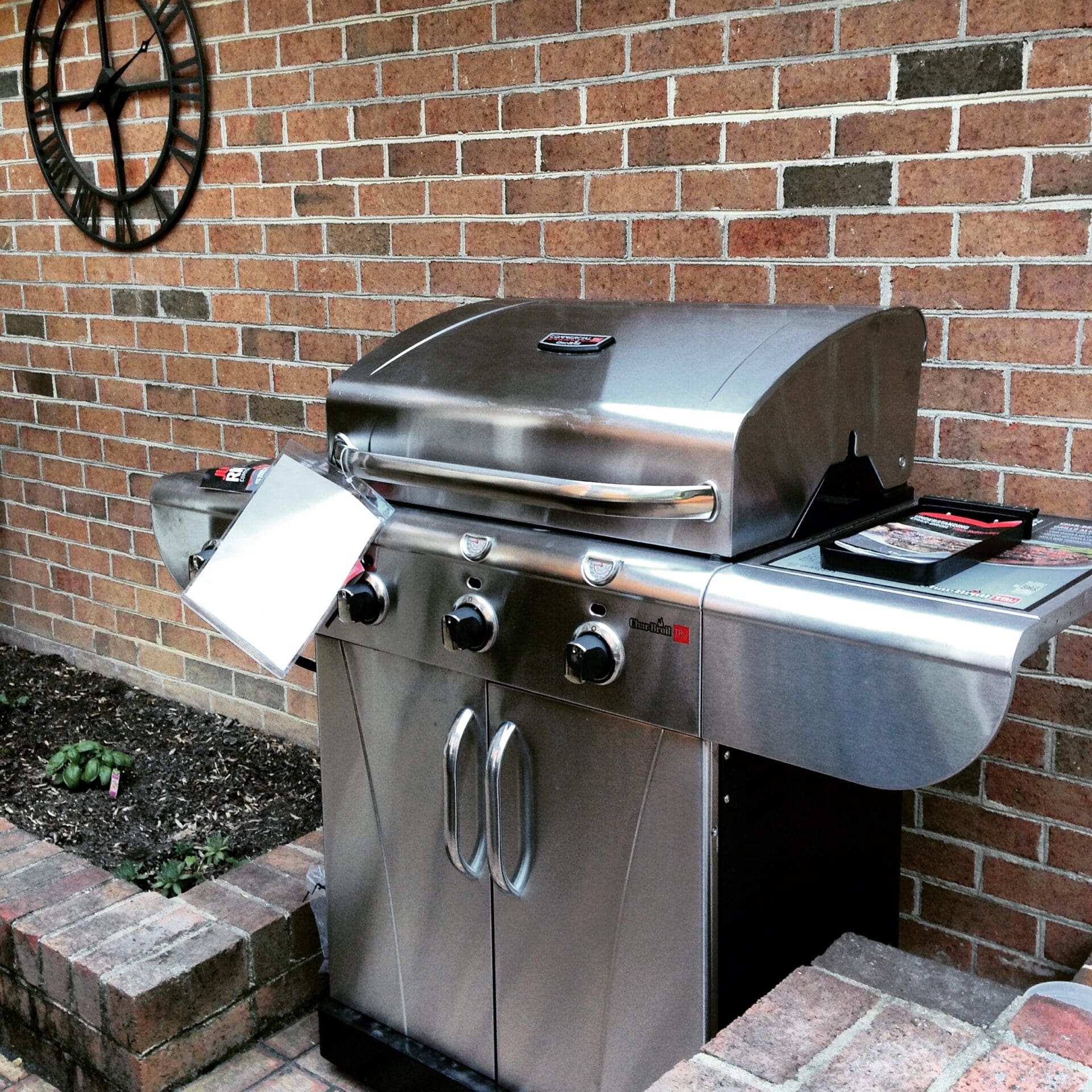 This happened to align perfectly with the Whole Foods' Salud Cooking School's Grilling for Vegetarians class that I had already registered for! Chef Mara Norris demonstrated and developed a delectable menu with stuffed mushrooms, chopped grilled romaine salad, corn with herb butter, tofu with salsa verde, eggplant parmesan, and a grilled peach dessert.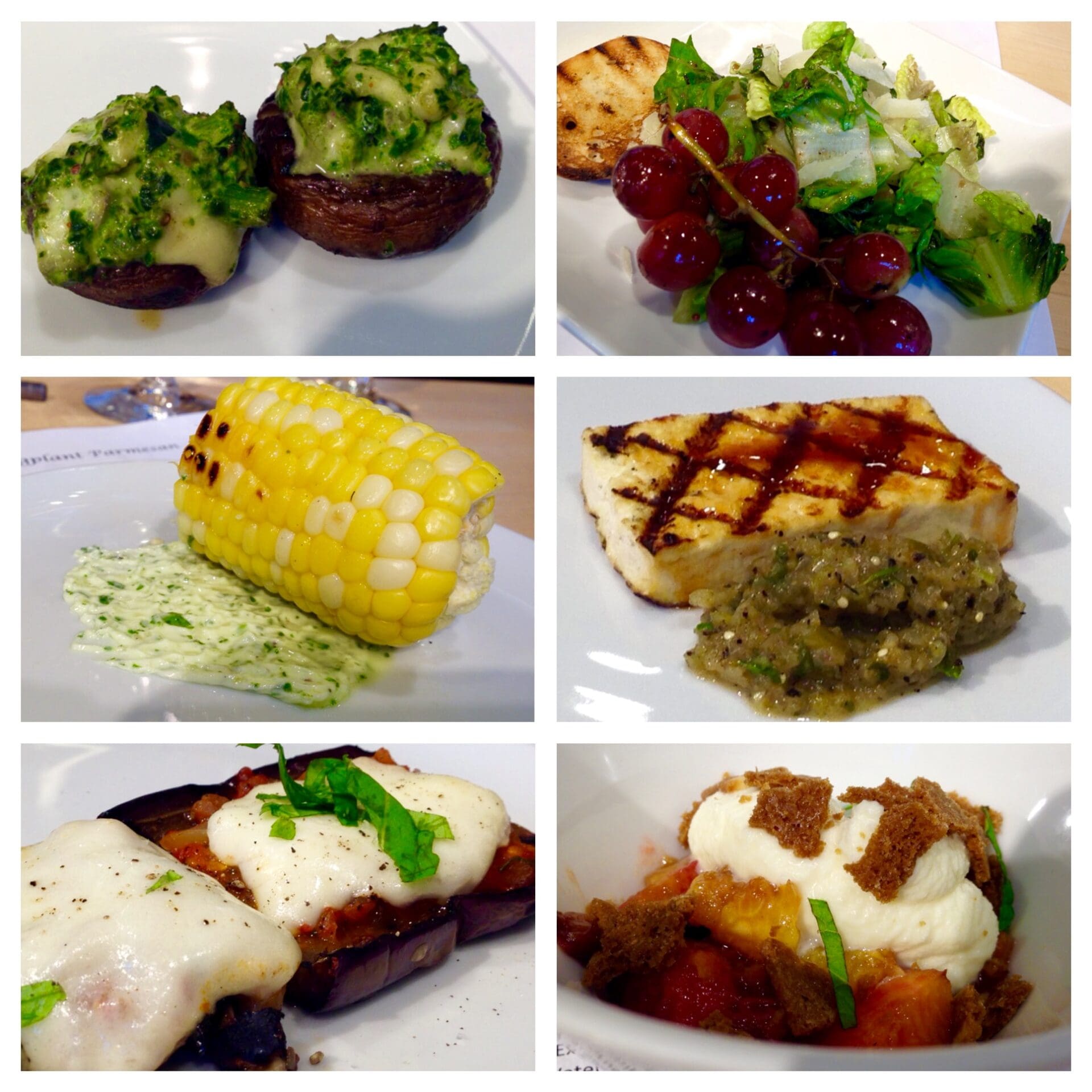 I hit Target for some grill tools including an extra long spatula with a serrated edge, some tongs, and stainless steel skewers. We've now had a few great experiences with meals from our grill and really loved the pineapple!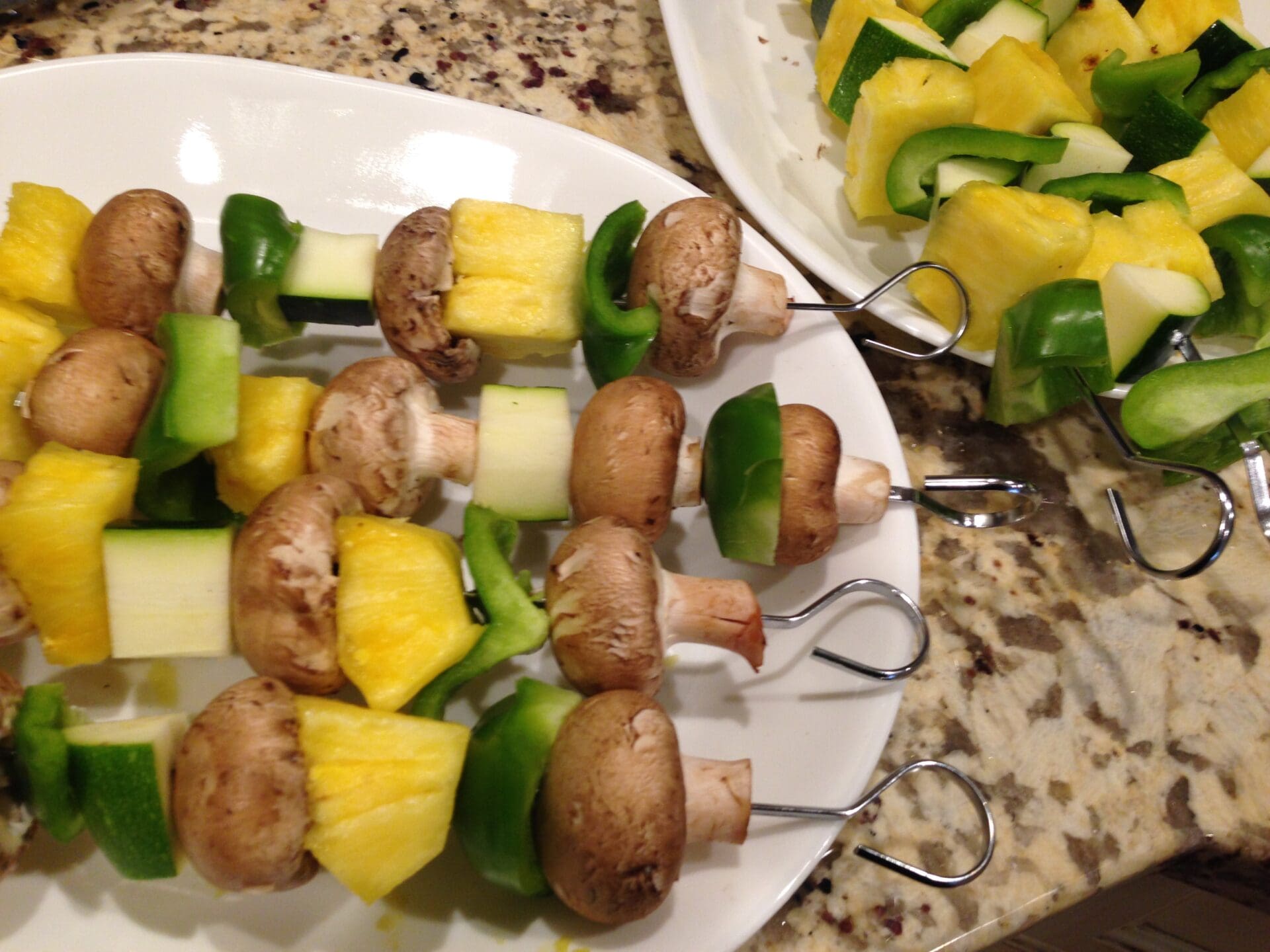 We have had simple and delicious meals grilling including tofu, portobello mushrooms, zucchini, kabobs, veggie dogs(not a fan), and Dr. Praeger's Organic Quinoa Kale Burgers which are tasty and large patties (sold at Costco) but you have to be careful not to let them fall apart on the grill.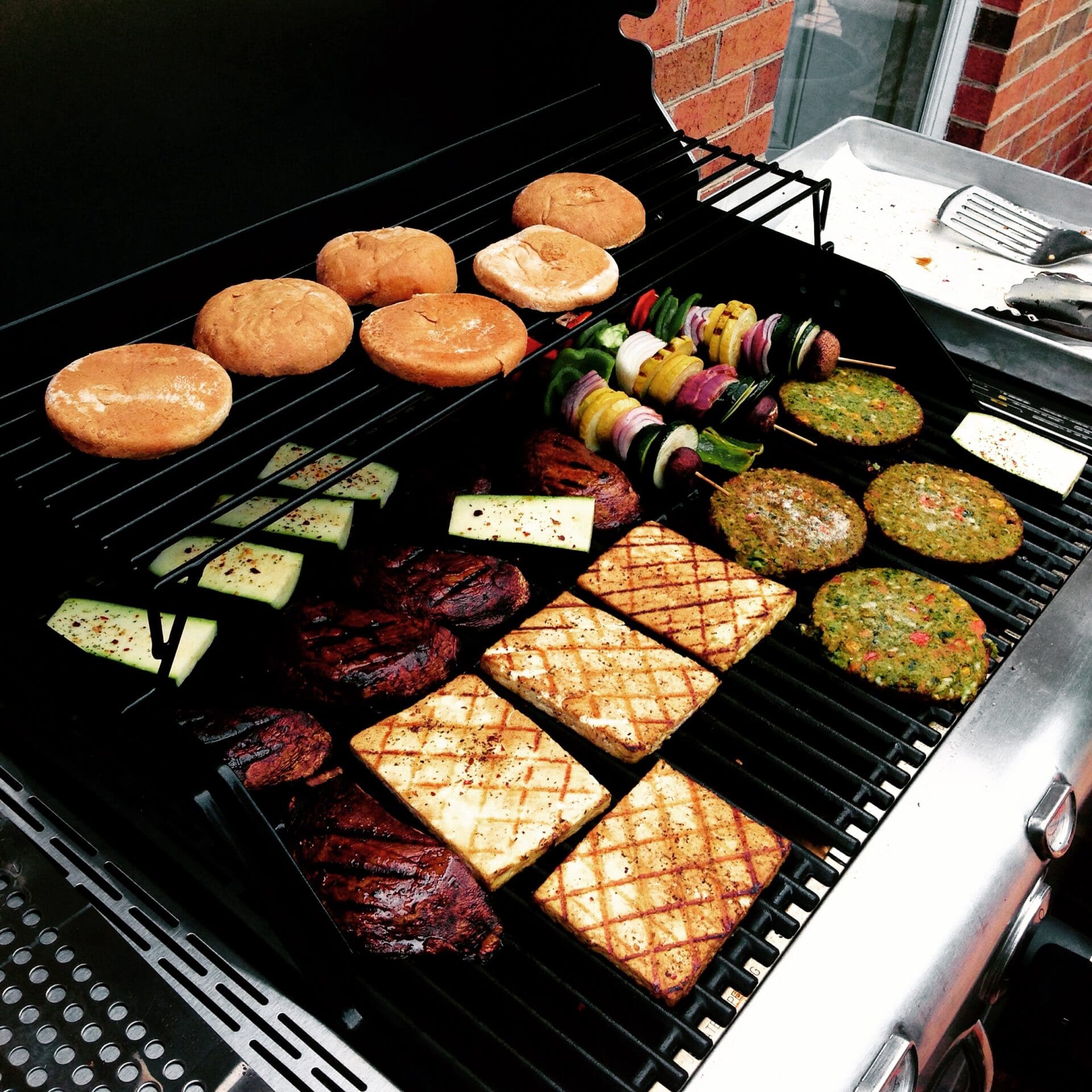 For Father's Day, 15 minutes before our guests arrived, we put the corn on. We started with a cheese plate including some of our favorites: New Zealand Grass Fed Organic Sharp Cheddar, Syrah Soaked Toscano, and Cotswold served with crackers and organic green grapes. Once the corn was done, we set it aside to cool (but it will stay warm in the husks) and made the lettuce salad, and as that was eaten, put on the dogs and burgers.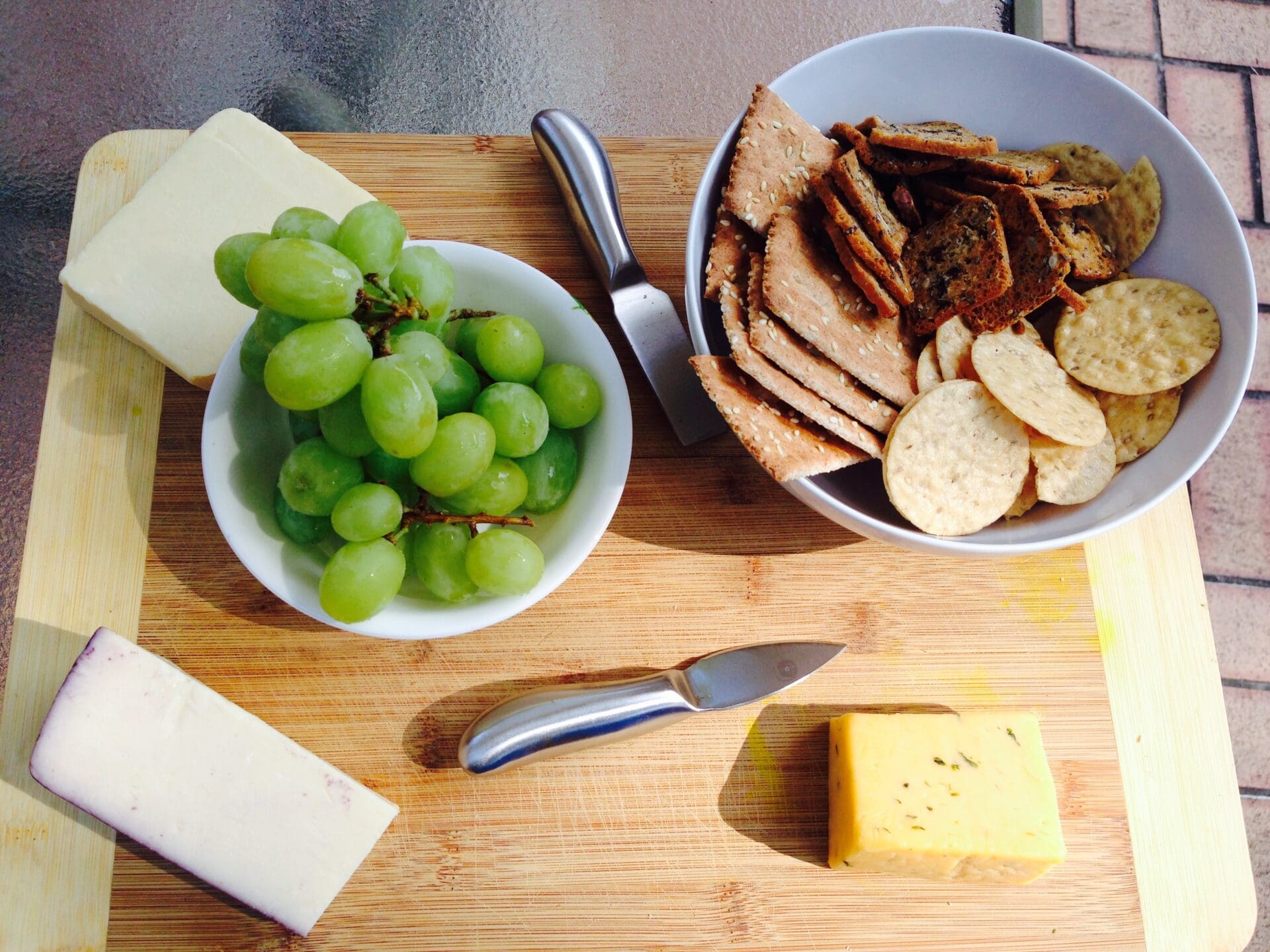 The main meal included the corn, dogs/burgers, and a quinoa salad with goat cheese that my sister brought.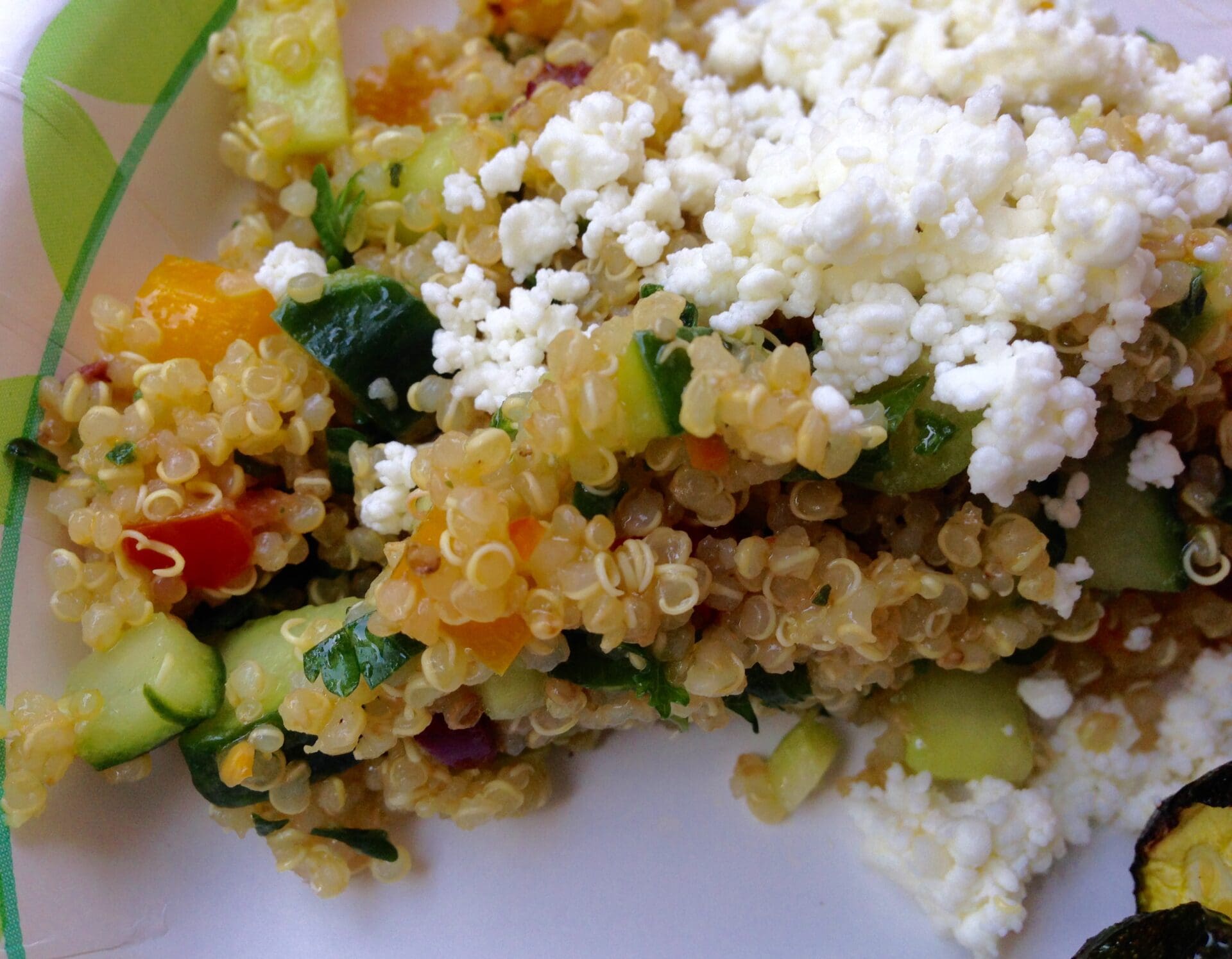 So here are the 3 Freeing Grilling Recipes for the 4th of July!
For the sake of saving time, ease of serving, and a pretty presentation, I prefer not to chop up the lettuce. This is one of those recipes that only takes a few minutes but really makes a nice impression.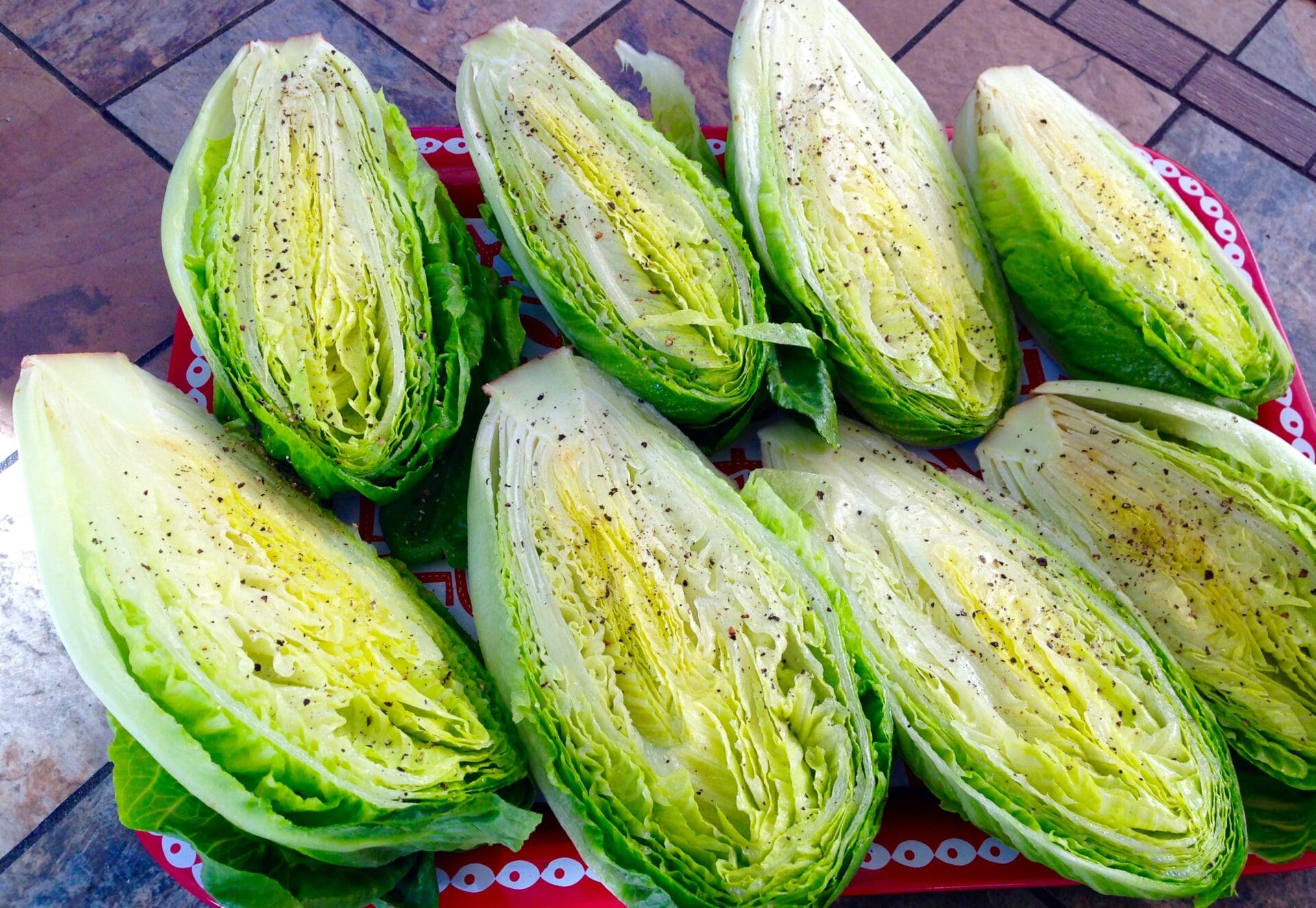 Grilled Hearts of Romaine Wedge Salad
Charlotte Veggie
Inspired by Chef Mara Norris, Salud Cooking School
GF, GRF, DF, NF
We serve half a heart/head of romaine per person and prefer to leave it whole but you can totally chop it up and toss in a large bowl. Romaine is a sturdy and heat tolerant lettuce so it holds up well without wilting when you grill it. Also note, that this recipe can be made on your stove in a cast iron pan as well!
Cut each romaine heart in half lengthwise. Spray or brush with a high smoking point oil of choice. Sprinkle on some salt and pepper. Grill cut side/face down for 2 minutes until slightly charred. Drizzle with homemade or store bought balsamic glaze. And it's that fast!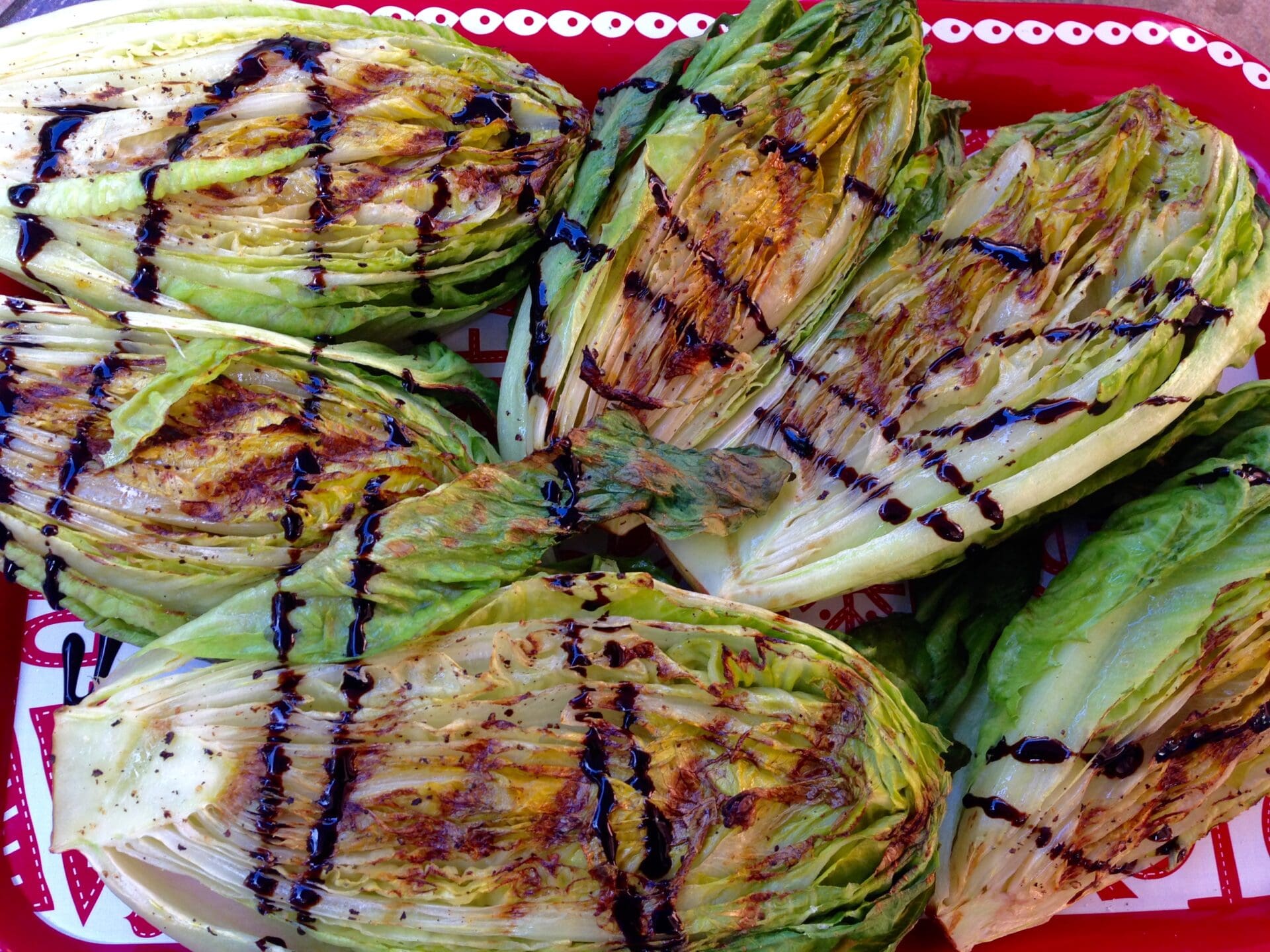 Corn grilled in the husk and rubbed with lime and chili spice mix once cooled down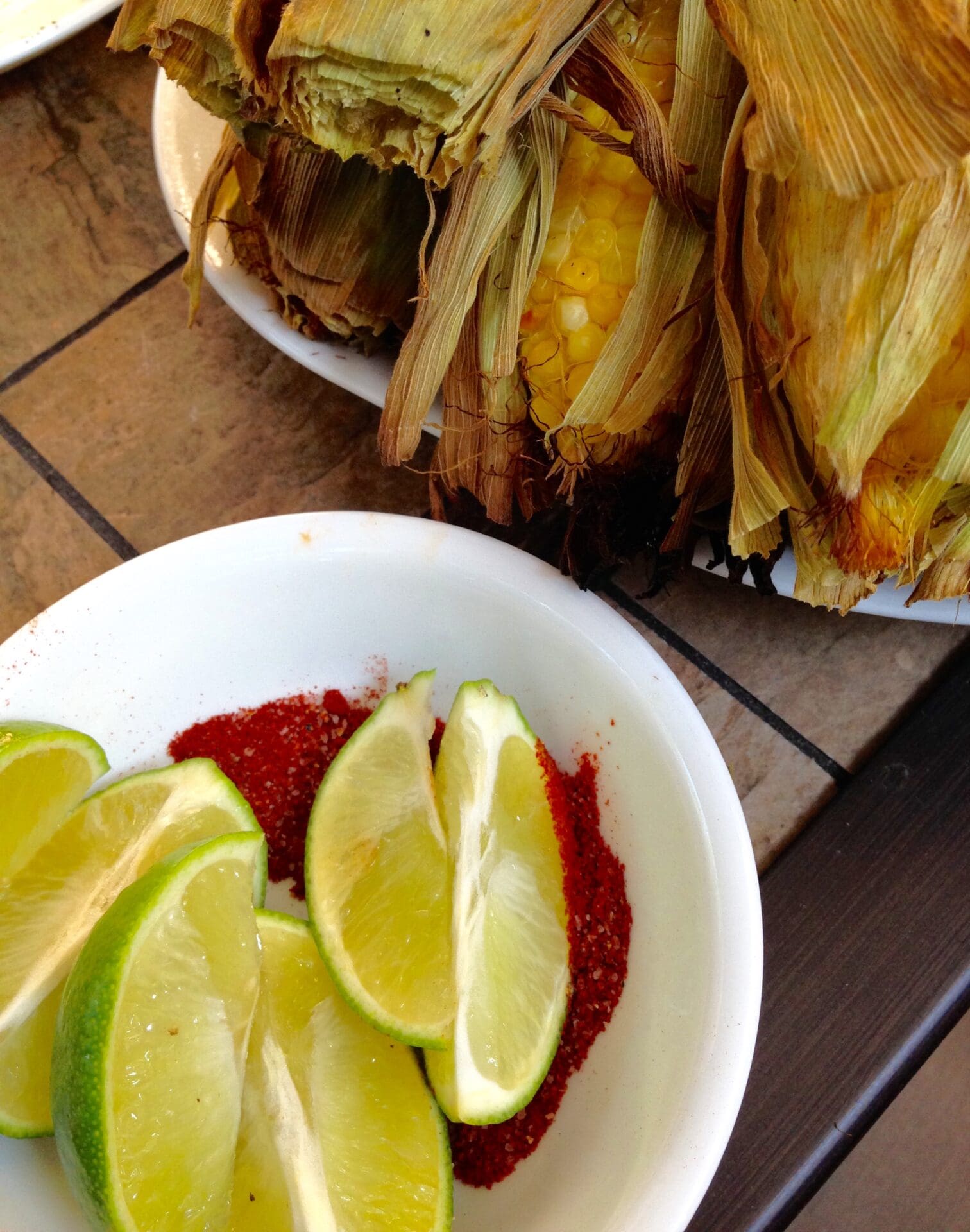 No Fuss Corn On The Cob With Chili Spice Rub
Corn Source: Many sites that popped up in Google search!
Chili Spice Rub Charlotte Veggie Original
GF, DF, NF
For the Chili Spice Rub:
Each cob will need 1/4 of a lime so go ahead and slice a few into quarters. Then mix together the following in a bowl and set aside- 1/2 tsp paprika, 1/8 tsp cayenne pepper, 1/4 tsp salt, and pinch of black pepper.
For the Corn:
Take your in-the-husk cob of corn and trim off any excess silk at the top with scissors or cooking shears. Place on grill rotating every 5 minutes for a total time of 20 minutes. Remove from grill and carefully peel off husk and corn silk. Take a lime quarter and dip in spice mixture. Rub onto cob.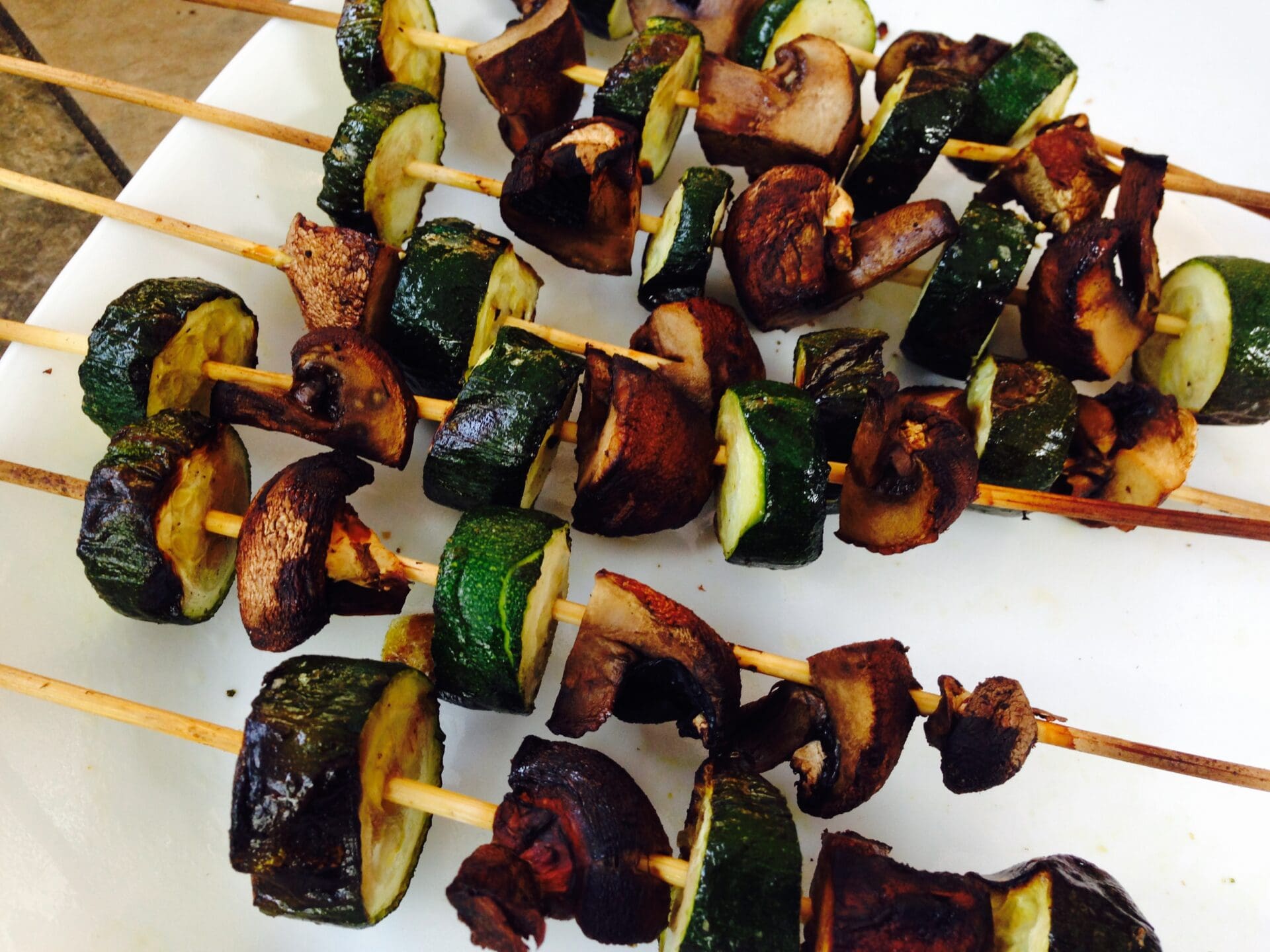 Zucchini and mushroom kabobs: I like how simple and easy these are and since both veggies are water heavy and tender, they cook quickly.
Charlotte Veggie
GF, GRF, DF, NF
Makes approximately 10-12 kabobs.
Ingredients:
3 small to medium zucchini, sliced approximately 1/2″ thick
1 package mushrooms of choice – mine were on the larger side so I cut them into quarters
Trader Joe's South African Smoke Seasoning Blend
Coconut oil cooking spray or other higher smoking point oil which you can apply with a brush
Salt and pepper to taste
Directions:
Using stainless steel skewers or wet your wooden ones, place veggies on as preferred: I did 3 zucchini slices and 3 mushrooms per skewer but you can fit a lot more on. Lightly coat or brush with oil, sprinkle on salt and pepper, and a few twists of the Trader Joe's South African Smoke Seasoning Blend. Place on grill, rotating every few minutes for a total time of 10 minutes.