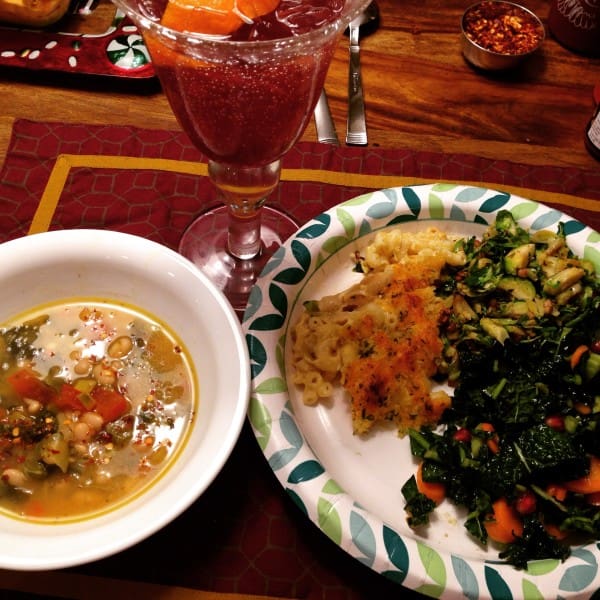 I hope everyone is having a good holiday season enjoying good food, family, and friends! Pictured above is our Christmas Day dinner: Tuscan White Bean & Swiss Chard soup, decadent truffle macaroni and cheese, maple pecan Brussels sprouts, and a kale pomegranate garden salad. Over the last month, I have been trying really hard to focus on being present, mindful, and having realistic priorities. The Charlotte Veggie blog provides me with a space to convey my passions as a cook, foodie, and health advocate and is so very fulfilling. However, the reality is that I have a household to run, children, a dog, and my own well being to keep up with both physically and mentally! I shared with some good friends that I refuse to let my blog, which I wanted to pursue for so many years, have a negative impact on my love for cooking. For longterm sustainability, I cannot allow myself to feel pressured to cook tirelessly and endlessly to churn out recipe after recipe. That is not authentic; enjoying this one slower week of the year with my kids and catching up on so much sleep is!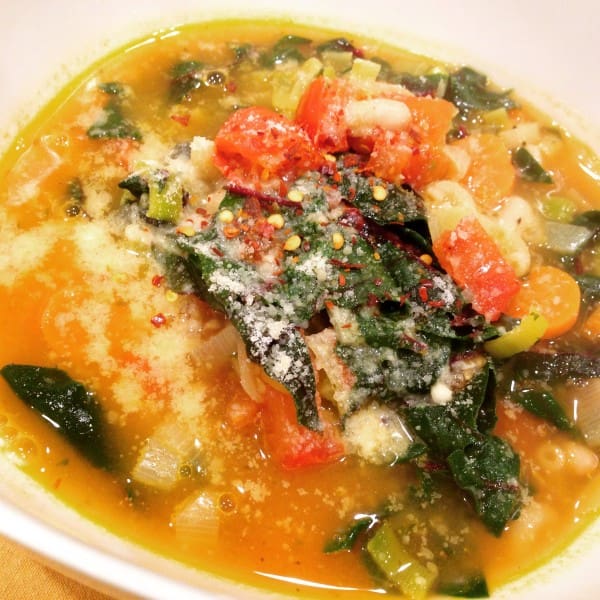 With that, may I present you with one of my very favorite soups that was so popular in our family that I made it twice this past week. This also allowed me to test out both stove top and slow cooker versions.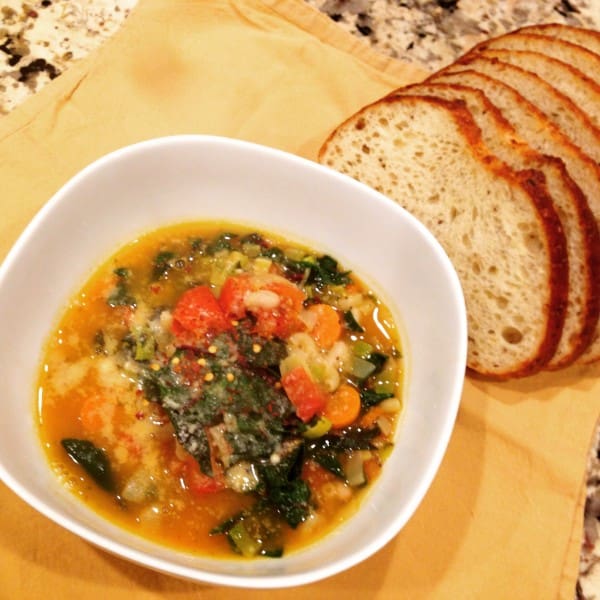 My stove version is mix between your standard Tuscan white bean and minestrone soups. A garlicky, herby brothy bowl full of hearty beans, satisfying pasta, and tender greens makes a belly happy.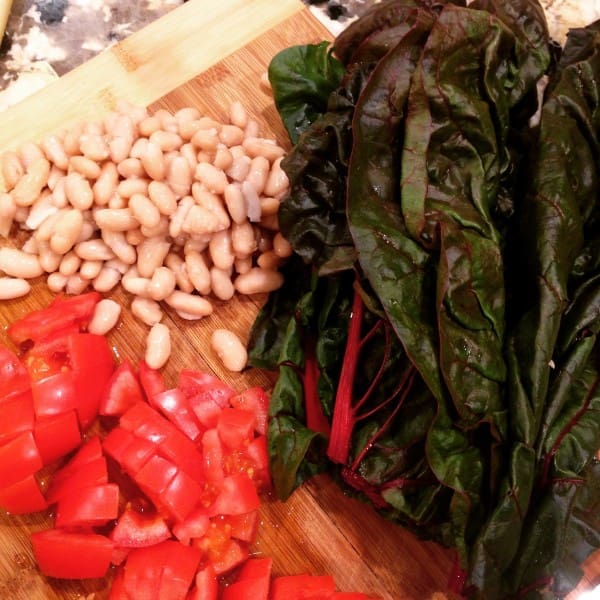 I used swiss chard but you could easily substitute with another green of choice like spinach.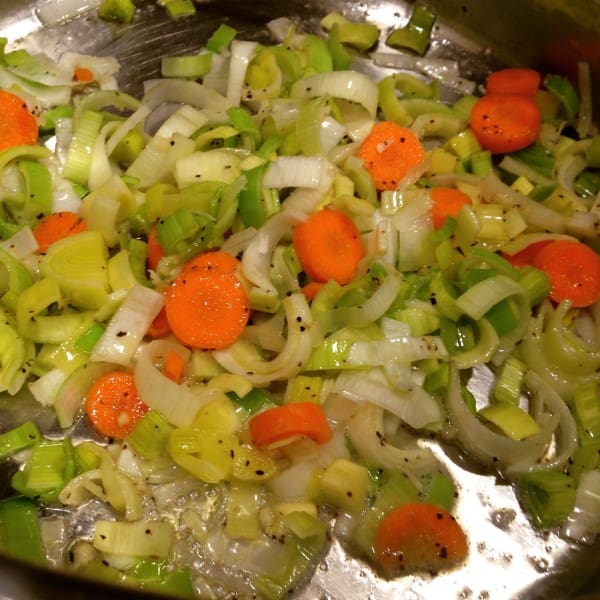 I'm loving leeks lately. They are a nice change from chopping up an onion and also impart a more subtle and slightly licorice flavor.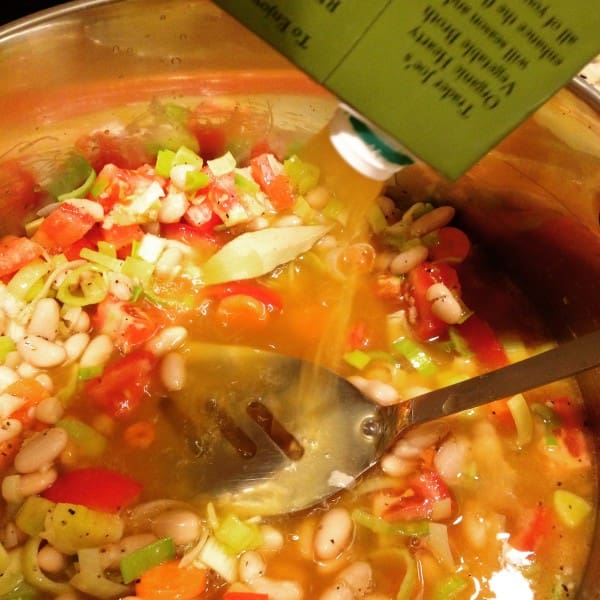 I used a slightly different herb combo in the stove top versus slow cooker but any way would do.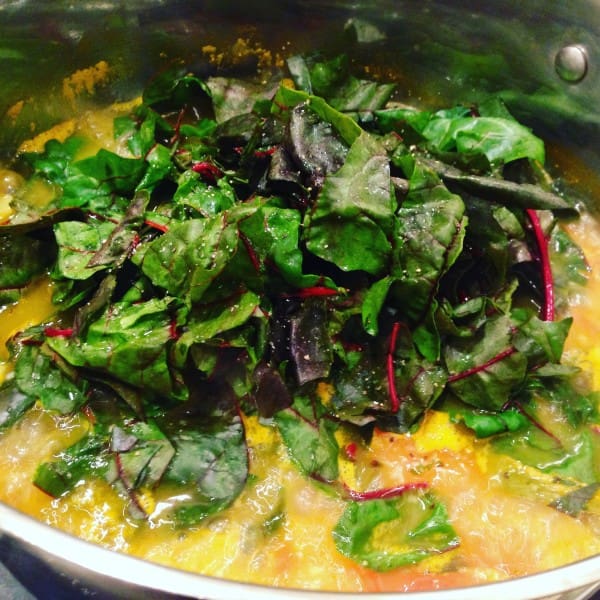 The greens quickly wilt as you stir them in at the end of the cooking process. They melt in your mouth spoon after spoon.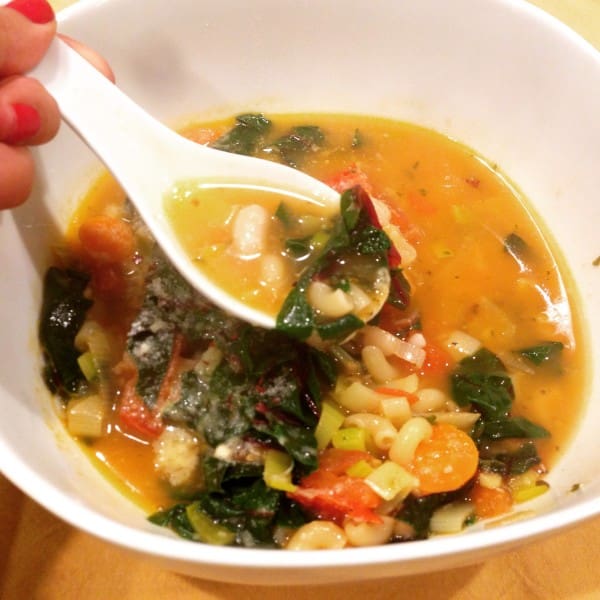 Stove Top Tuscan White Bean & Swiss Chard Soup

Charlotte Veggie

GF, GRF, DF, NF

Serves 4

Ingredients:

1 tbsp olive oil

1/2 tbsp butter

4 cups vegetable broth

2 cups white/navy/cannellini beans

3 cloves garlic, crushed or minced

1 leek thinly sliced

1 carrot, diced

2 tomatoes chopped

1 tsp dried oregano

1 tsp dried parsley

1 tsp salt

1/2 tsp ground black pepper

Pinch nutmeg

1 bay leaf

Optional 1 cup dry macaroni noodles

Directions:

Heat olive oil and butter in a large pot. Saute leeks, garlic, and carrots. Add bay leaf, herbs, salt, pepper, and nutmeg.

Stir in beans and pour in broth. Bring to a boil. Then reduce heat and simmer, partly covered for 10 minutes.

Add tomatoes and noodles if using. Cook 10 more minutes.

Stir in swiss chards or greens of choice.

Serve with a sprinkle of parmesan cheese and or drizzle of olive oil or for a richer soup, stir in 1/3 cup of shredded parmesan or asiago cheese into the whole pot..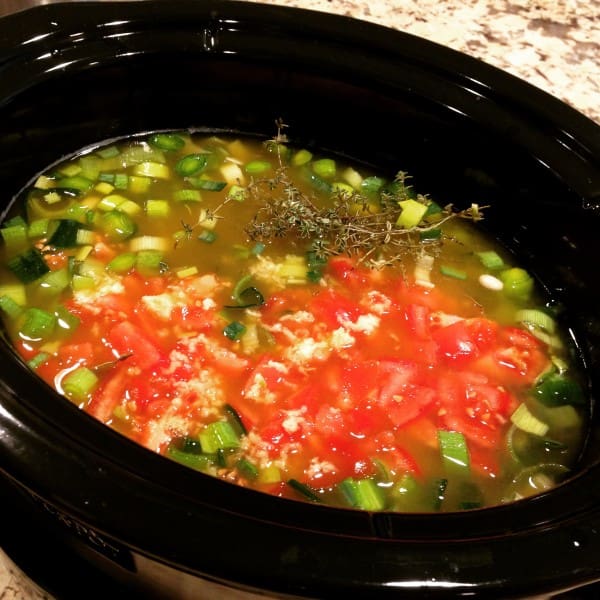 In the slow cooker, I used regular thread to tie together a bundle of fresh thyme. I pull it out at the end and it is a great way to get the flavor you want without the any fibrous bites or green specks that kids may not like.
Slow Cooker Tuscan White Bean & Swiss Chard Soup

Charlotte Veggie

GF, GRF, DF, NF

Serves at least 8

Ingredients:

8 cup vegetable broth

1 tbsp olive oil

Optional 1/2 to 1 tbsp butter

4 cups cooked white/navy/cannellini beans

5 cloves garlic, crushed or minced

2 leeks, sliced thinly

3 vine ripened tomatoes, chopped or diced

Bundle of fresh thyme sprigs OR 1 tsp fresh thyme

1/2 tsp dried oregano

1 tsp dried parsley

2 bay leaves

1-2 tsp salt

1 tsp ground black pepper

Pinch of nutmeg

1 bunch swiss chard, coarsely chopped, and set aside.

Directions:

Combine all of the above in your slow cooker except the swiss chard and cook for 5-6 hours on high or 7-8 hours on low. Stir in swiss chard to wilt.