As you may have read in my Get Well Sooner post last week, we had the go-round with colds last week. When the kids are sick, I try to balance what I want to get into them nutritionally with their diminished appetite as well as special requests. Because everyone deserves to be spoiled when under the weather!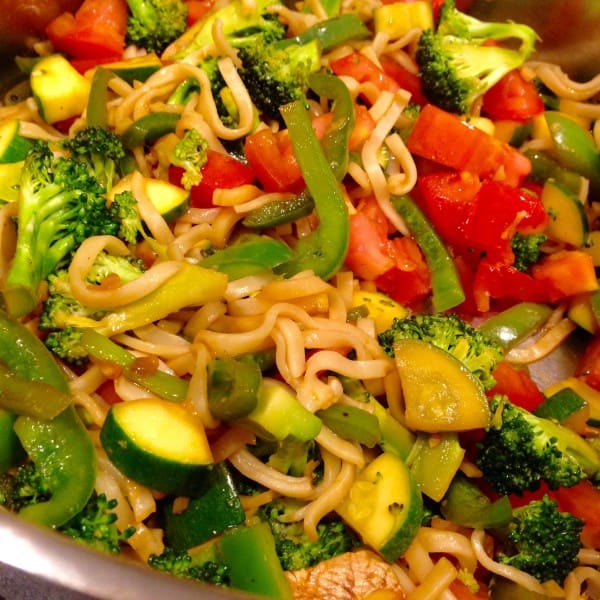 Who doesn't love comfort food in the form of traditional noodle soups to noodles to buttered pasta? My daughter loves Chinese, Thai, and Japanese food. Vegetable Lo Mein, drunken noodles, and Thai curries with peanuts and basil are her favorites. She asked for carry-out but of course yours truly was intent on making a healthier, homemade version that would not set her back in recovery.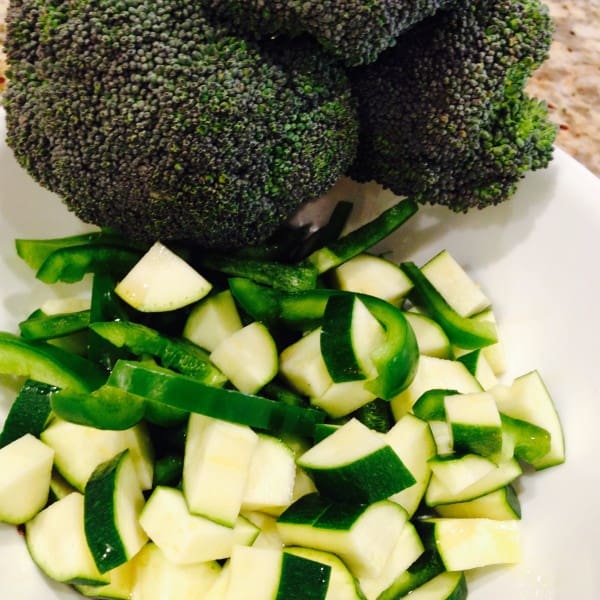 Using a variety of fresh veggies was key for both taste and to even out the starchiness of the noodles. I would have loved to incorporate more colors, hence more vitamins, but I didn't have any carrots or red bell peppers so I included tomatoes.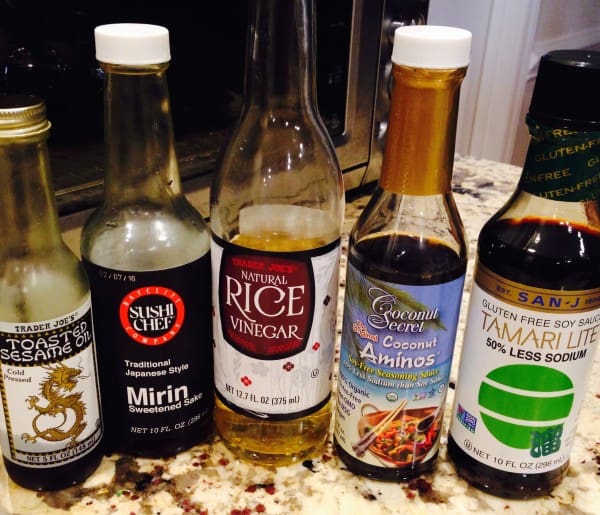 These are the items I keep in stock for Asian dishes. Notice they are not all organic; I do not invest a lot of money in these ingredients because I use them infrequently. I do always buy organic or at least non-GMO soy sauce since it is one of the most highly pesticided foods in our country. When my sister made a killer stir fry once, I found out that mirin had been my missing ingredient all along! It is a sweet rice wine but a very small amount really pulls everything together including the saltiness of the soy sauce. Coconut aminos are an excellent soy-free choice to replace soy sauce but they are sweeter tasting so you can forgo the mirin in that case.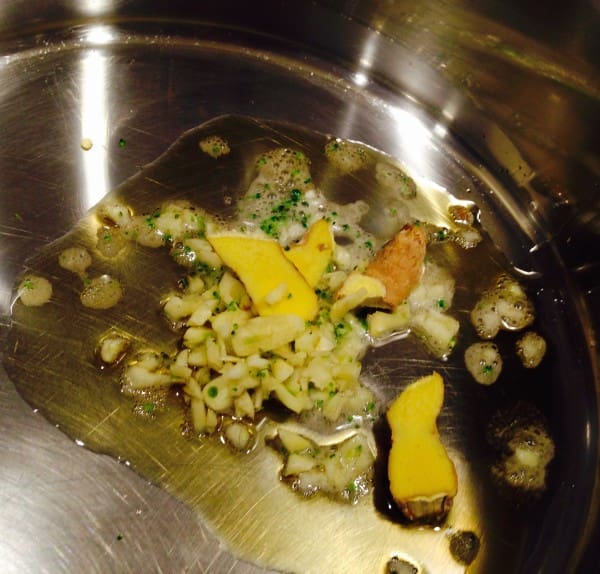 I used a fair amount garlic and to save time (only had 30 minutes), I cut big slices of ginger that would infuse the oil but be easy to pick out at the end. Ideally I prefer using a Microplane for grating ginger because it melts throughout and even minced, ginger can be too spicy and fibrous to chew. It is the lowest price I have ever seen it right now.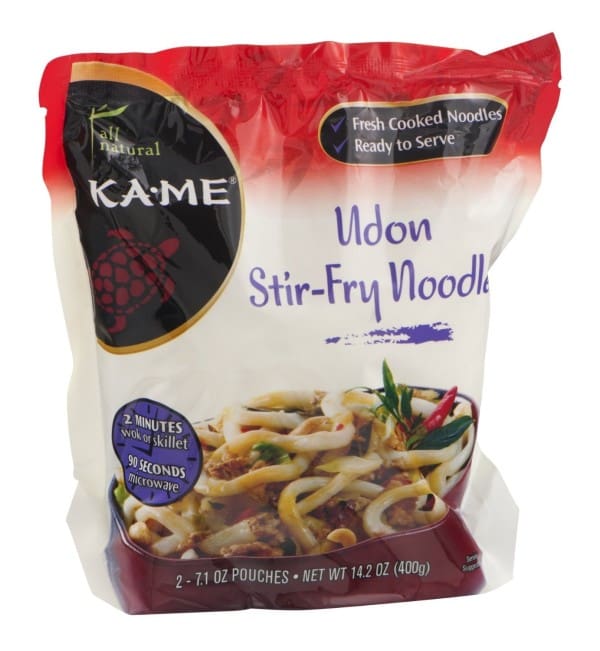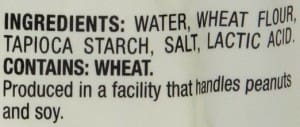 (Above 2 photos from Amazon)
I used 1 of the 2 pouches in this noodle package, but the same brand also makes rice noodles. I only had 30 minutes to make this so it was a big time saver. They are around $4 at the grocery store in the international food section. I've also used whole wheat linguini or brown rice spaghetti.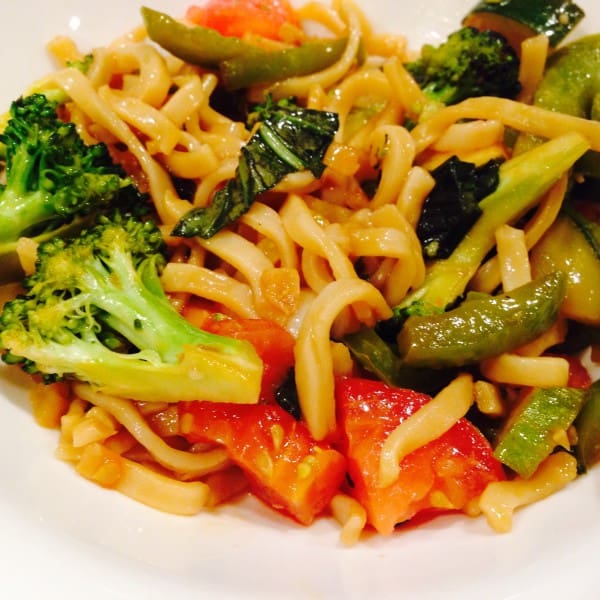 My garden is still full of fresh basil so I julienned a few leaves for garnish. This gave the recipe a welcome Thai twist. You can also top with crushed peanuts or a squeeze of lime for a more Pad Thai take.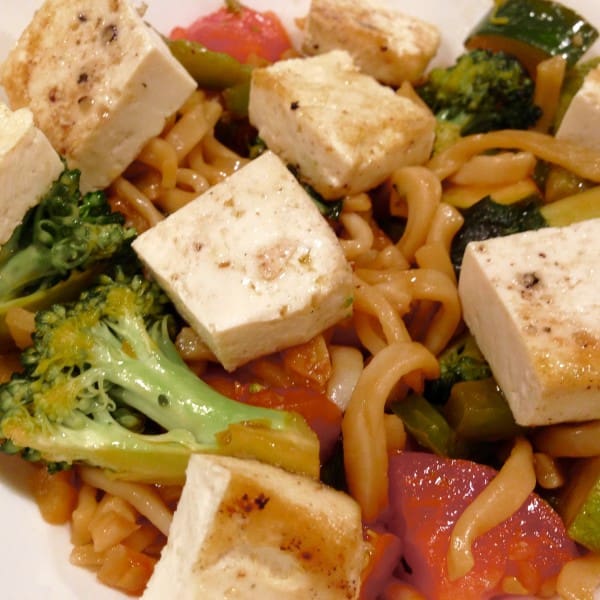 We made some tofu on the side for those enjoy it or wanted an extra punch of protein but…
🙂 I found this a while back on Instagram.
Shortcut Asian Vegetable Basil Lo Mein

Charlotte Veggie

GF if using rice noodles, DF, NF without peanuts

Serves 2 people generously for dinner or 3-4 people for lunch

Ingredients: (feel free to substitute the veggies)

1 zucchini, chopped

1 bell pepper of any color, sliced

About 2 cups chopped broccoli florets

1 medium to large tomato, chopped

4 cloves garlic minced or crushed (can reduce if preferred)

4 inch thick slices of fresh ginger

One 7.1 ounce pouch of the above ready made noodles or 1.5 cups of cooked pasta of choice

Salt and pepper as needed

1 tbsp sesame oil

1/2 tbsp coconut oil

1/4 cup soy sauce or 5 tbsp coconut aminos

If using soy sauce, 1 tbsp mirin

2 tsp rice vinegar

Directions:

Prepare all ingredients first because stir frying is a quick process and you want be ready as not to burn the sesame oil or garlic which can happen quickly. In addition, you want to avoid overcooking the veggies. The retained crisp is the best part!
Heat oils in a wide pan over medium heat. Add garlic and ginger, stir together, and allow to infuse the oil for a minute. You can also add some red pepper flakes, about 1/2 tsp, for spiciness.
Add in veggies and mix so that most are exposed to the garlic and ginger. Turn up heat to high and cook for 3-4 minutes. Add a splash of water or broth if you need to deglaze the pan (unstick any burned or caramelized pieces).
Turn heat back down to medium, place noodles on veggies, and then remaining liquids on top. This will help to rehydrate the noodles making them easier to break apart.
Stir veggies and noodles together in a folding manner for 2-3 minutes and remove from heat. Season with additional salt if needed and ground black pepper.

Serve as soon as possible using above optional garnishes if desired.
Optional garnishes: fresh basil, crushed peanuts, fresh lime wedges, cayenne pepper, red pepper seeds
Check out these Soy Delish Stir Fry Veggie Rice Bowls of another alternative!
And for other ways to use your basil:
Basil Pomodoro On Roasted Eggplant