I hope everyone had a wonderful weekend! I had a short trip to see see family in Delaware and the closest airport is in Philadelphia where we popped in for lunch. The city is a mecca of delicious sit-down eateries, but we were strapped for time and needed something quick and kid-friendly.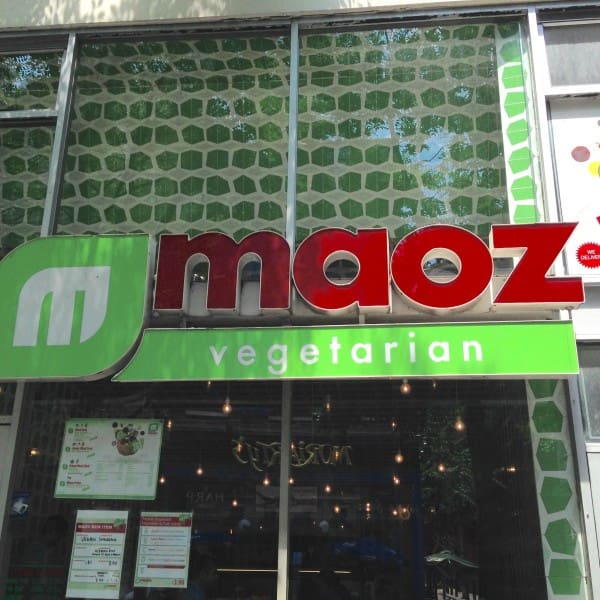 I had a satisfying lunch at Maoz which features falafel and  we could all customize our sandwich or salad with an array of fresh toppings to choose from. Tabouleh, carrot salad, various pickles, potato salad, cucumber tomato salad, roasted Brussels sprouts, roasted cauliflower & broccoli, finely shredded cabbage, beets, tahini sauce, hot sauce, and salsas were included.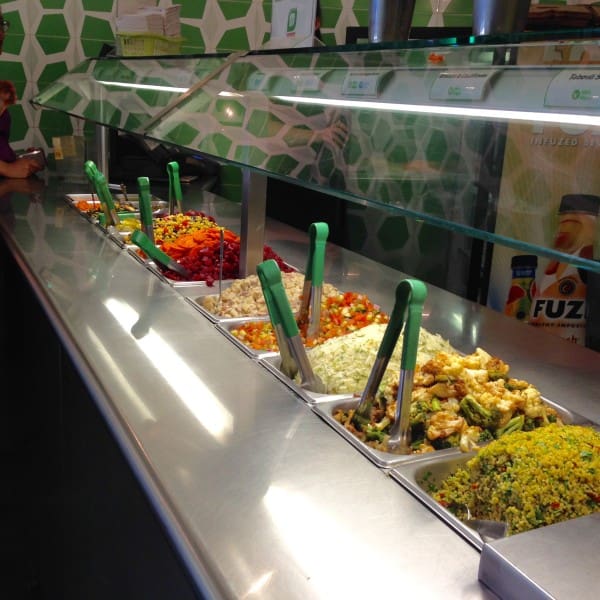 It was not organic or non-GMO, but nonetheless a solid plant based meal with gluten free options as well as very affordable.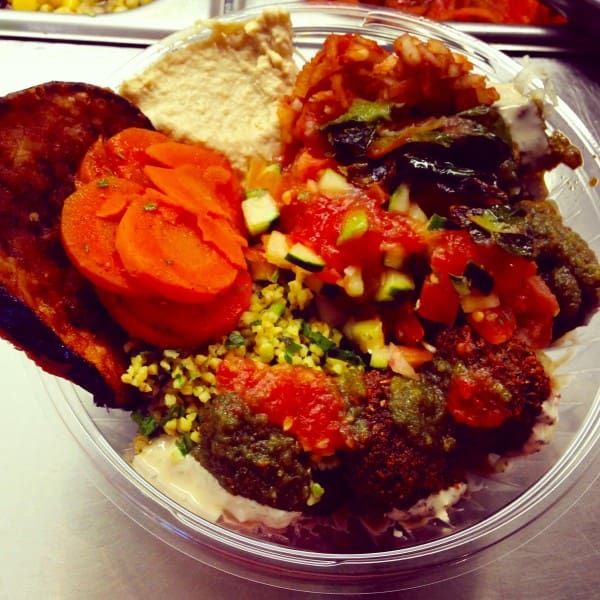 They offer juices too but unfortunately a selection of retro and hard to find sodas as well which are included with most meals. When will the restaurant industry, even those venues appearing to be health oriented, stop encouraging the consumption of such products? Likely when fruits and veggies are cheaper than corn syrup I suppose.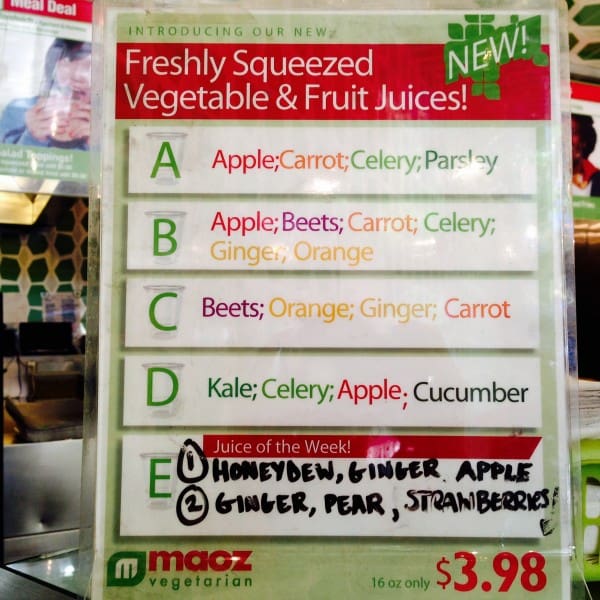 My cousins told me that their friends often visit Maoz for Meatless Monday meals. I of course thinks it's a great movement for our health and environment and I'm thankful that it continues to steadily gain increasing popularity. I think I have mentioned previously that I always like to reset so to speak and start Monday off as a clean start after the weekend. Stuffed peppers are a beautiful and bountiful dish to make both aesthetically and nutritionally.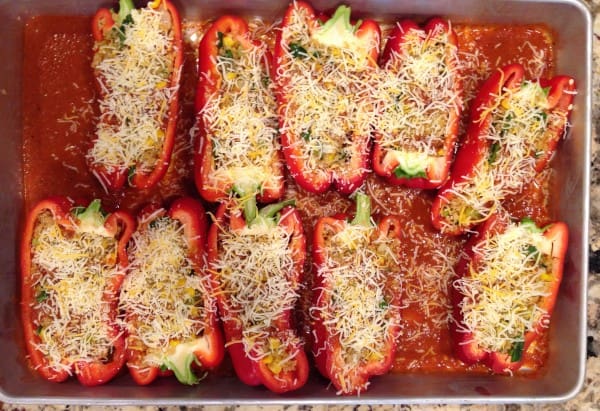 This is just one of many ways that I have made stuffed peppers. I consider what ingredients I have on hand and throw them in! I also appreciate how bell peppers make a sturdy vessel for a filling but at the same time, cook quickly. The key is to keep the base of the stem in and not cut it out.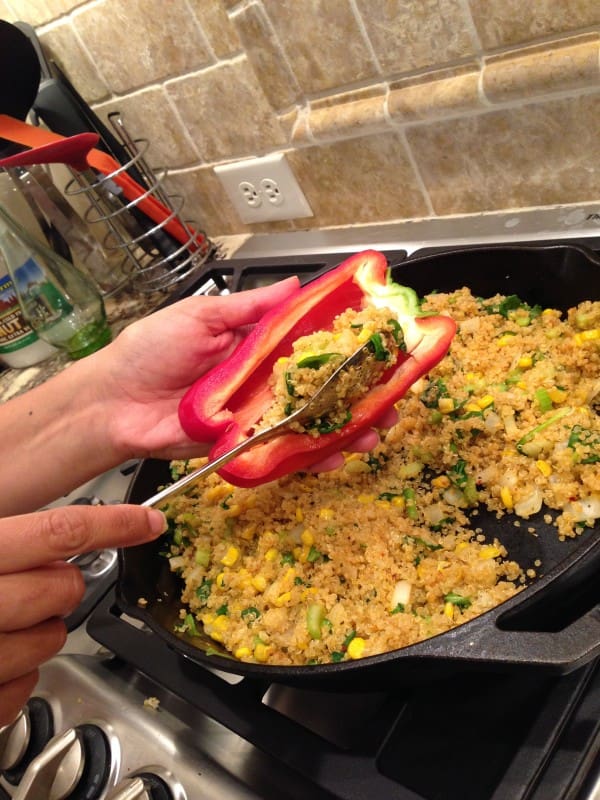 In addition, they taste good whether you eat them anywhere from raw to completely softened making them a great warm or cold weather dish. I like to leave a little bite to mine.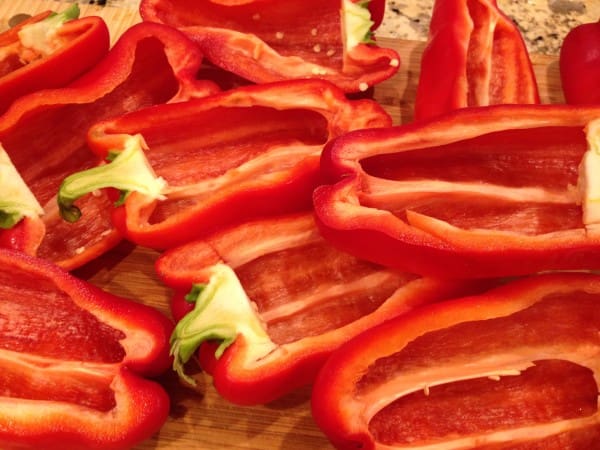 I know on the scale of produce, bell peppers, especially excluding the green ones and including colorful, organic ones, can be pricey. I approach and think about it one of the following ways:
What I pay for organic may save my medical costs later
Cheaper than meat, poultry, fish
80/20 This time if I don't have or want to spend the money for organic, it's okay. Still a very healthy meal.
Purchase local peppers from the farmers market which is the least expensive and nutritious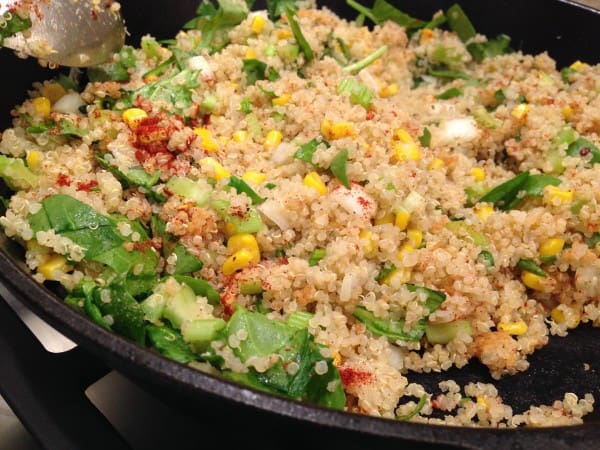 I generally use 1 starch, 1 protein, 3 veggies (onions even count!), spices, and dried/fresh herbs in my peppers. Quinoa fits the bill as a carbohydrate and complete protein especially when I don't want to bother with beans, lentils, or tofu. Rice and couscous work equally well.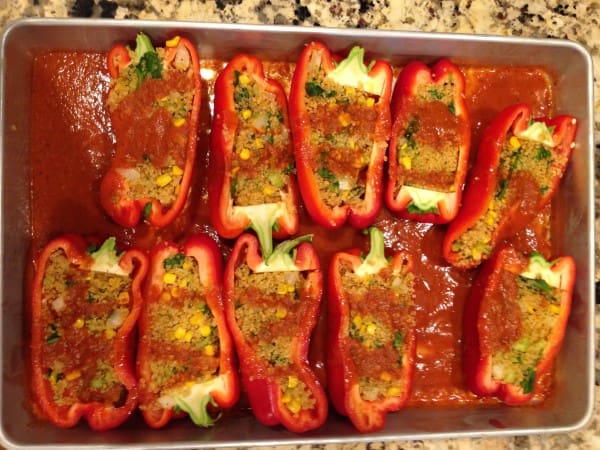 Any type of sauce will do to keep your peppers from burning at the bottom as well as to dress them. I was out of jarred salsa and marinara sauce so I whipped up a quick one in my blender.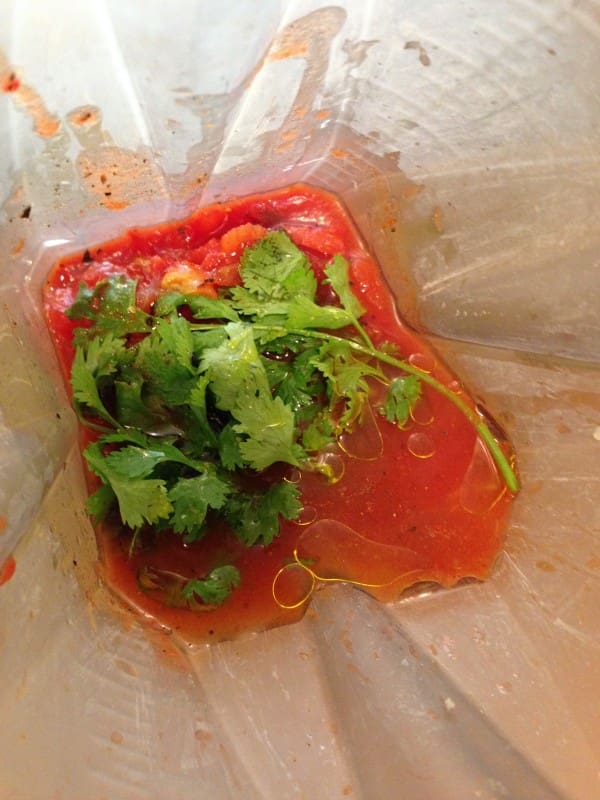 Below is the recipe for the mixture I used for these particular stuffed peppers but you really can use almost anything to substitute the carb, veggies, and protein. I like to fill mine to the rim and sprinkle with cheese as well as a drizzle of olive oil.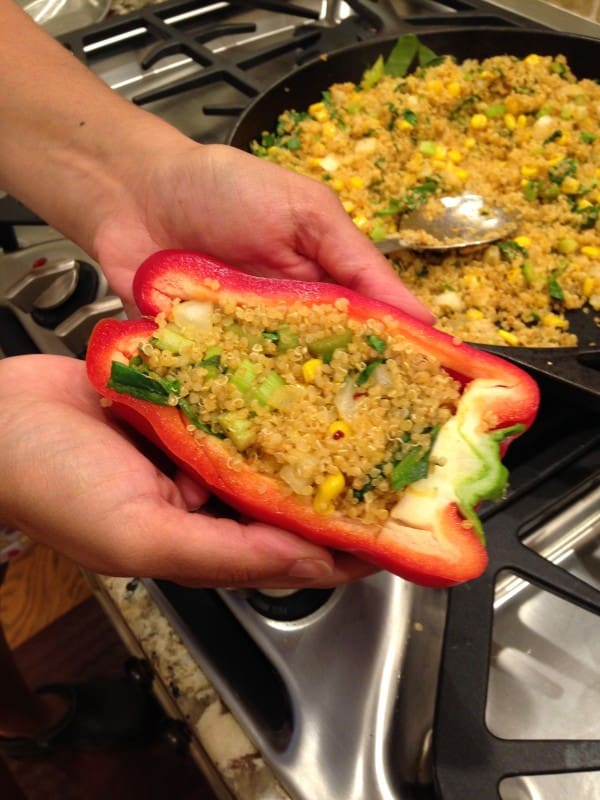 Stuffed Peppers

Charlotte Veggie Original

GF, GRF, NF, omit cheese for DF

Serves 4

*Consider serving with my Basic Guacamole or Dilly's Gourmet Guacamole

Ingredients for the filling:

5 bell peppers, cut lengthwise. Remove seeds/seed pod but retain stem.

1 cup quinoa, rinsed, then cooked according to package directions

2 stalks celery, finely diced

1 small yellow or sweet onion or 2 shallots, finely diced

1/2 cup frozen or fresh corn

2 cups spinach, shredded

2 garlic cloves, minced or crushed OR 1 tsp garlic powder

2 tbsp chili powder

1 tsp cumin

1 tsp dried oregano

1 tsp salt

Black pepper to taste, about 1/4 tsp

1-2 tbsp olive oil

Juice of 1 lime

1/2 cup any kind of shredded cheese (can omit if dairy-free)

Optional: 1-2 cups or 1 can or 1 carton of beans of choice or lentils, tofu crumbled, or other protein. If you do this, double the cumin and add another 1/2 tsp of salt unless your protein is already salted.

Blend the following ingredients for sauce:

1 can regular or fire roasted tomatoes

1/2-3/4 cup water or vegetable broth

2 tbsp chili powder OR 2 tsp cumin + 1 tsp parika + 1 tsp onion powder

1/4 cup cilantro or parsley  OR 1 tsp dried oregano or parsley

1 tsp corn starch or arrowroot powder

Directions:

1. Preheat oven to 350-375 degrees Heat oil in a large pan. Add in onions, garlic, celery, corn, spices, half the salt and pepper. Saute for 10 minutes.

2. Stir in cooked quinoa, remaining salt and pepper, and lime juice. Cook 5 minutes.

3. Make sauce or use 2 cups of your favorite and pour half of the sauce into a baking/casserole dish. Start stuffing peppers and lay them side by side in baking dish.

4. Pour on the remainder of the sauce and sprinkle on cheese if preferred.

5. Bake for 30-35 minutes on 350-375 degrees in your oven. For quicker cooking and softer peppers, cover with foil for the first 25 minutes and then serve or bake another few minutes. You can even turn your oven off during this last bit of time.

You can serve these immediately or you can refrigerate/freeze them (covered), just assembled or fully cooked and cooled.