Preparing and eating various types of ethnic cuisine is a love of mine. Perhaps it is my automatic exclusion from animal products or my Indian background that has trained my palate to explore what others may regard as exotic flavors. Here is a quick Mexican meal where a little flair of lime and spice makes for mouth watering tacos on busy days. I love to incorporate this tasty filling into Food For Life's Sprouted Corn Tortillas; I grab them whenever they are on sale and throw them in my freezer.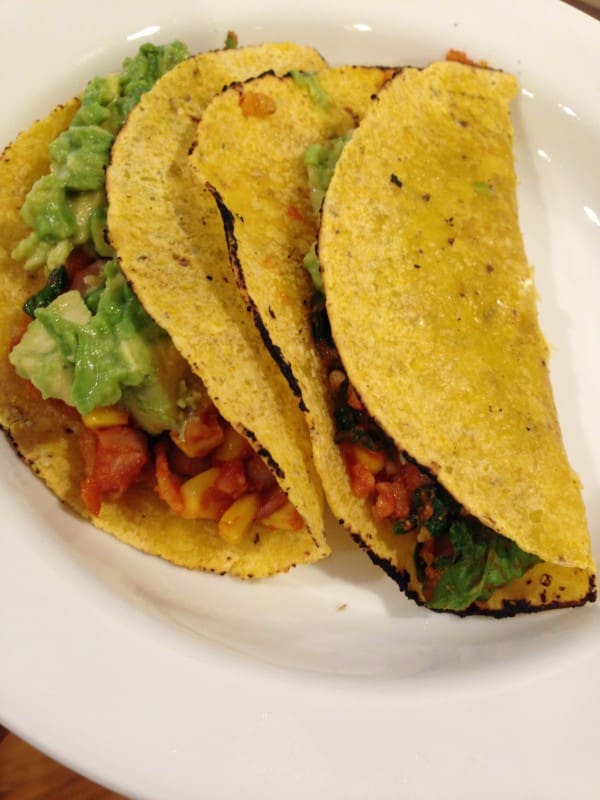 But you can use any type of tortillas or taco shells for a crunch. And feel free to enjoy the filling other forms such as burritos/wraps, enchiladas, quesadillas, on nachos, a taco salad, or stuff a pepper with this mixture. As always, the possibilities are endless! Below is what I used to make my tacos but any type of bean or other protein will do, fresh corn can be used instead, and the recipe is very flexible overall. I like this avocado salsa for when I don't even have time to mash up a guacamole. But if you prefer a creamier texture, check out my Basic Guacamole or for a more bells and whistles take, Dilly's Gourmet Guacamole.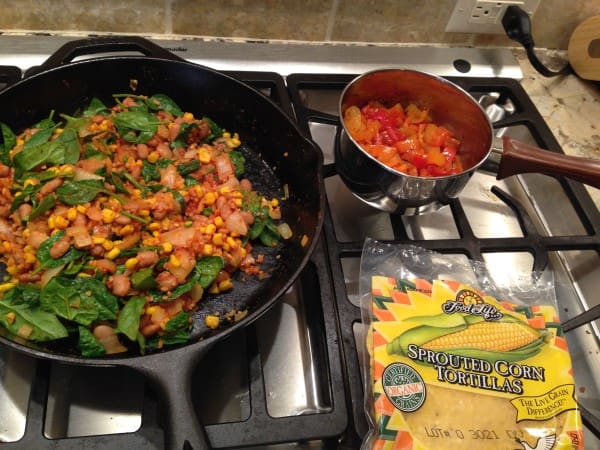 Spinach Pinto Tacos

Charlotte Veggie Original

GF, NF, and can be DF

Makes approximately 10 tacos

Ingredients:

1 package sprouted or organic or regular corn tortillas, defrosted/thawed to room temperature but when I haven't planned ahead, I take them out of the packaging, wrap up in a clean moist cloth, and microwave for a minute. This softens them really well.

1-2 tbsp extra virgin olive oil or oil of choice

1 15 oz can or 1 13.5 oz carton or 2 cups freshly cooked pinto beans (any type of bean, lentil, or other protein will do)

1 small yellow or sweet onion, diced

1 cup chopped tomatoes (approximately 2 tomatoes)

1 bell pepper, any color, chopped

1/2 cup frozen or fresh corn

2 cups roughly chopped or shredded fresh baby or regular spinach

2 diced ripe avocados (How to determine)

1/2 to 1 whole lime's juice

1 tsp ground cumin

1 tsp paprika (optional)

Salt and pepper to taste

Directions:

Avocado salsa:

Toss together the following in a bowl: 1 lime's juice, diced avocado, salt and pepper to taste

Mexican filling:

Heat oil in a pan over medium low heat. Sauté the onions, beans, corn, and peppers for 10 minutes over medium heat. Add in tomatoes to soften and spinach to wilt. Stir in spices and salt and pepper to taste.

To prepare corn or flour tortillas:

My fave way is to turn them each over an open flame over one of my gas stove burners until the edges are a little charred. Or you can heat them up in the microwave in a clean, moistened cloth napkin, hand towel, or paper towel individually for 15 seconds or several at a time for 1 minute. You can also rinse each tortilla briefly under running water, pile them up and wrap in a clean cloth, and microwave for 1 minute. Fill each with the mixture and top with the avocado salsa. Makes at least 10 tacos.

Other ideas: Use an alternate form of protein –Top with cheese such as cheddar, monterey, goat – *Nutritional yeast (a deactivated form of yeast that has a cheesy, nutty flavor and contains B vitamins) – Cilantro – Scallions – Salsa or hot sauce – Cook in some garlic, onions, shallots, red pepper flakes for extra flavor.