Happy Labor Day! No matter your role, profession, daily tasks, or accomplishments, today is a day that your diligence deserves reward! I have used this chocolate cake recipe many times but I really fell in love with it the last time. I had a couple of cousins in town unexpectedly one night after dinner and nothing feels more hospitable than dessert, right?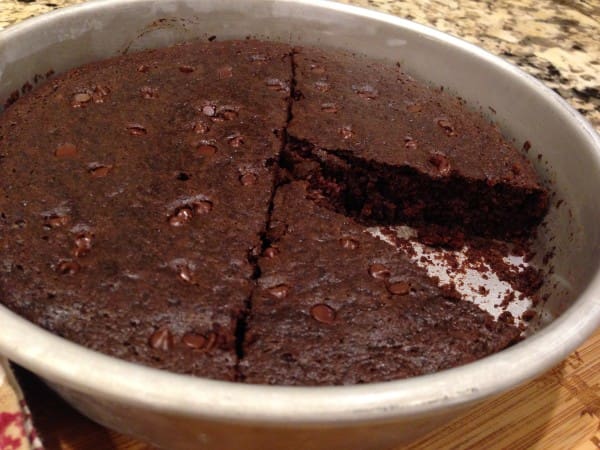 It sliced well even before fully cooling. Tender, lightly sweet, and solid chocolate flavor, this recipe is a keeper.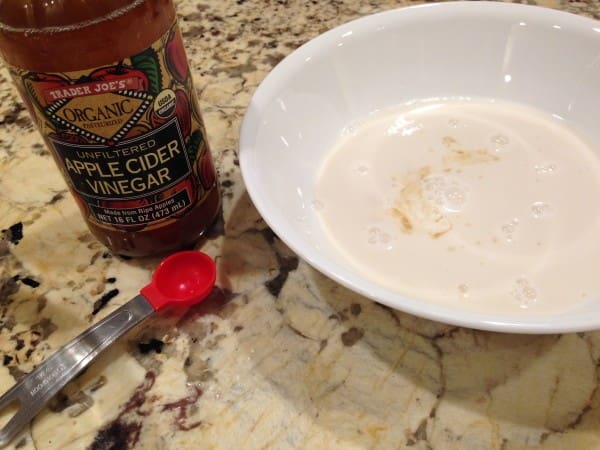 It is a daily free recipe which worked well for an allergy someone had and a religious belief someone else had! Isa Chandra Moskowitz, whose recipe I adapted, was the first to introduce me to the concept of the milk+vinegar=egglike result. It's really quite nice being able to produce an eggless cake with a proper rise without having to make a separate flaxseed or other mixture.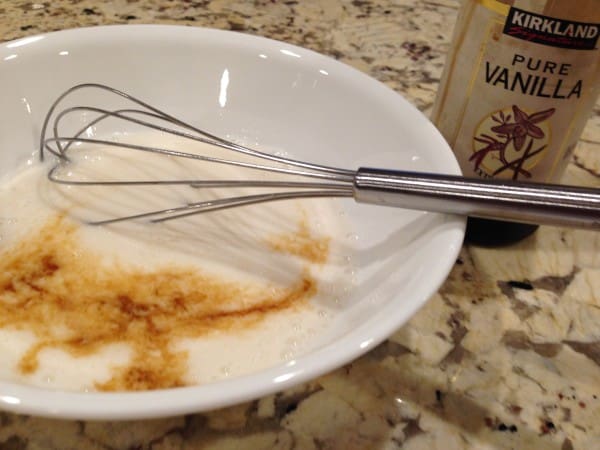 Like most baking recipes, you do mix your liquid and dry ingredients separately. This is the best vanilla ever and I buy it at Costco. Despite rave reviews and consumer testing, I hesitated for a long time just because of the large size. But I go through it quicker than I expected using it in pancake batter, smoothies, homemade granola, and more.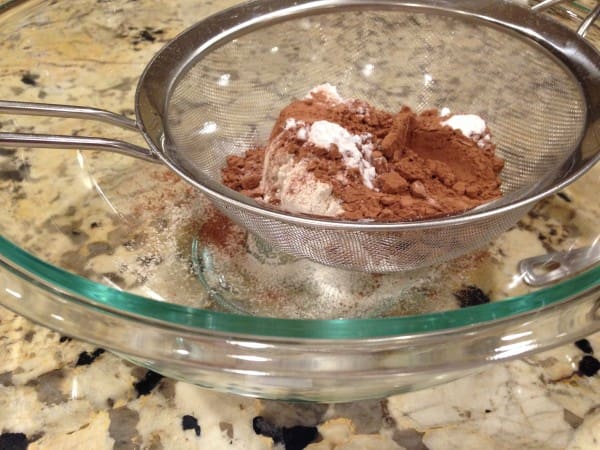 I have an actual sifter but it's hard to clean so I usually reach for my mesh strainer.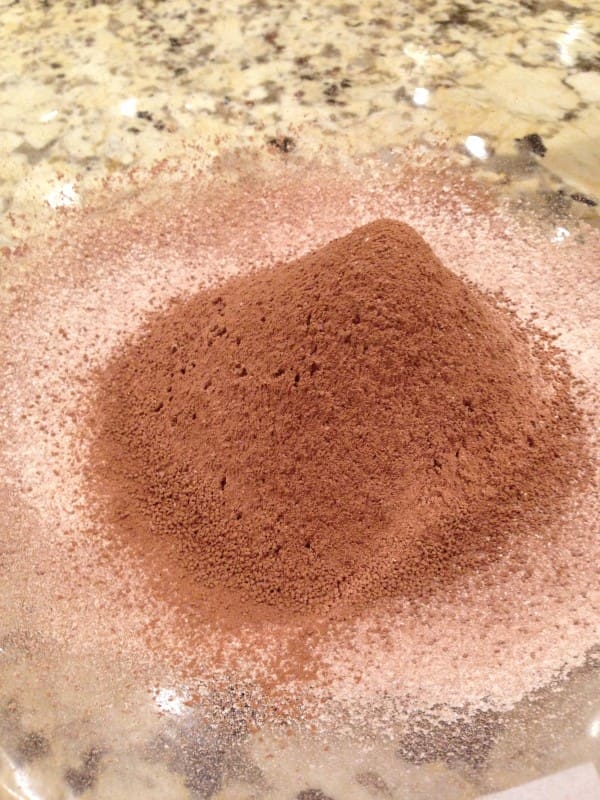 I can't stand a cake that tastes like flour and believe me, I've made quite a few chocolate ones that did! I think the sifting really helps to combine the flour and the cocoa powder as well as incorporate all of the other ingredients. I feel like the cake turns out with a lighter, more airy texture instead of dense.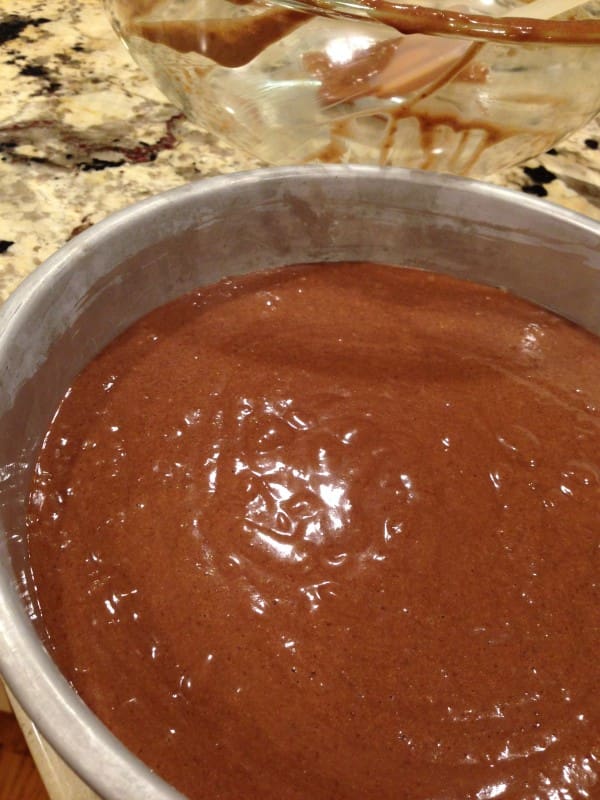 The batter is enough for one 8 inch cake. I double it for a layered round cake or for an 8×11 sheet cake.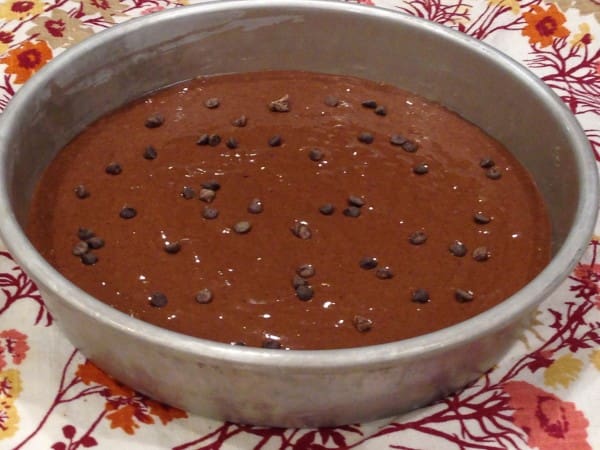 Because I didn't have time to make a frosting, I sprinkled the top with mini chocolate chips which provided gave that extra sweetness and creaminess without extra fuss.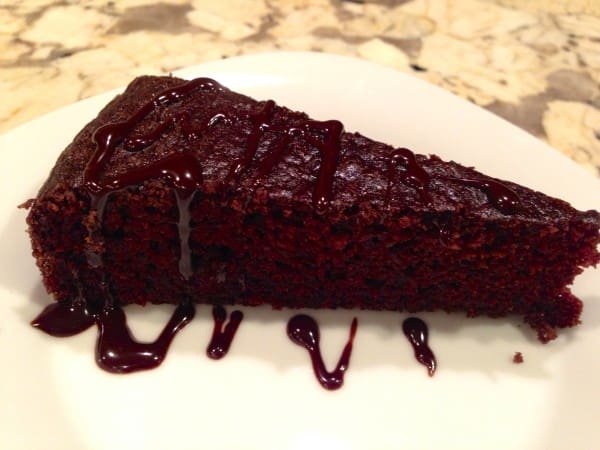 Alternatively, you can make a ganache (chocolate sauce) and drizzle that on top. Below are some birthday cakes doubling this recipe and you can rest assure that it holds up well to butter or shortening based frosting and decorating. I can't even tell you how good I felt about serving these to my family and friends of my children. Even the small amount of artificial colors made these far, far healthier than the grocery store variety.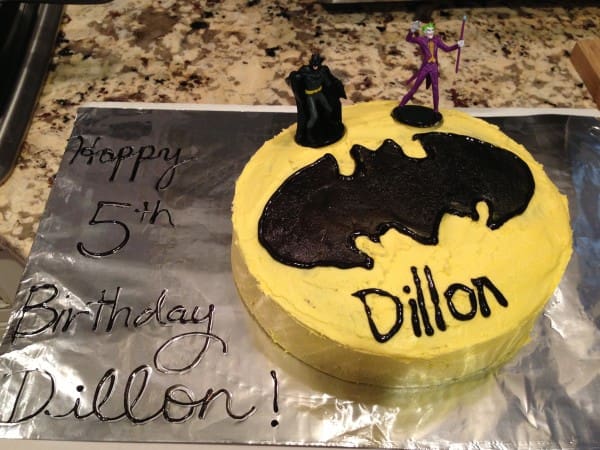 I like covering a Wilton cake board from Michael's with shiny foil and writing on that. It save the amount of sugar in the cake too!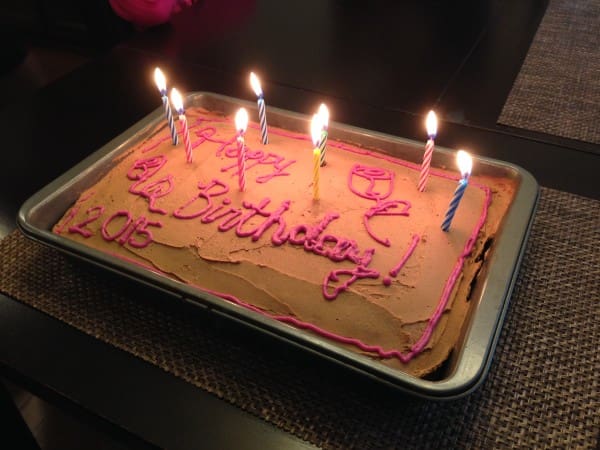 This was a cake for my mother which my 10 year old decorated using my chocolate buttercream and natural strawberry frosting which was leftover from my strawberry cupcakes.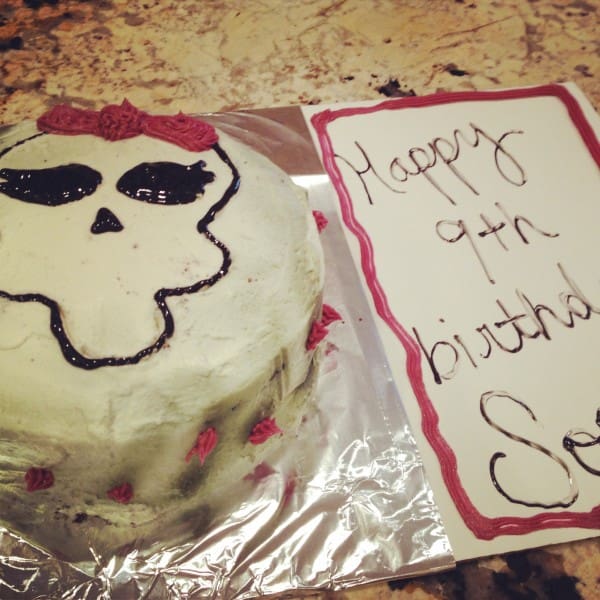 And a sad attempt at a Monster High themed cake but my daughter was happy so that's all that matters 🙂 .
Low Labor Healthy Chocolate Cake For Every Occasion (+ Ganache Drizzle below)

Adapted from Isa Chandra Moskowitz

Original recipe: http://www.theppk.com/2008/08/just-chocolate-cake/

DF, (NF if you use soy milk)

Makes one 8 inch round cake (Double for a 2 layered round cake OR for an 8×11 sheet cake)

Ingredients:

1 cup whole wheat pastry flour
1/3 cup cocoa powder
3/4 teaspoon baking soda
1/2 teaspoon baking powder
1/8 teaspoon salt

1 cup unsweetened plain or vanilla flavored almond milk (you can use soy milk instead too)
1 teaspoon apple cider vinegar
1/3 cup coconut, turbinado, or granulated sugar (originally 3/4 cup)
1/3 cup coconut oil
1 teaspoon vanilla extract (or 1/2 tsp vanilla + 1/2 tsp almond extract)
1/2 teaspoon almond extract

Optional: 1-2 tbsp mini chocolate chips

Directions:

Preheat oven to 350?F.
Whisk together the milk and vinegar in a mixing bowl and set aside.
In a separate mixing bowl, sift together the flour, cocoa powder, baking soda, baking powder, and salt.

Mix in vanilla extract, oil, and sugar to milk-vinegar mixture.

Pour this into dry ingredients and whisk together until only little lumps remain.
Lightly grease an 8 inch cake pan with coconut oil or whatever you prefer.

Pour in the batter evenly and sprinkle with mini chocolate chips if desired.

Bake for about 33 minutes.

Remove from oven to cool for 15-20 minutes. You can poke the center with a toothpick which should come out clean.

If you are frosting, I recommend cooling completely and for as long as you can. I waited 2-4 hours.

For a Ganache Drizzle:

Combine 1/4 cup nondairy or dairy milk in a bowl with 2 tbsp chocolate chips and 1 tsp maple syrup. Microwave 20 seconds and then mix with a fork. It will turn into a rich, shiny, chocolate sauce!