This post focuses on where I live but I hope that it will entice you to find similar activities local to you! Charlotte offers a plethora of ways to get active at any fitness level no matter your time or financial constraints, individually, in groups, with or without children. There are lush, shaded greenways, paved sidewalks and walking paths, bike trails, tracks, abundant parks, large fitness centers including a strong YMCA network, boutique gyms, country clubs, cycling/spinning, boxing, martial arts, sports leagues, recreation centers, the U.S. National Whitewater Center, personal training studios, pilates, CrossFit, yoga, yoga and more yoga, and many, many other opportunities. On any weekend, you can witness dozens of races too!  I love driving out to run an errand on any given Saturday morning, and seeing so many active folks out and about on their bikes, with their dog, or racing!  The weather is fairly mild to hot most of the year but we do still have 4 seasons with temps in winter that get too frosty in my opinion! However, Charlotte is also known for unpredictable weather extremes from an 80 degree day in mid December to a 30 degree day in mid April.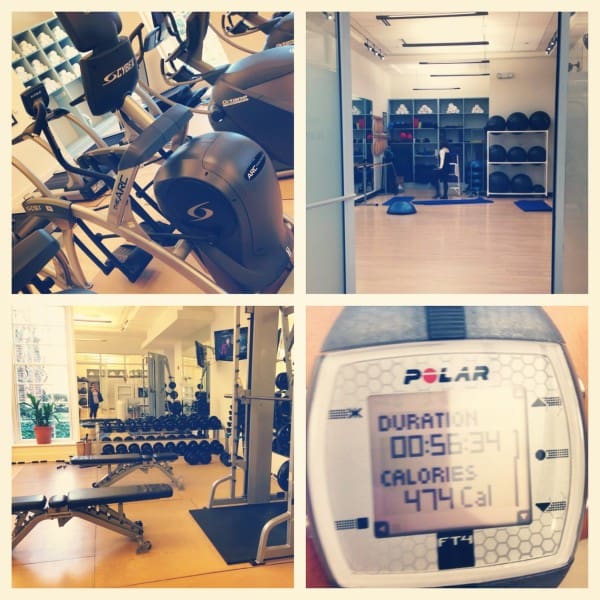 Purchasing a basic heart rate monitor (Polar FT4 on Amazon or I've seen it at Best Buy) has really helped to motivate me during workouts, especially during travel and using hotel gyms, and to make sure I am eating enough! Yes, I love to eat but you read that correctly. At a time that I was monitoring calories and keeping a food diary, I was not accounting for all the calories I was burning! This haltered my progress and worked against my metabolism. I leave mine my heart rate monitor on for 20-30 minutes after my exercise is completed to see some of the afterburn as my heart rate comes back down and normalizes.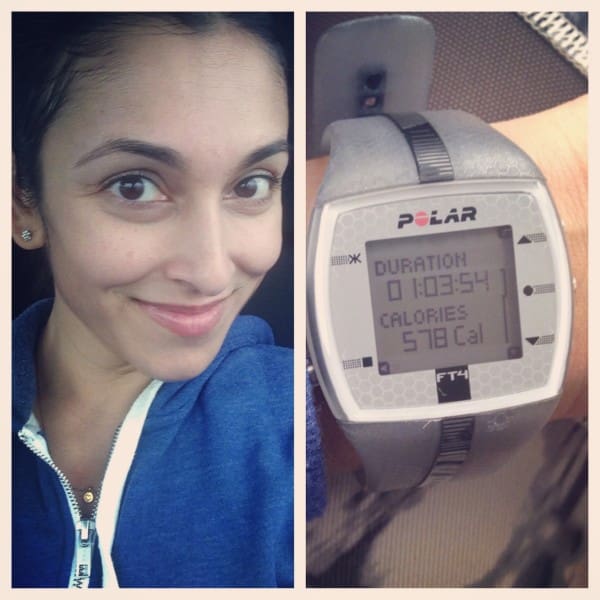 YOGA
(Bella in Up Dog doing Doga)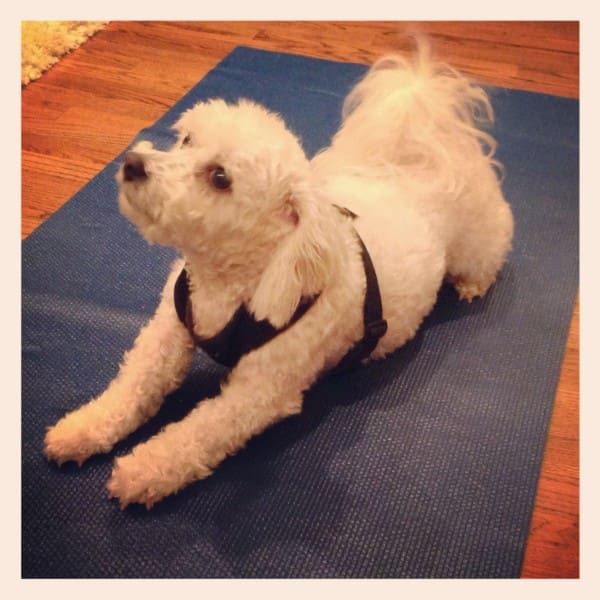 (Pics from an Instagram yoga challenge in which I participated when I was still fairly new to yoga – lots to improve on!)
A friend and I wanted to try hot yoga and signed up for a new student special at Y2 Yoga during the summer of 2013; it was $39 unlimited for a month versus $5-15 a class. Boy did we squeeze everything out of that deal! We went over 25 of the 30 days. On our first day, we didn't really analyze the schedule or learn the jargon and walked into a "Superflow" class, the most rigorous offering. I don't even recalling really researching how to prepare for hot yoga. And yes it is hot. That part wasn't too hard for cold natured me to get acclimated too but I wasn't prepared for what felt like buckets of sweat coming out of every pore! I soon invested in a mat towel which is worth every penny. It has encouraged me to hydrate well daily because the day before class is just important as the day of when it comes to this. I would say it took roughly a dozen classes or so to learn the vocabulary and get use to the heat; the teacher walks around calling poses and giving these amazing assists and adjustments so you have to watch others to learn the poses. I had tried yoga on and off for years but it was going consistently with the company of a friend that truly immersed me and I was hooked at the end of the trial. Two years into my yoga practice, I have so much space still left to grow both physically and mentally.  Sure power yoga is a fantastic workout but more so for me, yoga is my place of safety, of therapy, of acceptance, of self love. I have never felt so whole and in touch with my own self until yoga was in my life. It has been uplifting, healing, exhilarating, and pacified my racing thoughts and the do, do, do mindset.
Financially, some believe yoga can be costly. However, all studios offer Karma classes which are significantly less expensive and some offer free classes in exchange for volunteer work at the studio. I choose to buy sets of passes because I like to mix up my exercise options. With the service person discounts (being a nurse qualifies) as well as occasional specials, I am able to go 2-3 times a week. Below are the studios I most frequent and ones I have tried and enjoyed. Charlotte also has outdoor complimentary yoga events and donation based classes.  OMB Yoga on Tap, a free outdoor yoga event every Tuesday at the beautiful new space of Old Mecklenburg Brewery. Yoga for all and yoga for a cause, I love it.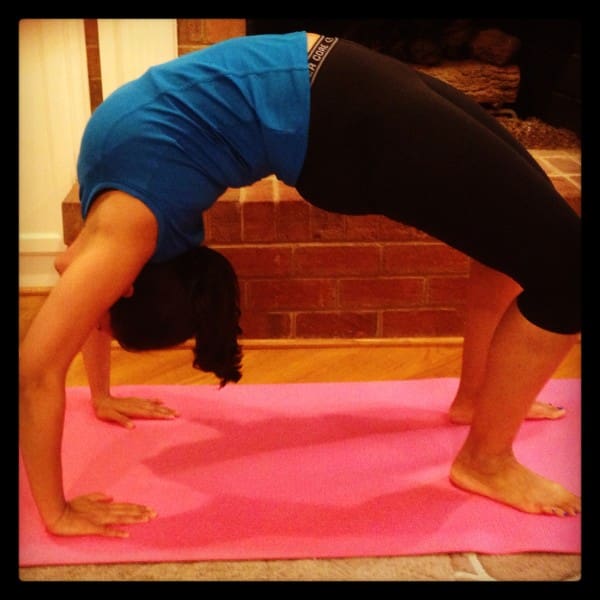 Orange Theory, Burn Boot Camp, Madabolic, and more high intensity exercise programs that are never-the-same workouts consisting of an effective warm up followed by cardio and strength stations. My energy levels have increased greatly, I feel strong, have muscle tone, and it is also the most affordable way that I have found to have a personal training type experience yet I love the community and energy.
NATURE TRAILS AND HIKING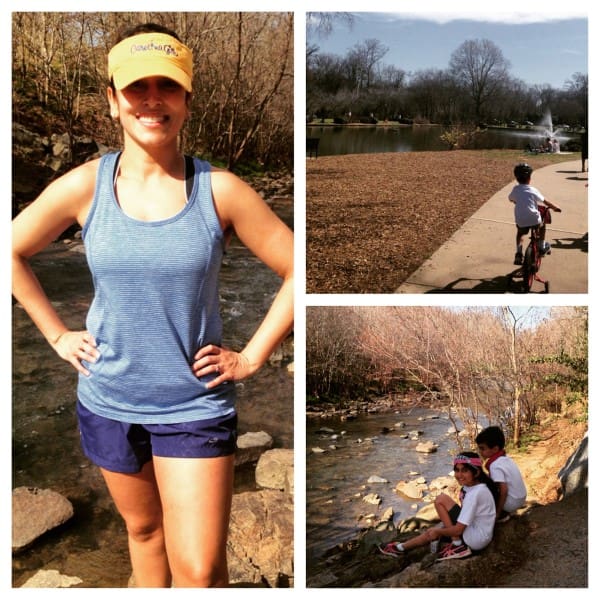 Greenways
http://charmeck.org/mecklenburg/county/ParkandRec/Greenways/PlannedGreenways/Pages/FourMileCreekGreenwayMatthews.aspx
There are various paved trails called greenways through natural areas in Charlotte that make for happy cyclists, runners, and walkers. My favorite place to get active with the whole family is out in nature! So many sights and sounds for the children to explore. They are a safe, traffic-free place to ride bikes without the worry of oncoming traffic and often there are benches along the way for rest and refueling. My favorite is the 4 Mile Greenway which is 2.3 miles each way.
U.S. National Whitewater Center
http://usnwc.org
Fun opportunities for all here including varying levels and distances of hiking trails, flatwater kayak rentals (single and double), paddle boarding, whitewater rafting (family ages 8 and up or adventure ages 11 and up), zip lining, a ropes course, obstacle course (kid friendly one)
For more, see My Fitness Journey!